Written In Fur Drawn In Snow by Jasper Sebastian Stürup
Launch and Reading by David Senior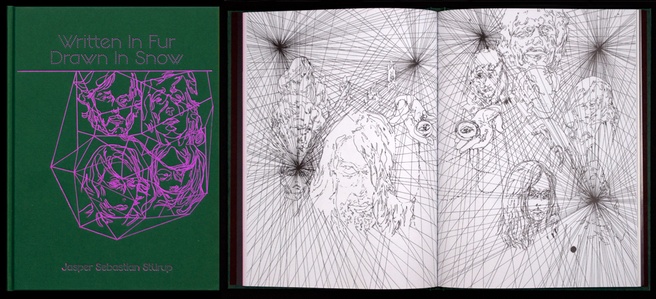 "Forever & Today, Inc.":http://www.foreverandtoday.org celebrates its newest commissioned publication, an artist book by Jasper Sebastian Stürup, "Written In Fur Drawn In Snow":catalog/32265 (2012), with a book launch and a reading of "Something To Do: Artists' Books and Jasper Sebastian Stürup":catalog/27549 by contributing author David Senior.
Delving into his multi-disciplinary art practice and nearly 20-year history of creating artist books, Written In Fur Drawn In Snow features drawings and photographs by Stürup created specifically for the printed page. The book also includes texts by David Senior and Christoph Tannert, with a transcribed studio visit conversation between Ingrid Chu, Savannah Gorton, and Stürup.
In his essay, "Fleeting Textures," Tannert, Director of Künstlerhaus Bethanien in Berlin, writes, "Stürup's drawings are connected in a liberating and labyrinthine way, sophisticated as well as punk-primitive—as radical as they are simple. There has rarely been anything as tender, as wild, as bold and as dark, but also as carefree and bright in drawing."
Stürup's Written In Fur Drawn In Snow is curated by Ingrid Chu and Savannah Gorton and supported in part by The Danish Arts Council's International Visual Arts Committee. As an artist book, it is related to Stürup's commissioned installation at Forever & Today, Inc., I Don't Believe You, It Used To Be Like That And Now It Goes Like This (2009).
Written In Fur Drawn In Snow is hardbound with 112 pages, and printed in an edition of 275 with a metallic magenta-embossed cover. A deluxe edition of 25, printed with a metallic green-embossed cover, includes a signed and numbered limited edition photograph. Both book editions are available at Printed Matter, Inc. and other bookstores internationally.
JASPER SEBASTIAN STÜRUP (b. 1969, Frederiksberg, Denmark) lives and works in New York. He received his MFA degree from The Royal Danish Academy of Fine Arts, Copenhagen (1999). Stürup's solo and group exhibitions include: Overgarden at The Armory Show, New York (2012); Printed Matter's NY Art Book Fair, MoMA PS1, Long Island City (2006-2012); Kunsthallen Brandts, Odense, Denmark (2011); Künstlerhaus Bethanien, Berlin (2011); Participant, Inc., New York (2010); Forever & Today, Inc., New York (2009); CCAA, Tokyo (2009); Helsinki Biennial, Helsinki (2008); Horsens Kunstmuseum, Horsens, Denmark (2008); U-Turn Triennial, Copenhagen (2008); Art Basel, Basel (2007); Library of Alexandria, Alexandria, Egypt (2006); Museum of Contemporary Art, Skopje (2006); Sixth Sharjah International Art Bienniale, Sharjah (2003); Reykjavik Art Museum, Reykjavik (2002); Malmö Konstmuseum, Malmö (2001); and Tenth International Print Triennial, Finland (2001); among others. Stürup is represented by Galleri Susanne Ottesen in Copenhagen. He is the founder of Fluens Forlag and has published artist books since 1994.
DAVID SENIOR is the Bibliographer at the Museum of Modern Art Library in New York, where he manages the development of the library's collection. His writing has recently appeared in C Magazine, frieze, Dot Dot Dot, and the Bulletins of the Serving Library. He curated Access to Tools: Publications from the Whole Earth Catalog, 1968-1974 as part of the MoMA Library's 2011 exhibition program. In 2012, he organized two library exhibitions at MoMA, Scenes from Zagreb and Millennium Magazines and assisted with the museum show, Ecstatic Alphabets/Heaps of Language. He also curates an annual program of events for the New York Art Book Fair, called The Classroom. Since 2008, this program has involved over 100 performances, talks, screenings, and concerts.
FOREVER & TODAY, INC. is a non-profit organization founded in 2008 by Ingrid Chu and Savannah Gorton with a mission to curate and commission projects by a single artist, collective, or collaborative entity, extending opportunities to create new work and engage diverse audiences through exhibitions, site-specific installations, performances, publications, and educational and public programs. Sponsored by New York Foundation for the Arts, a 501© 3, Forever & Today, Inc. currently inhabits a storefront on the cusp between New York's Lower East Side and Chinatown.
Facebook
Tweet