Something Else Press: A Love Letter to the Future
Three publishers (Exact Change, Primary Information, and Siglio) in conversation about Dick Higgins's influence and legacy.
5-7 PM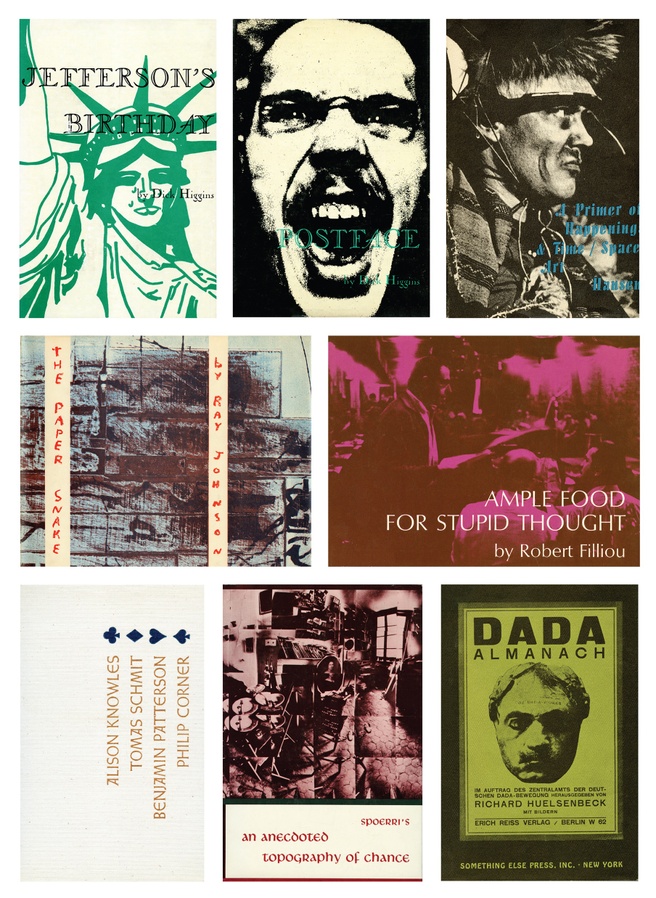 Join Damon Krukowski of Exact Change, James Hoff of Primary Information and Lisa Pearson of Siglio as they converse about Higgins's influence on their own publishing projects, the extraordinary lineage of the Something Else Press in the wider publishing community, and how SEP continues to ignite an expansive field of possibilities.
There are few art-world figures as influential—and as little known—as Dick Higgins (1938-1998), co-founder of Fluxus, "polyartist," poet, scholar, theorist, composer, performer and, not least, the publisher of the Something Else Press.
Over the course of eleven years, Something Else Press (1963-1974) was as much a critical statement and radical experiment as it was a collection of almost fifty books by some of the most luminary artists and writers of the twentieth century: Gertrude Stein, John Cage, Ray Johnson, Dieter Roth, Bern Porter, Emmett Williams, Robert Filliou, George Brecht, among many others. Along with his Great Bear pamphlet series and the Something Else Press newsletter, Higgins exploited and subverted conventional book production and marketing strategies to get unconventional and avant-garde works into the hands of new and often unsuspecting readers.
In the introduction to Intermedia, Fluxus and the Something Else Press: Selected Writings by Dick Higgins, editor (and Granary Books publisher) Steve Clay writes, "In a 1991 interview [Higgins] described the publication list of Something Else Press as 'love letters to the future.'" That future is now!
James Hoff is the co-founder and publisher of Primary Information, a non-profit arts organization devoted to publishing artists' books and art historical documents, as well as an artist whose work encompasses painting, sound, performance and other media.
Damon Krukowski is the co-publisher of Exact Change which publishes experimental literature emphasizing 19th and 20th century avant-garde, as well as a poet, critic and most recently the author of Ways of Hearing which is based on his eponymous podcast. He is a musician and was a member of the band Galaxie 500 and is one-half of the duo Damon & Naomi.
Lisa Pearson is the founder and publisher of Siglio Press, a press dedicated to publishing uncommon books that live at the intersection of art and literature.
Join the Facebook event here!
Facebook
Tweet