Mongrelism by Jono Rotman: Book Signing and Conversation with Hautahi Kingi
6-8PM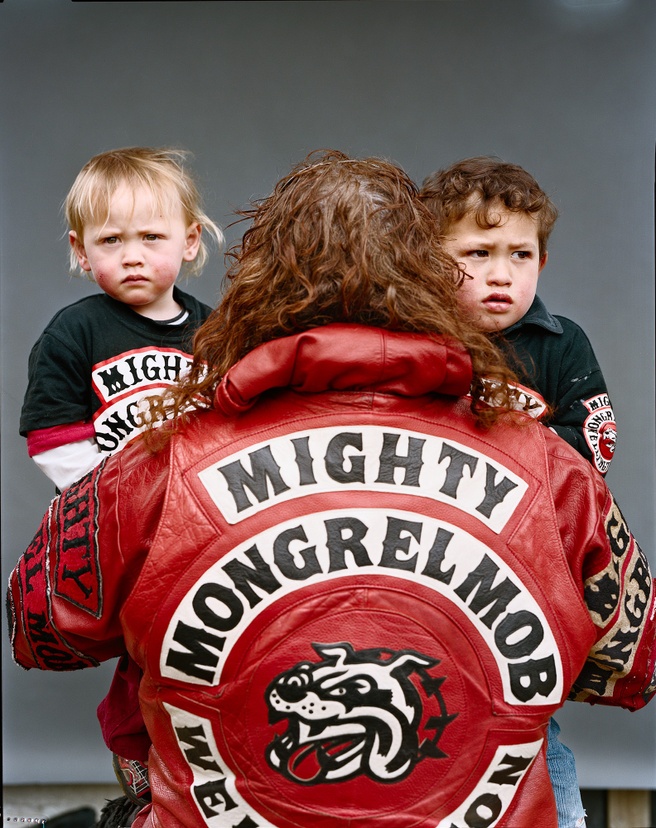 Join us for a book signing of Mongrelism by Jono Rotman, co-published by Here Press, London and Images Vevey, Switzerland in an edition of 1500. Mongrelism is the recipient of the Prix du Livre Images Vevey 2017/2018
Joining Jono to discuss his book will be Hautahi Kingi, a member of the Nga Rauru and Te Atihaunui a Paparangi iwi (tribes). Hautahi will be opening the evening with a mihi whakatau - a formal Maori welcome traditionally used to open meetings not held on marae. The mihi is designed to acknowledge the mana (gravitas) of guests, ancestors and the history of the meeting place.
Join the Facebook event here!
The Mighty Mongrel Mob of Aotearoa New Zealand are mythologised for extreme violence, and they have long been cast as the nation's monsters. In layers of apparent contradictions, their icon is the British bulldog and they wear Nazi symbols, while their members are largely Māori. The Mongrel Mob's symbols arose as both a goading response to a history of colonial subjugation of Māori, and a proclamation of loathing for the largely Pākehā (white, European) state.
Mongrelism offers a communion with this impenetrable fraternity. Monumental portraits illustrate Mob members' assertion of membership and pride in their identity. Artifact studies and brutal first person narratives are drawn from the Mob corpus, mirroring the landscape studies that bare the brooding environments where Mob members live. Mongrelism examines how the gang brands itself to itself to uphold its hierarchy and history, and finds core values usually lauded by society: perseverance, resilience, and loyalty.
Mongrelism is neither a history nor an ethnographic study. Rotman says he has "felt the weight of precedence of photography depicting people seen as 'other'" and Mongrelism works to address photography's historical entitlement of 'taking' images. Over the ten years of producing the work, he has maintained transparency and consultation with the subjects, they have been involved in the editing process, exhibition and are consulted about all use of the work. The result is a powerful body of work where the images, Rotman and the subjects maintain a fluid and equal relationship. Consequently, the images have become a part of Mob history and their visual mythology.
Rotman is a fourth generation Pākehā New Zealander, his forebears were among the first to settle in the region that became the epicenter of the Mob genesis. The process of colonisation and the atomisation of indigenous communities can be argued to have resulted in the Mongrel Mob. In Mongrelism, as in the history of the nation, the narratives intertwine.
Click here to order a signed copy of Mongrelism
(please specify this in the customer notes section when checking out)
JONO ROTMAN Jono Rotman was born in New Zealand and raised in a rural valley near Wellington. Rotman studied printmaking in Argentina and photography at Wellington Polytechnic. Rotman's work is represented in collections in the USA and Australasia. His work has been exhibited in the USA, Australia and New Zealand. Rotman is the recipient of the Prix du Livre Images Vevey 2017/2018 and the Marti Friedlander Photographic Award. He lives in San Francisco.
HAUTAHI KINGI Hautahi Kingi grew up on a marae near Whanganui, a small rural town in the North Island of New Zealand, and is now based in Washington DC. Recently graduating from Cornell University with a PhD in economics, Hautahi currently works as a senior research economist for IMPAQ International, a public policy research firm where he specializes in computational modeling. Hautahi also writes about Maori culture and economic issues affecting New Zealand, including a comparison between Maori and African American economic outcomes.
HERE PRESS Here Press is an independent publisher based in London, dedicated to exploring documentary photography in book form. It was founded in 2011 by Harry Hardie and Ben Weaver.
Facebook
Tweet