Wade Through Delicious Oil with David Shirgley and Agricola Due Leoni
6-8PM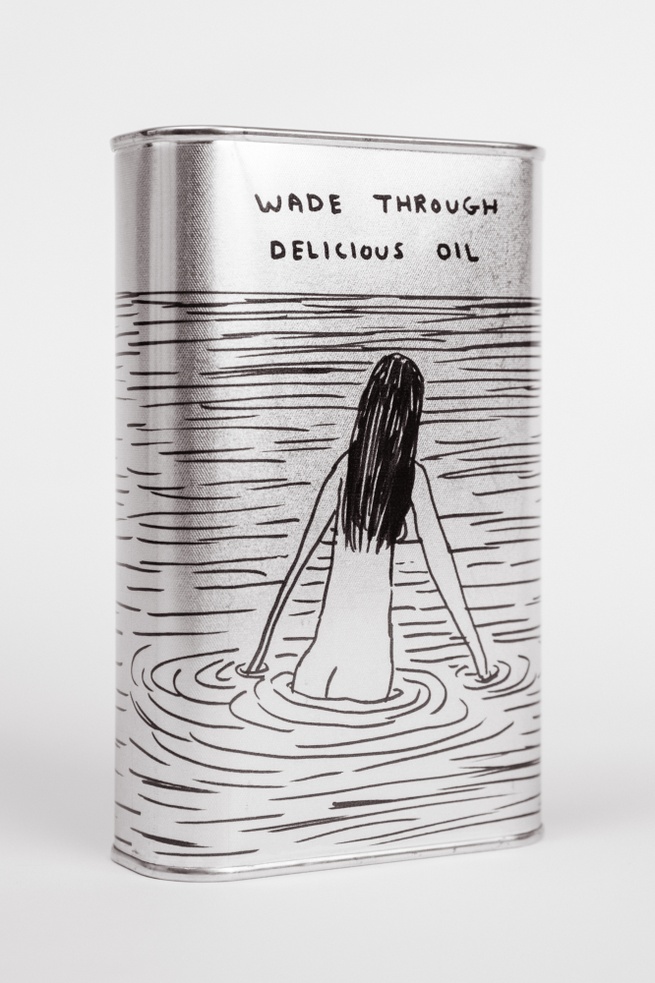 Join UK artist David Shrigley and Italian olive oil producer, Agricola Due Leoni, in a signing-and-tasting session at Printed Matter. In a wry look at the idea of extra "virgin" olive oil, Shrigley has created a witty label design for the award-winning Lazio-based producer. Agricola Due Leoni gives free range to artists to interpret the image of its organic, cold-pressed, primarily hand-harvested olive oil.
David Shrigley is one of the world's favorite artists – his mordant wit and lightning brush sum up politics, philosophy, and ethics in broad and honest strokes. Born in 1968 in Macclesfield, England, Shrigley now lives and works in Brighton, England. He received his environmental art degree from the Glasgow School of Art from 1988-1991. He has had numerous international exhibitions, most recently in Shanghai at the Power Station of Art (2018) and Fabrica Gallery in Brighton (2018), and has participated in group exhibitions including the Carnegie Biennale in Pittsburgh (2008) and The More I Draw in Siegen, Germany (2010). In addition to drawings and paintings, Shrigley also creates installation pieces, street art, performances, and works in many other contemporary mediums, with lurid comicality as his main method of communication. In addition, he has released two musical spoken word albums and collaborated with artists such as David Byrne, Grizzly Bear, Hot Chip, and Franz Ferdinand. Shrigley was nominated for the Turner Prize in 2013, and received an honorary doctorate from Leicester's De Montfort University in 2014.
Agricola Due Leoni was founded a decade ago when proprietor, Giuseppe Catalano di Melilli purchased olive groves, a small vineyard, and several farmhouses in a medieval village high in the Sabina hills.  His family's ancient history of citrus farming in Sicily (on the plain below Etna), is complemented by products from the Roman countryside.
Agricola Due Leoni artist collaborations are curated by Cornelia Lauf. Artists include Dennis Balk, Cosima von Bonin, Liam Gillick, Marc Goethals, Peter Kogler, Joseph Kosuth, Jonathan Monk, Emilio Prini, Vladimir Radunsky, David Shrigley, Diana Thater, and Heimo Zobernig. The producer has created custom editions for mumok, Vienna, and Esther Schipper, Berlin, among others,and is distributed in Europe by Verlag der Buchhandlung Walther König, as well as fine restaurants and specialty food shops.
Facebook
Tweet