Belladonna* Roll Call Reading Series
6-8 PM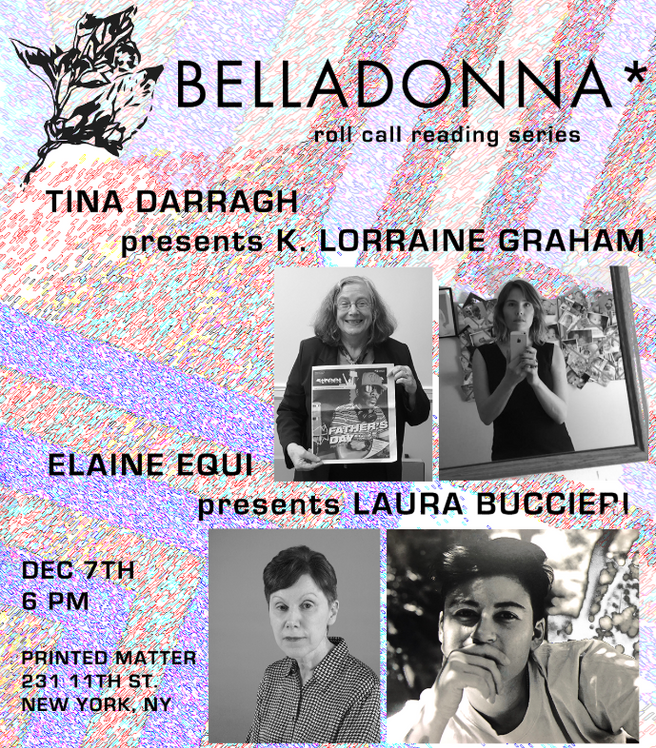 Elaine Equi introduces Laura Buccieri & Tina Darragh introduces K. Lorraine Graham
For each installment of Roll Call, presented by Belladonna* Collaborative, two previously published poets from the Belladonna* chaplet archive have selected and will introduce a poet whose work expands and enriches the tradition of experimental feminist writing. Roll Call builds upon networks and communities within the feminist avant-garde while materializing the breadth of Belladonna* Collaborative's twenty-year publishing history.
Laura Buccieri is the author of the chapbook On being mistaken (PANK Books, 2018). Her work can be found in Metatron, DUM DUM Zine, Prelude, Cosmonauts Avenue, Lambda Literary, Word Riot, Apogee, and elsewhere. She is the Publicist at Copper Canyon Press & holds an MFA in poetry from The New School. She lives in Brooklyn, NY and on Instagram at @lauruhboocherry.
K. Lorraine Graham is the author of The Rest Is Censored (Bloof Books) and Terminal Humming (Edge Books). She writes about the arts and humanities for the University of Maryland and earned an M.F.A. in cross-genre writing from the University of California, San Diego. You can find her on twitter and instagram @klorrainegraham
Tina Darragh currently is working on a project called "mutant solidarities." She lives outside Washington, DC, in Greenbelt, MD with her husband and fellow poet P. Inman.
Elaine Equi's latest book is Sentences and Rain from Coffee House Press. Her other collections include Click and Clone, Ripple Effect: New and Selected Poems, and Voice-Over, which won the San Francisco State Poetry Award. Widely published and anthologized, her work has appeared in The American Poetry Review, The Nation, The New Yorker, Tin House, Poetry, and in many editions of the Best American Poetry. She teaches at New York University and in the MFA Program in Creative Writing at The New School.
Facebook
Tweet