NYABF 2018 Fundraising Editions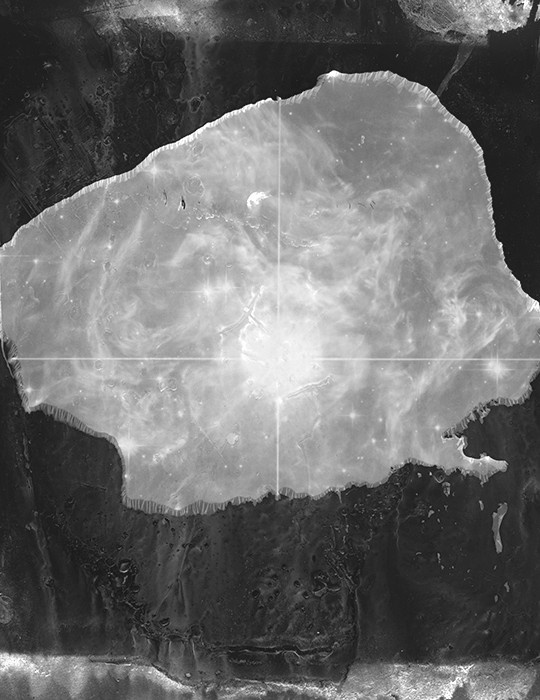 Printed Matter presents new limited-edition artworks by Laylah Ali, Ryan Gander, and Eileen Quinlan on occasion of the 2018 NY Art Book Fair. The Laylah Ali and Eileen Quinlan editions will be available for purchase starting at 6pm on Thursday at Printed Matter's booth. Ryan Gander's edition is the ticket for the opening night preview. It can be purchased here.
Artist Eileen Quinlan releases two new gelatin silver prints, Cleaved Crow and Pole Position (top image). These photographic editions utilize images found online, each printed and rephotographed, then manually manipulated through analog processes. In Cleaved Crow, the bird is representative of Quinlan's interest in non-human intelligence and what constitutes "being" in relation to the emergence of artificial intelligence on a mass scale. In Pole Position, the artist reworks a rendering of a supernova in which the star and surrounding sky evoke existential questions about our place in the universe. Center points (apertures, orifices, bullet holes, vanishing points, and the eyes of storms) are a recurring motif for the artist. Signed and numbered in an edition of 20 each.
Comfort with Rage (middle image) is a 4-color silkscreen print by artist Laylah Ali. The new work is based on a recent drawing emblematic of the artist's interest in creating narratives and imagery that question the stability of fixed cultural, racial, and sexual definitions. Signed and numbered in an edition of 100.
Accelerated Logic (bottom image) by Ryan Gander is this year's ticket edition. This laser die-cut stencil in orange acrylic contains annotations made by the artist to page 11 of John Berger's Ways of Seeing. The annotations select, highlight, and censor the still in-print publication. Mirroring the mass production of the book, the work considers the possible multiplication of a personal perspective through the function of the stencil. Produced in an edition of 2000.
Facebook
Tweet