Announcing a New Wade Guyton Fundraising Edition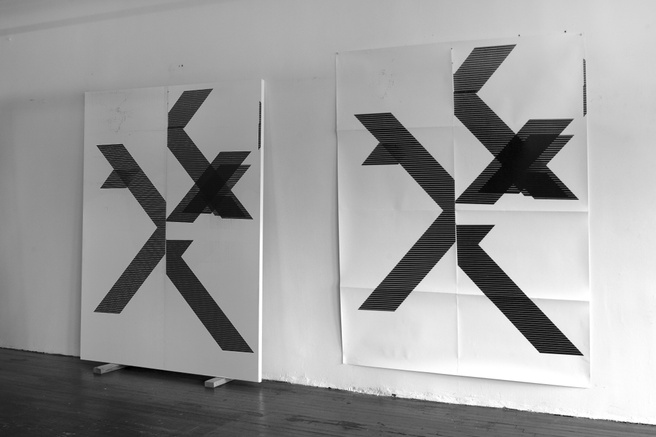 New Fundraising Edition by Wade Guyton
Printed Matter is pleased to announce a new Wade Guyton fundraising edition. Produced to scale and in the style of the artist's renowned inkjet-on-canvas 'X' paintings, the edition is a UV curable ink print on paper and folded by hand. This print is the fifth installment in a series of six large-scale works for Printed Matter by the artist.
X Poster (Untitled, 2007, Epson UltraChrome inkjet on linen, 84 x 69 inches, WG1210), 2018 Size: 84 x 69 inches unfolded. The work is presented folded in a cardboard sleeve (24 x 36 inches). Signed and numbered Edition of 100
Proceeds from the sale of this edition will provide vital support for Printed Matter's nonprofit programs and services.
How to Purchase:
This edition is only available to active Printed Matter Members (Friend level or higher) at the time of the lottery drawing, June 1, 2018. Memberships can be purchased online, in-store, or by phone.
Please note: This edition is limited to one per customer; you can only become a Member once. Member's discount cannot be used on purchases of fundraising editions.
There are two ways for Members to purchase a Wade Guyton edition: 1. Buy it Now, 2. Lottery.
Option 1: Buy it Now 30 prints in the edition will be made available for a 'Buy it Now' price of $2,000. In order to 'Buy it Now' you must be an active Printed Matter Member (Friend level or higher) on June 1, 2018.
'Buy it Now' editions are limited to one per customer.
This purchase cannot be made in store, by phone, or through Printed Matter's website. Please read the below carefully for further instructions on how to purchase this item.
Starting Wednesday, May 16th, 2PM, a link will be made available on Printed Matter's homepage www.printedmatter.org, where you will be asked to fill out a simple online form. The first 30 people to complete the form will receive confirmation of purchase within 24 hours and an invoice by May 22.
Invoices must be paid in full and pick-up/shipment arranged by May 29 or the edition is forfeited. Once the 30 'Buy It Now' editions are sold, remaining names will be automatically be entered into the lottery. Due to anticipated demand, filling out the online form does not guarantee purchase of the work.
Option 2: Lottery The primary sale of the edition will be by lottery. Editions sold by lottery are priced at $1,000.
In order to join the lottery you must be an active Printed Matter Member (Friend level or higher) as of June 1, 2018.
If you are not currently a Member and you would like to be entered into the lottery, you must join as a Member and type GUYTON LOTTERY into the comments field of your order by Thursday, May 31st, 11:59PM.
If you are already a Member and would like to join the lottery, please email guytonlottery@printedmatter.org with the subject line GUYTON LOTTERY along with your full name before Thursday, May 31st, 11:59PM.
If your name is drawn you will be notified by email and sent an invoice by June 6th. You must pay your invoice in full and arrange pick-up or shipment by June 12th, or you forfeit your edition, and it returns into the lottery.
We're deeply grateful to our community of Members for believing in our mission and providing the vital funds necessary to continue our work. Thank you for your support!
GOOD LUCK!
Facebook
Tweet