ARTZINES: Show and Tell
1-6PM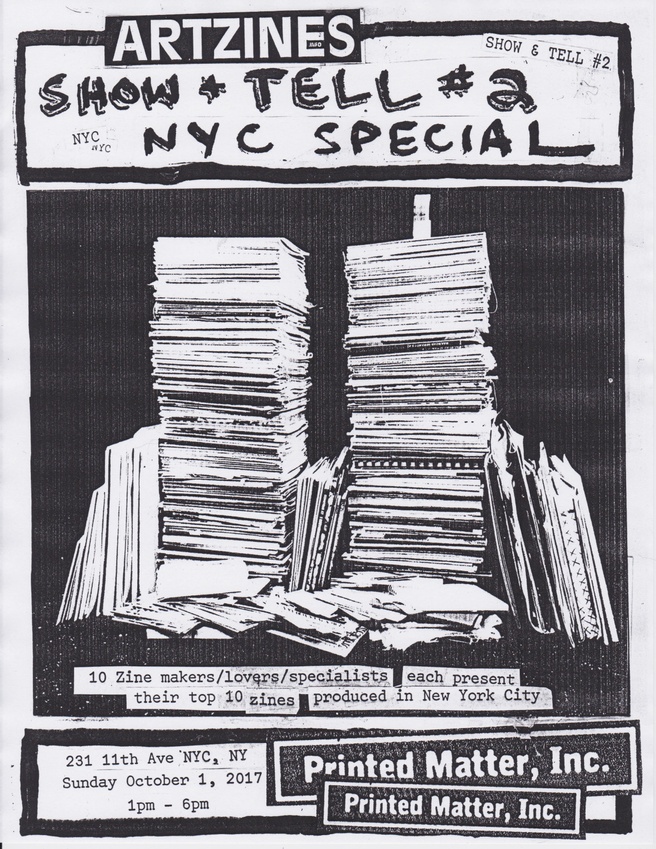 The research platform ARTZINES organizes its second Show & Tell event dedicated to zines made by artists based in New York City.
On Sunday October 1st from 1 to 6 pm, 10 zine specialists will gather at Printed Matter to present their top 10 zines from the big city. Join us for an afternoon of discussions between zine lovers!
Attend on Facebook here.
Andria Alefhi (Blue Stockings)
Andria Alefhi is the zine buyer for Bluestockings Bookstore, co-founder of Pete's Mini Zine Fest since 2010, and editor of We'll Never Have Paris literary zine.
India Menuez (8Ball Community)
India Salvor Menuez is an inter-media artists and curator. Co-founder of the former Luck You art col- lective and member of 8Ball Community, Menuez has been working in DIY publishing, performance & curatorial projects since 2009. Menuez continues to work out of NYC.
Paul John (Endless Editions)
Paul John is a Printer Without a Press Fellow at the Robert Blackburn Printmaking Workshop where he teaches a multitude of courses. In addition to RBPW he has taught and lectured on printmaking at many institutions and venues. He is the director and co-founder of Endless Editions, a publishing and curatorial initiative whose mission is to produce and disseminate books and prints by emerging artists irrespective of age, gender identity, race or creed.
Richard Kostelanetz (Earl of Wordship)
Richard Cory Kostelanetz is an American artist, author, and critic. A political anarchist-libertarian, he authored Political Essays (1999) and Toward Secession: More Political Essays (2008) and has since 1987 been a contributing editor for Liberty Magazine.
Johan Kugelberg (Boo Hooray) Johan Kugelberg has more than 20 years of experience in the U.S. entertainment and art indus- tries. As an archivist, he has created comprehensive collections in the fields of punk, hip hop, and counter culture, focusing on printed works, ephemera, photography, and book arts. Currently, he is the owner and curator of Boo-Hooray, a gallery and project space in Manhattan.
Julia Lipscomb (ABC No Rio)
_Julia Lipscomb is a zine publisher, a zine librarian and a zine workshop instructor. Currently you can find her working weekly open hours at ABC No Rio Zine Library. Previously, she volunteered at the Zine Archive & Publishing Project (ZAPP) in Seattle, which is the largest volunteer-run collection in the world with an archive of 30,000 zines. _
Pat McCarthy (Born to Kill)
Pat McCarthy is an artist and a pigeon lover, he began his Born to Kill fanzines as he was trekking alone throughout the United States. The fanzine appeared to him as the perfect medium to tell road stories about his wanderings and interactions with people whose paths he would cross along the way and beyond.
Sandeep Salter (Picture Room)
Sandeep Salter is the director and owner of Picture Room. She co-founded Cambridge Book, an art and design bookshop/consultancy that operated out of the MIT from 2011- 2013, as well as McNally Jackson Store, Goods For The Study in 2013. She lives in the fruit streets of Brooklyn Heights with her family.
Max Schumann (Printed Matter) Max Schumann is the executive director of Printed Matter Inc. He has worked with Printed Matter for 26 years, starting as a book packer in 1989. He served as bookstore manager from 1993- 2004, as associate director from 2005-2013, and as acting director on a number of occasions during his time with the organization.
Philip Tomaru (Practice, Arts & Sciences Projects)
Philip Tomaru is an artist-publisher based in New York. He runs Practice, a Lower East Side project space, and with Martin Masetto, publishes zines and books since 2008 under the Arts & Sciences Projects imprint.
Every issue of ARTZINES (#1-9) will be available for purchase during this event, including the very last copies of the first three issues.
A full account of the debates of this day will be transcribed in the 10th issue of ARTZINES dedicated to NYC to be published in November 2017.
ARTZINES is a transmedia research project run by artist publisher antoine lefebvre editions. This research project aims to produce a reference book on the subject of contemporary art zines. As an artist researcher, it is important for lefebvre to imagine new creative ways of doing research. Therefore, ARTZINES.INFO will allow the public to access the unedited data of this research project as it is collected. This online database and the zines produced by ARTZINES during this research process will show the progress made toward the publication of the book.
Facebook
Tweet