Paradigm Publishing - Book launch and Conversation
6-8PM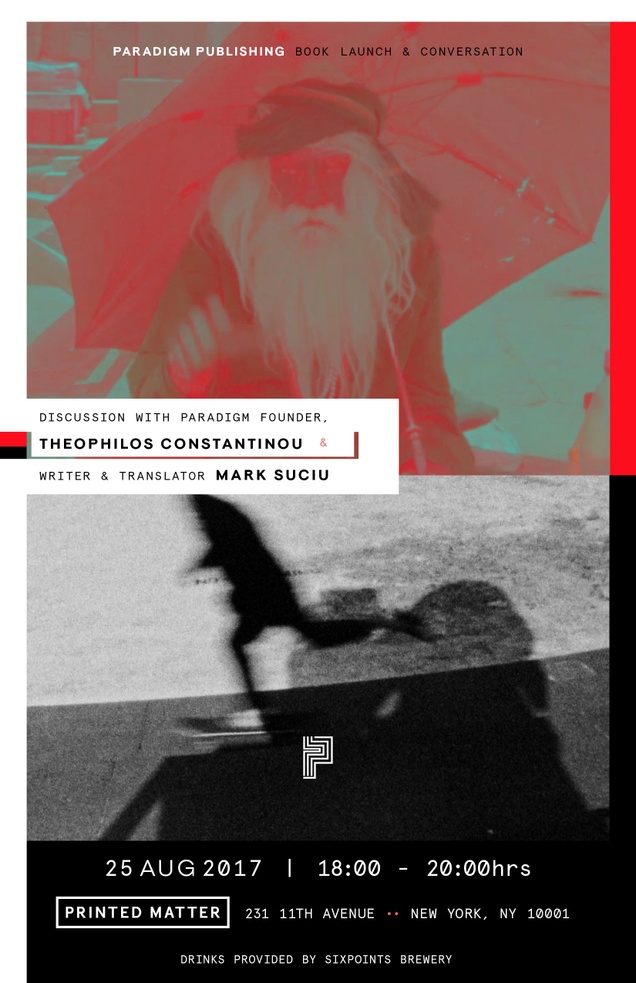 Paradigm Publishing launch two recent titles, LOVE by Jonathan Rentschler – a book which follows the last generation of LOVE Park inhabitants through its final years and ultimately the park's demise – and We Passengers by Theophilos Constantinou–a photo book created over six months traveling through India, from the Himalayan mountains to the flatlands of West Bengal. Paradigm publisher Constantinou will be joined in conversation by professional skateboarder Mark Suciu to discuss Paradigm's recent projects, discuss the production process and his ongoing relationship with artists as collaborators.
Join the event on Facebook here
LOVE LOVE Park (1965-2016), also known as John F. Kennedy Plaza, was located in the center of Philadelphia. Architect Vincent Kling drafted the mid-century urban design, which was then implemented by city planner Edmund Bacon. Although it was not designed for skateboarding, the plaza was host to a wave of skateboarders who first discovered its granite expanses as early as the 1980s. It was raised to global renown in the late '90s with a surge of media coverage. Today, LOVE Park is remembered as one of the foremost landmarks of street skateboarding.
LOVE follows the last generation of LOVE Park inhabitants, showing life as it was within this notorious urban plaza. Over a 3 year span, the images tell a story of a deep rooted community, existing in the shadow of a police state manipulated by a biased local city government.
Ultimately becoming victim of urban revitalization, the park closed in February 2016 for a projected $16 million complete renovation. The diehard locals never leave, and continue to skate the plaza as it turns to rubble.
We Passengers We Passengers is a journey, like all life. Each human is a passenger on spaceship Earth. Each day a pilgrimage of the soul through the flesh. Every individual perspective based upon the lottery of our birth. No choice in this. Yet, what birthright does one have to create suffering for fellow passengers? All the great teachers of every tradition have shown us a path away from suffering, towards love & unity. But instead, we have abandoned nature, normalized war, and manufactured consent: in the name of God, power & money.
Over six months traveling through India, from the Himalayan mountains to the flatlands of West Bengal, these images were photographed. A journey into the total present, where you rejoice in life and remember death.
An homage to impermanence. An allegiance with friction. A request to transcend ego, borders and creed. The images as a whole are a commentary on the human condition in all its diversity, an observation that hopefully reveals our oneness!
Theophilos Constantinou is a Cypriot American, currently living on the road. He founded Paradigm in 2011 [Philadelphia] around the same time he started making photographs, without any formal training. He has traveled extensively over the last several years interviewing, documenting and photographing this journey. He also works as a teacher and environmentalist.
Jonathan Rentschler is a photographer currently residing in Philadelphia Pennsylvania. After graduating from the Fox School of Business at Temple University, he began making images of his experiences skateboarding at LOVE Park, which became his first project and book, LOVE. Adopting a very personal approach to documentary photography, LOVE shows an insider perspective of the community of skaters and park dwellers that congregated at the infamous urban plaza. Jonathan's images have focused on community, youth culture, policing, urban redevelopment, and loss. Jonathan has been skateboarding for 20 years.
Mark Suciu has worked as an assistant editor at Paradigm since 2014, and most recently wrote the introduction to the press's new release, Jon Rentschler's LOVE. Now a graduate of Eugene Lang College of Liberal Arts at The New School, Mark is at work on an English translation of the French novella Codine, by Panaït Istrati, which is also to be published by Paradigm.
Christopher van Auken is a visual designer based in Philadelphia, PA working on a range of projects from visual identity to books. He holds a BFA in graphic design from SUNY Purchase (2005). His interest in typography and the printed word/image have guided his pursuits to making books across collaborative platforms. He is currently working on the creative direction and print management for Paradigm Publishing.
Facebook
Tweet