The Avant-garde Won't Give Up: Cobra and Its Legacy
A conversation with Alison M. Gingeras, Karen Kurczynski, and Bjarne Melgaard
5-7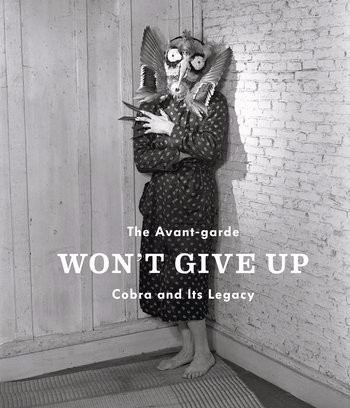 The Avant-garde Won't Give Up: Cobra and Its Legacy 
A Book Launch and Conversation with Alison M. Gingeras, Karen Kurczynski, and Bjarne Melgaard
Join us Wednesday, May 10 for the book launch of The Avant-garde Won't Give Up: Cobra and Its Legacy – a definitive volume on the renowned postwar avant-garde art movement and its lasting influences on contemporary art.
The European artists' collective known as Cobra was born amid the devastation left by World War II, its name an acronym for the native cities of its founders: Copenhagen, Brussels, and Amsterdam. This group of painters, sculptors, and poets had a tremendous influence on the development of postwar European art and contemporary art in general. Cobra was arguably the longest running avant-garde movement of the twentieth century. Moving chronologically, this book explores the years leading up to Cobra's formation, charts its complex expansion over a decade, and illuminates how the movement helped shape the trajectory of art today. Numerous images of artworks, many presented as full-page color illustrations, accompany essays by a new generation of scholars, who probe the group's ideological hallmarks: its rejection of rational constraints, its focus on play and youthful exuberance, and its embrace of spontaneity, particularly in the form of "action" paintings. In addition, comprehensive biographies illuminate crucial aspects of each artist's journey, helping to expand readers' understanding of Europe's sociopolitical and intellectual climate. 
Edited by curator Alison M. Gingeras, with new critical essays by Gingeras, Karen Kurczynski, Kerry Greaves, and Marie Godet, this book pays tribute to the movement's enduring aesthetic and conceptual influence on artists working today, casting its view beyond the formal ending of Cobra in 1951.
A full chapter in The Avant-garde Won't Give Up: Cobra and Its Legacy is dedicated to recent projects by contemporary artist Bjarne Melgaard. Three generations after Cobra artist Karel Appel created his Psychopathological Notebook, Melgaard endeavored to "remake" Appel's iconic work with an intensity that is almost Oedipal in its murderous aim at a long string of artistic forefathers. Another of Melgaard's intensive engagements with this psychopathological paradigm is documented in this new catalogue, a collaborative project with New York's infamous Bellevue Hospital.
Alison M. Gingeras is a curator and writer based in New York and Warsaw. She has served as a curator at the Solomon R. Guggenheim Museum, New York; the National Museum of Modern Art, Centre Pompidou, Paris; and Palazzo Grassi, Venice. She founded the East Village exhibition space Oko, which ran from 2012 to 2014. At the Centre Pompidou, she organized several notable exhibitions, including Dear Painter, Paint Me: Painting the Figure since Late Picabia (2003) and Daniel Buren: Le musée qui n'existait pas (2002). In 2009 she co-organized Pop Life at the Tate Modern, London. Her exhibition Black Sheep Feminism: The Art of Sexual Politics opened at Dallas Contemporary in January 2016. Notable recent publications have addressed the work of William N. Copley, Ella Kruglyanskaya, Bjarne Melgaard, Martial Raysse, and Francesca Woodman.
Karen Kurczynski is assistant professor of art history at the University of Massachusetts, Amherst. She is the author of The Art and Politics of Asger Jorn: The Avant-garde Won't Give Up (Routledge, 2014). Together with Karen Friis Herbsleb of the Museum Jorn in Denmark, she cocurated Expo Jorn: Art Is a Festival, a centennial group exhibition that opened in March 2014. Kurczynski also curated the exhibition Human Animals: The Art of Cobra and Its Legacy, which opened at the University Museum of Contemporary Art at the University of Massachusetts, Amherst, in September 2016, traveling to NSU Art Museum Fort Lauderdale, Florida, in 2017.
Bjarne Melgaard is a Norwegian artist who lives and works in New York. Melgaard started out in the mid 1990s with a neo-expressionistic, frantic style of painting, sculpture and installation. Melgaard's art deals with the dark side of humanity, such as self-destruction, deviant sexuality, and odd religious beliefs. It provides an insight into subcultures and parallel worlds that exist alongside the world of normality. Melgaard has had more than forty-five solo exhibitions in leading galleries around the world, is a frequent curator and collaborator, has written more than a dozen novels, and has produced seven films. In 2011, Melgaard represented Norway at La Biennale di Venezia, 54th International Art Exhibition, Venice, and the Astrup Fearnley Museum in Oslo presented a mid-career retrospective on the artist. In 2014, Melgaard participated in The Whitney Biennial and in January 2015 he was the focus of the first of six important exhibitions at the Munch Museum in Oslo, MELGAARD + MUNCH. Skira Rizzoli published the first comprehensive monograph of the artist's career in 2016. 
The Avant-garde Won't Give Up: Cobra and Its Legacy was copublished by Blum & Poe and DelMonico Books / Prestel in conjunction with the synonymous two-part exhibitions of 2015 at Blum & Poe, New York and Los Angeles. Copies available online, or at the book launch and signing. 
ISBN: 978-3-7913-5509-2 Hardcover; 224 pages 9 x 10.5 inches $49.95
Facebook
Tweet