Delirium and Resistance - book launch and conversation with Gregory Sholette, Kim Charnley, Dipti Desai, Libertad O. Guerra, Nicholas Mirzoeff, and Oliver Ressler
6-8PM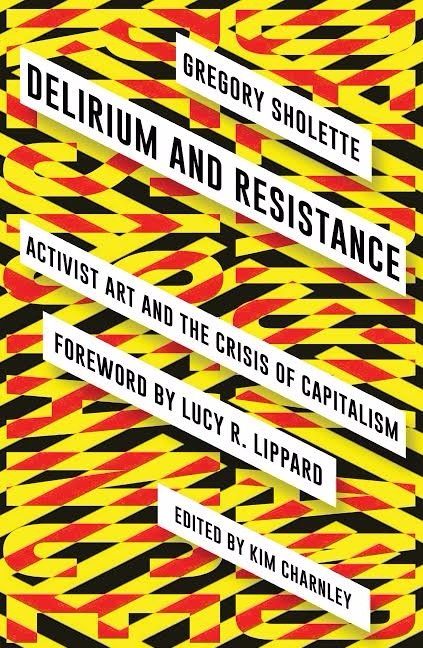 Join us May 5 for the book launch of Delirium and Resistance by Gregory Sholette and a conversation featuring Oliver Ressler, Nicolas Mirzoeff, Kim Charnley, Dipti Desai and Libertad O. Guerra.
"Sholette's examination of bare art departs from the same problematic as Osborne and Foster, but refuses the idea that problems manifested in the art world can be addressed from within art criticism, however thoroughly it may be reformed." -From Kim Charnley's introduction to Delirium and Resistance
In the aftermath of the 2016 US election, Brexit, and a global upsurge of nationalist populism, it is evident that the delirium and the crisis of neoliberal capitalism is now the delirium and crisis of liberal democracy and its culture. And though capitalist crisis does not begin within art, art can reflect and amplify its effects to positive and negative ends.
In this follow-up to his influential 2010 book, Dark Matter: Art and Politics in the Age of Enterprise Culture, Sholette engages in critical dialogue with artists' collectives, counter-institutions, and activist groups to offer an insightful firsthand account of the relationship between politics and art in neoliberal society. Sholette lays out clear examples of art's deep involvement in capitalism: the dizzying prices achieved by artists who pander to the financial elite, the proliferation of museums that contribute to global competition between cities in order to attract capital, and the strange relationship between art and rampant gentrification that restructures the urban landscape.
With a preface by noted author Lucy R. Lippard and an introduction by theorist Kim Charnley, Delirium and Resistance draws on over thirty years of critical debates and practices both in and beyond the art world to historicize and advocate for the art activist tradition that radically—and, at times, deliriously—entangles the visual arts with political struggles.
Kim Charnley is an educator, theorist, art historian and programme leader of the Graduate School at Plymouth College of Art, UK. His work explores the intersecting histories of institutional critique and art activism, with a particular focus on artists' interpretations of Marxism after conceptual art shifted the division of labour between artist and critic. He is writing a book about contemporary art and crisis theory, which maps the current vitality of politicised aesthetics against the gradual erosion of art by neoliberal social and economic 'reform'. His writing has been published in Art and the Public Sphere, Historical Materialism and Art Journal.
Dipti Desai is Associate Professor and Director of the Graduate Art + Education Programs at New York University. As a scholar and artist-educator her work addresses the intersection between visual art, activism, and critical pedagogy. She has published widely in the area of critical multiculturalism/critical race theory in art education, contemporary art as a pedagogical site, and critical pedagogy. She is the co-editor of Social Justice and the Arts book published by Taylor and Francis and her co-authored book History as Art, Art as History: Contemporary Art and Social Studies Education received an Honorable mention for Curriculum Practice Category by Division B of American Education and Research Association (AERA). Among her awards, she received the Ziegfield Service Award for contribution to International Art Education and the Specialist Fulbright Award. Her current projects include editing a special issue for the Journal of Visual Inquiry: Teaching and Learning Art on Artistic Activism and creating a Living Archive of videos on activists of color in the Lower East Side.
Libertad O. Guerra is an anthropologist, cultural organizer, activist and co-founder of South Bronx Unite. Since 2014, she has served as Artistic Director of the Loisaida Center, where she explores the cross-currents of how art and place is produced and consumed in a way that does not erase one group or another. She revamped the Loisaida Street Festival, and produced critically- and community-acclaimed exhibitions among them ¡Presente! The Young Lords in New York at Loisaida Inc. Cultural Center (2015). Her academic research has focused on Puerto Rican, Latinx, and Latin American social-artistic movements and cultural activism in immigrant urban settings. Her publications include essays in The Journal of Aesthetics and Protest and in the edited volume New York-Berlin: Kulturen in der Stadt. Guerra is a longtime resident of the South Bronx, where she serves on the board of the Mott Haven/Port Morris Land Trust and advocates for environmental justice and cultural equity.
Nicholas Mirzoeff is Professor of Media, Culture and Communication at New York University. He is a visual activist, working at the intersection of politics and global/digital visual culture. His most recent book How To See The World was published by Pelican in the UK (2015) and by Basic Books in the US (2016) and tracks the transformation of visual culture studies into visual activism. His new book entitled The Appearance of Black Lives Matter will be published as a free e-book by the Institute of Contemporary Arts, Miami and as a limited edition print book with artwork by Carl Pope from NAME Publications in 2017. Among his activist projects online are "How To See Palestine: An ABC of Occupation" (2017) and The Militant Research Handbook (2013).
Oliver Ressler lives and works in Vienna and produces installations, projects in public space, and films on issues such as economics, democracy, global warming, forms of resistance and social alternatives. Ressler has had more than 60 solo exhibitions, among them in Berkeley Art Museum, USA; Museum of Contemporary Art, Belgrade; Centro Cultural Conde Duque, Madrid; Alexandria Contemporary Arts Forum, Egypt; Wyspa Institute of Art, Gdansk; Lentos Kunstmuseum, Linz; Centro Andaluz de Arte Contemporaneo – CAAC, Seville; MNAC – National Museum of Contemporary Art, Bucharest; and SALT Galata, Istanbul. Ressler has participated in more than 300 group exhibitions, including Museo Reina Sofía, Madrid; Van Abbe Museum, Eindhoven; MASSMoCA, North Adams, USA; Centre Pompidou, Paris and at the biennials in Seville (2006), Moscow (2007), Taipei (2008), Lyon (2009), Gyumri (2012), Venice (2013), Athens (2013, 2015), and Quebec (2014). He is the director of 27 films. With Gregory Sholette he co-curated an exhibition cycle on the financial crisis, It's the Political Economy, Stupid, and with Ines Doujak Utopian Pulse – Flares in the Darkroom at Secession in Vienna in 2014. Ressler is the first prize winner of the newly established Prix Thun for Art and Ethics Award in 2016.
In his wide-ranging art, activist, teaching and writing practice, Gregory Sholette has developed a self-described "viable, democratic, counter-narrative that, bit-by-bit, gains descriptive power within the larger public discourse." Sholette is a founding member of Political Art Documentation/Distribution, which issued publications on politically engaged art in the 1980s; of REPOhistory, which repossessed suppressed histories in New York in the 1990s; and more recently, of Gulf Labor, a group of artists advocating for migrant workers constructing museums in Abu Dhabi. In dozens of essays, three edited volumes, and his own books including Delirium & Resistance: Art Activism & the Crisis of Capitalism (2017) and Dark Matter: Art and Politics in an Age of Enterprise Culture (2011, both Pluto Press), Sholette documents and reflects upon decades of activist art that, for its ephemerality, politics, and market resistance, might otherwise remain invisible. A co-director of Social Practice Queens at Queens College CUNY, he holds a PhD from the University of Amsterdam, The Netherlands, is a graduate of The Cooper Union, UCSD, and The Whitney Independent Study Program in Critical Theory.
Facebook
Tweet