Openings: A Memoir from the Women's Art Movement, New York City 1970-1992
Book Launch & Reading
6-8 PM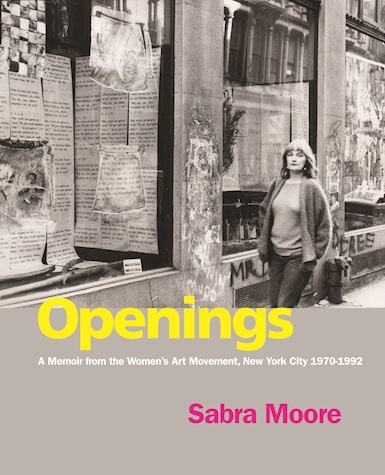 Artist, writer and activist Sabra Moore reads from her book Openings, The book is an intricate memoir that chronicles twenty-two years of her life and interactions with other women artists, finding ways to create politically and personally meaningful artworks, exhibitions, protests, and institutions in response to war, government corruption, struggles for reproductive freedom, and racial tension - all while fighting for greater representation and opportunities for women in the art world.
Sabra will also present a window installation TURN OVER A NEW LEAF, comprised of a pieced metal circular band approximately 5-feet in diameter and joined with wire (read more).
Join on Facebook here.
Sabra Moore became a leading creative force within the feminist art movement after moving to New York in 1966. Moore's artistic and political involvement was showcased in the feature length film The Heretics (2011). Her newest works are showing May-August 2016 in an exhibition at the New Mexico State Capital Rotunda in Sante Fe, and her most recent solo museum show, Out of the Woods, was at the Harwood Museum in Taos in 2007. She authored and illustrated the trade book Petroglyphs: Ancient Language/ Sacred Art (1997), and her artist's books can be found in several museum collections, including the Brooklyn Museum and the Museum of Modern Art in New York City.
In Openings, Moore mixes poignant personal narratives, such as her work in New York City's first legal abortion clinic, her own nearly fatal incomplete abortion in Guinea, and the abuse she experienced in a relationship with her former art teacher, and bold historical accounts, as she narrates her work organizing protests against the Museum of Modern Art, creating politically charged exhibitions with her peers in New York and beyond, and publishing a collaborative feminist art journal with the Heresies Collective. All in a vividly illustrated narrative that illuminates a breadth of women's struggles and triumphs.
The book is printed in full color and illustrated throughout with 950 photographs and artworks that pushed the era's social change, gracefully mixing bold historical accounts, poignant personal narratives, and nuanced introspection about writing, identity, family, and dreams.
With a Foreword from Lucy Lippard and Margaret Randall. Published by New Village Press
Facebook
Tweet