Printed Matter at Art Basel Miami Beach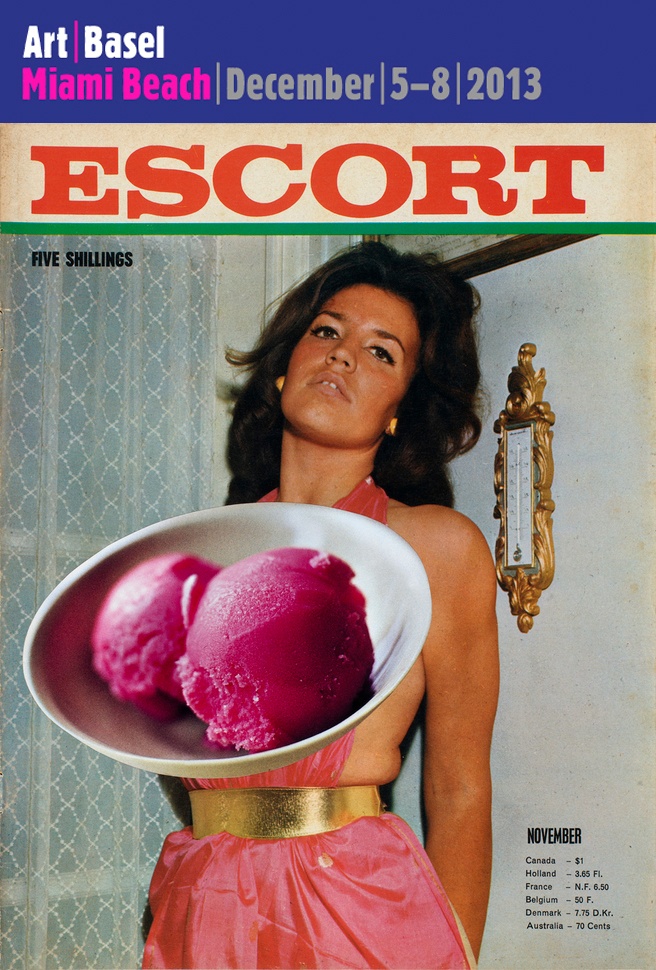 ART BASEL MIAMI BEACH 2013 PRINTED MATTER BOOTH T03  BOOKSTORE ENTRANCE HALL B
Printed Matter is traveling to Miami this week with a booth at Art Basel. In addition to presenting a selection of new titles and artists' book classics, we're pleased to debut a new fundraising edition from Linder, a 2014 Calendar Edition by Brendan Fowler and Andrea Longacre-White, and our new publication with Peter Sutherland (Info below). Stop by to say hello Dec 5 - 8 (preview night Dec 4) at Booth T03, near Bookstore Entrance Hall B.
Thanks to Art Basel for supporting our presence at the Fair.
Two Forms, 2012 Linder This Printed Matter Fundraising Edition celebrates Linder Sterlings's 35-year artistic practice of issuing uncompromising criticisms of sexual marketing. A vibrant figure of the British post-punk music scene, Linder's notorious photomontages overlay nude figures with cakes, cameras, record players, and flowers to address the image politics of domesticity, media, and femininity. This limited-edition, full-color giclée print reproduces the artist's photo collage of an Escort magazine cover, posing a biting juxtaposition that playfully draws attention to the very real consumption of consumerism. NY, NY: Printed Matter, Inc., 2013; 28x21cm,  signed and numbered giclée print, edition of 100. $150.00
Available here
Sender Peter Sutherland Printed Matter is please to celebrate the launch of our newest title, Peter Sutherland's Sender. Throughout the work, Sutherland reimagines visual culture as a psychedelic network of photographic overlays known as "dypsets." Featuring inserts of full-scale works, cropped images and high resolution scans,Sender reflects the contemporary state of image hysteria by layering brand names, logos, propaganda and political activism with cryptic superimpositions. Also includes a text by Ross Simonini. This book was made possible by the generous support of the Harpo Foundation. Come join Peter Sutherland for a signing at the Printed Matter booth on Saturday 7th from 4pm - 6pm.  NY, NY: Printed Matter, Inc., 2013; 60pp, 30x23cm, pbk. $25.00 Available here
2014 Calendar Edition Brendan Fowler, Andrea Longacre-White From LA based husband and wife team Brendan Fowler and Andrea Longacre-White, this Fundraising Edition is a contemporary interpretation of the classic floral wall calendar in the age of the screen shot. Both clever and critical, the calendar draws from the world of technical images that replaces the picture plane with a glowing screen and representation with pixilations. Fowler and Longacre-White's collaboration connects hand-written notation with the newest way to remember important events: snapping an image with an iPhone. Featuring mediated, floral-based artwork for every month of the year from artists such as Lee Krasner, Christopher Wool, Ai WeiWei, Louise Lawler, and Felix Gonzalez-Torres, Becca Albee, Sherrie Levine, and William Kilburn among many others. Andrea Longacre-White a featured artist in this years ICP's Triennial. Brendan Fowler's work is currently on view at MoMA's New Photography 2013 exhibition.
NY, NY: Printed Matter, 2013; 13 pp, 28x21cm, pbk.
$25.00 Available here
We are also pleased to hold a launch for a new multiple titled "Eternal Boy" by artist Bradford Kessler, Saturday, Dec 7, 6-8 PM. "Eternal Boy" depicts a 360 degree profile of Bart Simpson in the aeroceramica sculpture style most famously noted in the 1933 bust "Continuous profile of Mussolini" by Italian Futurist Renato Bertelli.
Kessler's portrait comes in two halves for display, each hand casted in solid black plastic from an original 3D print. Much of Kessler's work exercises a spirit of renewal as signified by the Jungian archetype of Puer Aeternus or Eternal Boy. Kessler's new edition casts the iconic character Bart Simpson as a twenty-first century child god, prince of youthful freedom, always searching for adventure. Eternal Boy is an infinite edition each individually numbered and signed on a unique accompanying box.
MIAMI PROJECT: We're also selling artist-made multiples through Miami Project 's popup shop from Dec 3 to 8. Click here for your free pass to the fair.
Facebook
Tweet