Emerging Artists Publication Series / Call for submissions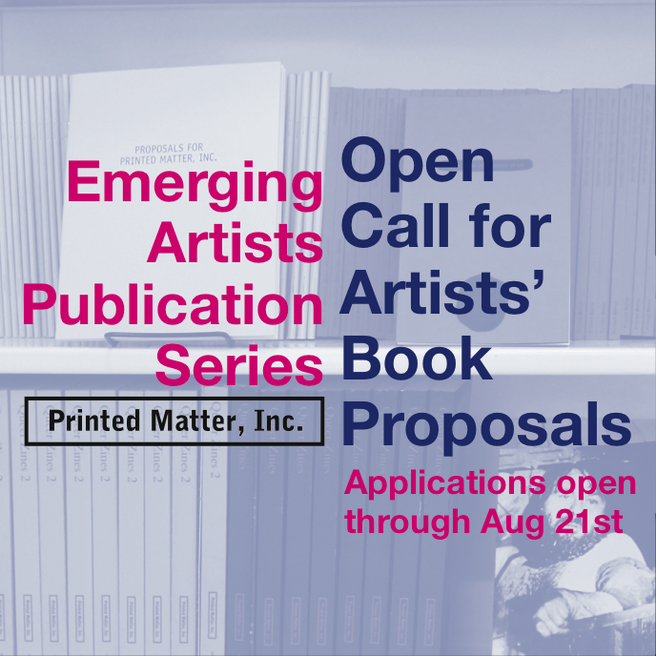 Emerging Artists Publication Series Call for Submissions 2016
Printed Matter is pleased to announce an open call for submissions for our second Emerging Artists Publication Series, made possible by the support of the Jerome Foundation and the Andy Warhol Foundation for the Visual Arts. Four artists' book projects will be selected by Printed Matter and guest jurors Brendan Dugan and Sara Greenberger Rafferty to be published under the organization's imprint in 2017.
The Emerging Artists Publication Series is only open to individuals with a legal address in the five boroughs of New York City.
Application Requirements
Printed Matter is looking for compelling publication proposals that utilize the book form as a site for artwork. Submissions are open to emerging artists who demonstrate an engagement with the artists' book medium in unusual and exciting ways. We would like to see proposals that give attention to the detailing of a strong concept, as well as articulate how the project would be particularly served by the book format.
A final design of the proposed book is not required, however submissions should be carefully considered and successfully illustrate to the jury how the proposal will translate into the finished work. Your application can also include a consideration of the book's production, including the size/format, printing method, binding, etc.
We will only be able to review submissions for artists' books. Works of fiction, non-fiction, or poetry, as well as catalogs of artwork and monographs will not be eligible, as these fall outside the scope of the organization. Please visit our website for more information on artists' books.
Please include the following as part of your proposal:
-a short, detailed summary of the proposed project (up to 500 words) -related images with captions (up to 10 images) -PDF of publication in progress, as available -other support material that gives context to the work (1-3 pages) -CV is not necessary, but may be included
Available Support
Selected artists will have the option to work with Printed Matter designer Garrick Gott for publication layout and production assistance. PM will also offer organizational support following the publication's completion, including the opportunity of a launch event (in-store or at the 2017 NY Art Book Fair), a press announcement, and wholesale/institutional offerings to bookstores and libraries.
Four projects will be selected and published under Printed Matter's imprint, with production and design expenses covered (within budget) in an edition of approximately 350-500 copies. Artists will receive a fee of $1,500 toward their work on the project, and 20 copies of the completed book.
Timeline
All book proposals must be sent by midnight Sunday, August 21, 2016. Applications sent after this date will not be considered. Selected applicants will be notified in mid-September. Publications must be produced before June 30, 2017, and we ask that applicants be prepared and available to complete the project by this date. A more detailed work/production schedule will be established once the artists are selected.
Please note that given the reasonably modest budget and short production timeline, submitting artists may be asked to shape their project so that it can be realized within the scope of the Series. Proposals with elaborate or costly production may be better suited for other publishers.
Applications open through midnight August 21. Submit here via Submittable.
Juror Bios
Brendan Dugan is the founder of An Art Service, a graphic design and art direction firm, which has functioned as a book publisher specializing in limited-run artist publications since 2009. He is also the founder of KARMA, a bookstore, gallery and publisher specializing in artist publications in New York City.
Sara Greenberger Rafferty is a New York-based artist who has exhibited widely since 2001, including solo exhibitions at The Kitchen, New York; MoMA PS1, New York; Eli Marsh Gallery at Amherst College, Massachusetts; The Suburban, Illinois; and a commissioned sculpture for the Public Art Fund. In 2014, she participated in the Whitney Biennial; the Hammer Biennial; and had solo exhibitions in Portland, Oregon, Riga, Latvia, and New York. In 2015, her work was included in exhibitions at the Museum of Contemporary Art, San Diego, the Atlanta Contemporary Art Center in Georgia, and Galerie Andreas Huber in Vienna. In 2016, she mounted her 4th solo exhibition at Rachel Uffner Gallery; and will have a solo project at Document in Chicago, while working on a traveling museum show to open in 2017.
Facebook
Tweet