Blue Icons - A new publication by Dan Walsh - Published by Printed Matter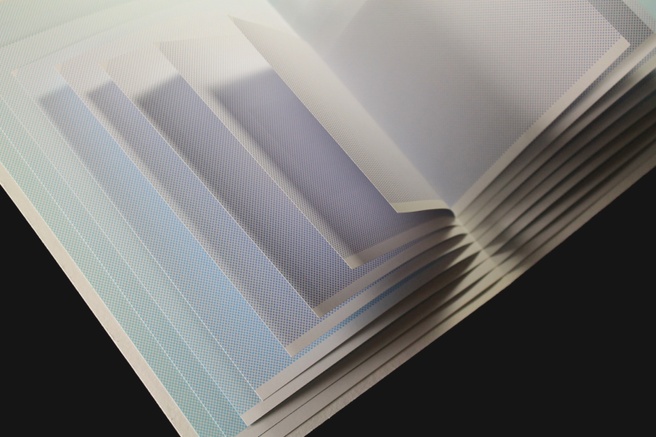 Printed Matter is pleased to announce Blue Icons, a hand-stitched conceptual book project by painter and independent publisher Dan Walsh. Available in two versions – Blue Icon (Day edition) and Blue Icon (Night edition) – the work offers a new take on a small-edition project first produced in 2013 under by Walsh's imprint Moody Studios. Available for pre-order or in-store after June 28.
Across thirty-two pages, Blue Icon (Day edition) explores a minimalist conceit shaped by two progressions of form. Each sheet has been trimmed down to a different size and is composed of small 'halftone' dots that shift across the color spectrum, from greenish to violet-y blue. Turning through the book these two variances are played against each other as the reader moves toward smaller pages and deeper hues (and then back out with the sequence in reverse). When laid open at the center stitching the book's pages are nested in ascending order, radiating outward in a bright aura.
While Blue Icon (Day edition) is an exploration of color, composition and texture, the range of the project takes on additional significance when we learn that the work is derived from the iconic logo of American film production studio Columbia Pictures. For the purposes of Walsh's book, the Icon herself - a woman draped in robes, in neo-classical posture - has been removed. We are left with the space around her; a framework for a dramatic sky, torchlight/sunburst, a receding a depth of field. The white trim along the bottom of each page gestures toward the temple steps/Greek 'crepidoma' of the original image, defining the space of the book as an architectural and cinematic one. Without the emblem on hand, visual forms -the balance of brightness and darkness, lightness and heaviness, narrative and abstraction - become the focus of the piece.
A second version of the book – Blue Icon (Night edition) – transfers the halftone shades of the Day edition into the background, and places black halftone dots on top of that. The outcome is a second view of an approaching dusk now turned into a darker nighttime sky.
Starting July 1 through August 2016, Blue Icon will be featured in a window lightbox at London's J.W.Anderson Workshops, at 100 Shoreditch High Street, and via j-w-anderson.com
Blue Icons is digitally printed, hand-stitched with tape cloth binding, and features a foil stamped cover.
Blue Icon (Day edition) is printed in an edition of 450 copies. It retails for $35 and is available here
Blue Icon (Night edition) is printed in an edition of 50 copies, signed and numbered. It retails for $100 and is available here
Design by Stephen Sprott. Production by Uses of Literacy. Printed by Conveyor Arts, Jersey City, NJ
A selection of other titles from Walsh's Moody Studios are also available in support of this project, including works in textilene, silkscreen, woodcuts on rice paper, and ink jet with hand coloring : here
Dan Walsh is represented by Paula Cooper Gallery, New York
Facebook
Tweet