Printed Matter's LA Art Book Fair 2016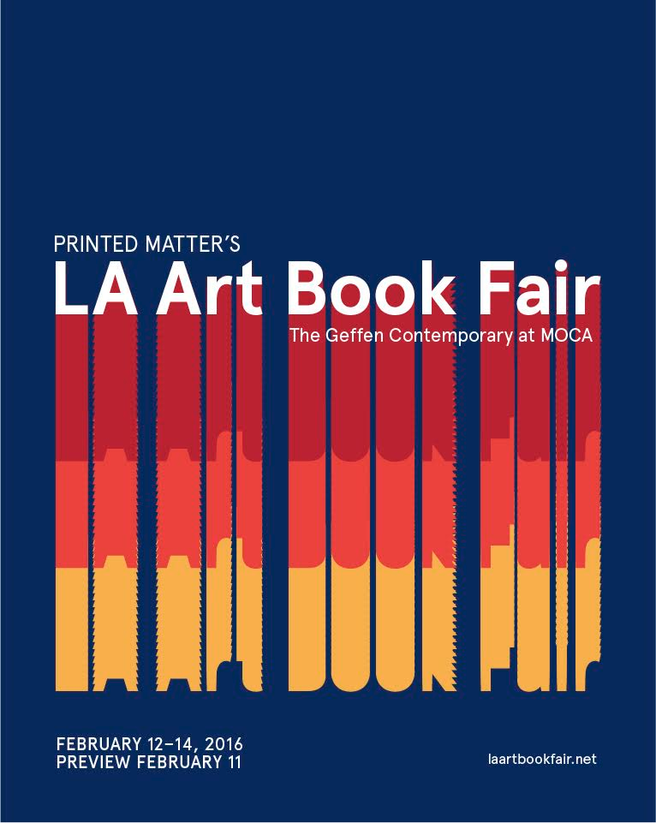 Printed Matter, Inc. presents THE LA ART BOOK FAIR 2016
http://laartbookfair.net/ Join on Facebook here.
Printed Matter presents the fourth annual LA Art Book Fair, from February 12 through 14, 2016, at The Geffen Contemporary at MOCA, Downtown LA. A ticketed preview will take place on Thursday, February 11, 6-9PM.
Free and open to the public, Printed Matter's LA Art Book Fair is a unique event for artists' books, catalogs, monographs, periodicals, and zines presented by more than 300 presses, antiquarians, artists, and independent publishers from over 20 countries.
The LA Art Book Fair is the companion fair to the NY Art Book Fair, held every fall in New York City. Over 35,000 artists, book buyers, collectors, dealers, curators, independent publishers, and other enthusiasts attended the NY Art Book Fair in 2015.
A full list of this year's exhibitors can be found here.
Join us on Thursday, February 11, from 6 to 9 pm, at The Geffen Contemporary for a three-hour opening night preview, with special musical performances by MOON UTERUS (Devendra Banhart, Amy von Harrington, Mel Shimkovitz) and CHRISTEENE.
Entry to the Preview costs $10 ($5 for Printed Matter Members), with proceeds going to support LAABF16. The first 2,000 visitors to pre-pay online or to pay at the door (while supplies last) will receive an enamel pin set ticket edition by artist Sigrid Calon (variations pictured left). Purchase your preview ticket here.
Explore the full program of Classroom sessions, the Contemporary Artists Book Conference, special projects, exhibitions, signings and performances at www.laartbookfair.net
Facebook
Tweet