Bard College and Wave Farm Information Session
12:00PM-2:00PM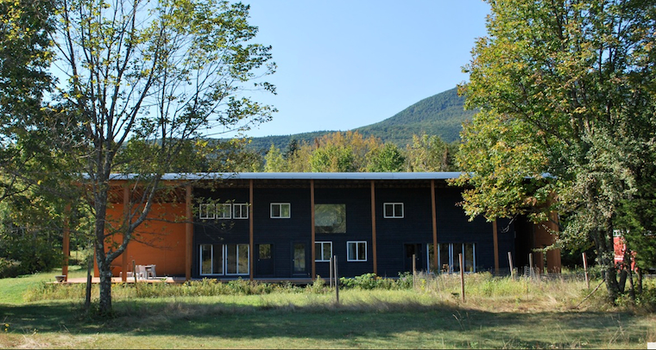 SOUND, MUSIC, FILM & VIDEO ARTISTS
MFA, GRANT and RESIDENCY OPPORTUNITIES AT PRINTED MATTER
Join representatives from Bard College and Wave Farm for a casual meet and greet on Thursday, December 3, 2015 from 12 to 2 p.m. at Printed Matter's beautiful new home at 231 Eleventh Avenue. Attendees will have the opportunity to speak with Bard faculty and Wave Farm staff one-on-one about programs and opportunities in 2016, including:
Bard College MFA: Applications Due January 10, 2016
Talk to Music/Sound and Film/Video faculty about Bard MFA's interdisciplinary, low residency program. Founded in 1981 as the first of its kind, Bard MFA is a nontraditional school for visual, written and time-based arts, taking place over three consecutive summers, and two independent study periods completed off campus. Each summer session engages over 60 faculty representing noted working artists across six disciplines compressing a nine-month academic experience into 2 months. At Bard, the MFA community itself is the primary resource for the MFA candidate—serving as audience, teacher, and peer group in an ongoing dialogue. In iterdisciplinary group critiques with 80 students and 30 faculty, discipline caucuses of 15 artists, and one-on-one conferences, our students learn to address film/video, writing, painting, sculpture, photography, and music/sound.
The intense critical response to students' artistic practice, enables them to reflect upon and refine their work over the 10-month independent study period. You can see last year's Thesis Exhibition at Artforum's Art and Education site here: http://www.artandeducation.net/yearbook/bard-mfa-class-of-2016/. Over $500,000 is available in financial aid for 2016 in merit-based fellowships and need-based scholarships in addition to federal loans. Register for this event and our December 5th campus
Info Session here
Bard MFA online applications are available here. Please call 845/758-7481 or email mfa@bard.edu for program and application questions.
Media Arts Assistance Fund for Artists: Applications Due January 1, 2016
For artists, the The Media Arts Assistance Fund provides support for the distribution and exhibition of works in all genres of time-based and moving image media, including emergent technology.
Grant awards assist New York State artists in making recently completed works available to public audiences, and advance artistic exploration and public engagement in the media arts. Applications for support are due on January 1, annually. A regrant program for the New York State Council on the Arts, Electronic Media and Film, grant awards assist artists in meeting expenses including, but not limited to: duplication of preview, screening, and exhibition copies; promotional materials including documentation and schematics of media-installation and new-media works. Other distribution/exhibition requests will be considered on a case by case basis. Applicants are encouraged to contact Wave Farm prior to submitting an application to confirm eligibility. Artists may request funding support up to a maximum amount of $10,000. More information: https://wavefarm.org/mag/artists
Wave Farm Artist Residency Program: Applications Due February 1, 2016
The Wave Farm Residency (Acra, NY) Program provides artists with a valuable opportunity to concentrate on new transmission works and conduct research about the genre. In conjunction with their residencies, artists perform, are interviewed, and create playlists for broadcast on Wave Farm's WGXC 90.7-FM, a creative community radio station serving over 78,000 potential listeners in New York's Upper Hudson Valley, and international listeners line. Residencies are selected from an international open call, and take place June through October, spanning 10 days. Accommodations in the Wave Farm Study Center include two bedrooms (one full-sized bed each), studio workspace, kitchenette, lavatory, shower, as well as the Study Center library, WGXC 90.7-FM Acra broadcast studio, and Wave Farm offices. The Study Center is located on 29 acres in the northern foothills of Catskill Mountain Park. The property features meadows, two small ponds, and a pine forest with large walking paths. WiFi, electrical, and audio hook-ups are available throughout the bulk of the property. Artists-in-residence receive a $700 artist fee.
More information:  https://wavefarm.org/ta/residencies
Contacts: Fawn Potash, Program Manager, Bard MFA, 845.758-7481, fpotash@bard.edu
Galen Joseph-Hunter, Executive Director, Wave Farm, 518.622-2598, galen@wavefarm.org
Facebook
Tweet