Jack Pierson: Tomorrow's Man 3 - Book Signing and Edition Release
5:00 - 7:00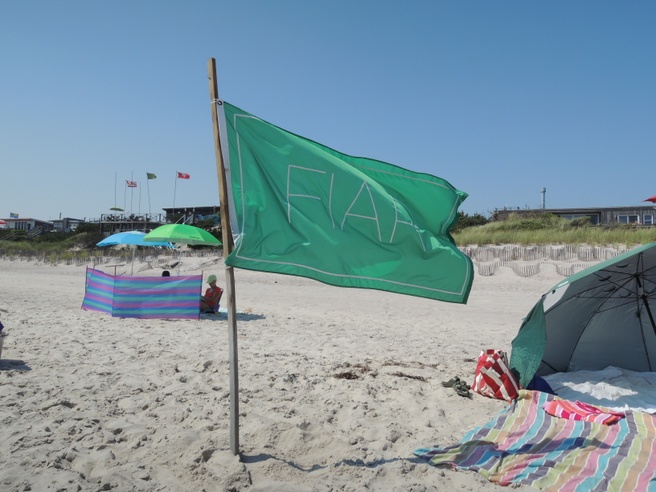 Jack Pierson & Roger Bywater present the release of the third volume of Pierson's ground-breaking Tomorrow's Man book series, in which the artist has assembled an art-fueled creative collaboration that harkens back to the 13 volumes of the independent literary and art periodical The Yellow Book published between 1894-1897.
For the Printed Matter launch event, a special and limited hardcover edition of 75 which includes an original, signed and numbered, photograph will be available from Pierson. The print is available that night only at discounted price of $250, proceeds benefiting the Fire Island Artist Residency and Printed Matter's move.
Whereas the first two Tomorrow's Man volumes implied an in- creasing density of layered imagery and collaborations with over 25 artists, Tomorrow's Man 3 amplifies the work of four artists. Richard Tinkler's delicate geometric abstractions are highlight- ed once again, working in concert with Pierson's recent series of figure studies; activist text works by Peter Fend that cry out for environmental justice; and a short story by Veralyn Behenna entitled 'The Flavor of Your Wish' in which an expatriate woman contemplates masculine beauty in a Grecian taverna. This is the first time Tomorrow's Man has included previously unpublished work by Pierson.
Woven into a poetic framework of connections, the resulting narrative takes the Tomorrow's Man series into new terrain that combines the vernacular of classic photography with the urgent, geopolitical narratives of Fend's texts, and the psychedelic reverberations of Tinkler's drawings. The result is a publication that is itself a collaborative work of art which, with Pierson's creative hand, manages to highlight each contributor, while simultaneously melding everything into a sophisticated mediation on culture and nature.
About Tomorrow's Man The title, Tomorrow's Man, comes from an infamous bodybuilding magazine from the 1950s and '60s. Reappropriating the publication's title as well as its retro bodybuilding aesthetic, Pierson takes viewers on a dizzying visual journey encompass- ing the full spectrum of cultural references. Combining archive material with contributions from selected artists, illustrators and a writers. Previous artists and collaborators include: Dennis Balk, David Carrino, Alejandro Cesarco, David Colman, Pat de Groot, Florence Derive, Jeff Elrod, Alex Jovanovich, Elizabeth Kley, Paulo Montiero, Dan McCarthy, Tibi Tibi Neuspiel, Mel Odom, OM from India, Ryan Sullivan and Evan Whale.
About Jack Pierson Jack Pierson is an American artist who works in several differ- ent mediums, including sculpture, photography and video, and is known for word signage installations, drawings, and artist's books. He explores the emotional undercurrents of everyday life, from the intimacy of romantic attachment to the distant idolization of others. In his well-known appropriation of vintage texts, Pierson references traditional American motifs (roadside ephemera, small town stores) and thus a lost era of cultural symbolism; his resulting word sculptures are imbued with both nostalgia and disillusionment. Informed in part by his artistic emergence in the era of AIDS, Pierson's work is moored by melancholy and introspection, yet his images are often buoyed by a celebratory aura of seduction and glamour. Using friends as models, he has consistently engaged star culture, whether the stars are from the screen, stage, or art world. Sometimes infused with a sly sense of humor, Pierson's work is inherently autobiographical; his fixation with fame affirms the tendency to yearn for an ideal, allowing for the viewer's identification with his imagery. Fueled by the poignancy of emotional experience and by the sensations of memory, obsession and absence, Pierson's subject is ultimately, as he states, "hope."
About Fire Island Artists Residency Fire Island Artist Residency (FIAR) is an organization founded in 2011 which brings lesbian, gay, bisexual, transgender, and queer identifying emerging artists to Fire Island, a place long-steeped in LGBTQ history, to create, commune, and contribute to the location's rich artistic history.
FIAR provides free live/work space to five selected artist residents who work, research, relax, and immerse themselves in the Fire Island community, during which time they are visited by a handful of renowned visiting artists, curators, and art professionals who commune with residents through intimate visits, dinners, and discussions, providing support and feedback. The greater Fire Island community as well as visitors from New York and Long Island are invited to attend free public lectures by these esteemed guests. This has been made possible through a partnership with Arts Project Cherry Grove.
In this way, FIAR hopes to bring both new creative perspectives and prestigious art professionals together in this extraordinary location to foster the creation—and preservation—of queer art-making in contemporary art.
$35 US Available with 4 different covers Published by Bywater Bros. Editions, 2015 120 pages, softcover 10 x 7.25 inches / 25.4 x 18.4 cm
Facebook
Tweet