Printed Matter at Paris Photo LA with a new edition from The Family Acid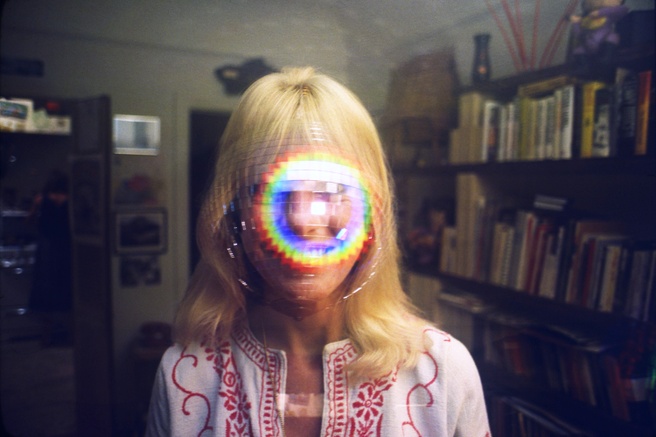 We're heading out to Paris Photo LA at the Paramount Pictures Studios May 1-3rd, 2015. The Fair brings together more than 80 exhibitors presenting historical and contemporary bodies of photographic work throughout the Paramount Studio soundstages and film-set replicas of New York City streets.
For this year's fair we have collaborated with The Family Acid on a site specific installation (in the Paramount PIZZA shop, Booth J03, New York Lot), featuring a selection of new photographic prints and the debut of a new fundraising edition published by Printed Matter.
The work of Roger Steffens (aka The Family Acid) was recently published by SUN_ Publications. Steffens started making photographs while serving in the Psychological Operations division in Vietnam, a time in which he began a journalistic record of his surroundings marked by an increasingly psychedelic lens.  Spanning 40 years, the portraits, scenes, and freewheeling experimentation with the medium of photography coalesce into a body of work that both parallels and defines the countercultural ethos of Steffens' generation. 
New Fundraising Edition - The Family Acid Silverlake, August 1977 is a newly editioned work from Roger Steffens. Steffens said of the work: "Diana Walker ran a salon-like showcase theatre in Hollywood in 1976 called Power and Glory Unlimited, where Roger Steffens and many of his friends shared their talents. Here, in my parents' Silverlake apartment, she is double-exposed with a Nebula Filter. Diana's dad was Eisenhower's personal financial adviser, and she was filled with behind-the-scenes tales of Washington and Park Avenue." This edition is published in a signed edition of 50 and retails for $100, available here
Signing with Roger Steffens - Saturday, May 2nd, 4-6pm Roger Steffens will be at the Printed Matter booth on to sign copies of The Family Acid, published by SUN_.
Signing with Ethan Rafal - Sunday May 3rd, 3-5pm While in LA, Printed Matter will also host a launch and signing with Ethan Rafal for his book project Shock and Awe, Sunday May 3rd, 3-5pm. This box set includes a puzzle, depicting the last image in the book, my 91 year-old grandmother giving the finger, a record, a narration of the short stories and other text elements in the book being read aloud (functioning like a guide), a print, and a jar of walnut ink. The box itself is conceptually woven, borrowing from the found materials inside the book. Whiskey and pie provided! 
Facebook
Tweet