An Encyclophilic Guide to The Plummet Machine An Artists' Demonstration by Matthew C. Lange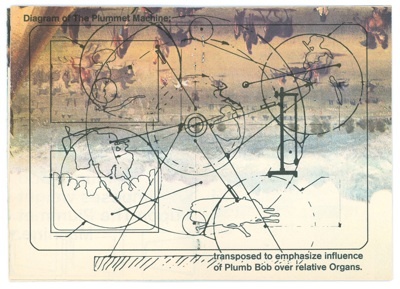 Artist Matthew C. Lange will present An Encyclophilic Guide to The Plummet Machine, a live demonstration of techniques for deconstructing and reconfiguring systems of knowledge and power. In this presentation he'll incorporate examples of the media devices through which we historically consume information - slide projectors, flip charts, and encyclopedia sets - to question the rationality of contemporary classification modes. In addition to physically and conceptually dismantling these media devices, Lange will present an alternative epistemology for theorizing societal formations: The Plummet Machine. In this system, and the demonstration of it, a disparate range of cultural references from Cold War Politics, infomercials, the writings of Kafka, the Wild West and contemporary corporate culture will merge in a perfectly dysfunctional cosmological order.
Lange's lecture is one component of multi-faceted engagement with The Plummet Machine, which he has also explored through a set of variable artists' publications. The most recent publication, Encyclophilia 4, is an editioned set of "mono-books" that transposes a social theory referred to as The Plummet Machine over important events in American history. Each set in the edition consists of seven 3.5" x 5", 16 page booklets that have been overprinted on two page spreads extracted from 1960's era illustrated history books. While the printed design remains consistent throughout the edition, the background image varies in each print, introducing new sets of unique relationships throughout the edition. These relationships are intended to serve as examples of the broader concepts that have emerged in numerous projects (including performances, videos, photographs, and pamphlets) addressing The Plummet Machine. Encyclophilia 4 specifically examines these ideas in the context of the printed word by applying print production techniques such as imposition, folding and cutting, quite literally, to historical concepts.
Encyclophilia 4 retails for 28.00 and is available through Printed Matter here. Lange's foldout booklet The Plummet Machine retails for $3.00 and is available here.
Facebook
Tweet