The Founding and Early History of Printed Matter with Mike Glier, Lucy Lippard, Clive Phillpot, Pat Steir & Martha Wilson at Judson Church
6:30-8:00 PM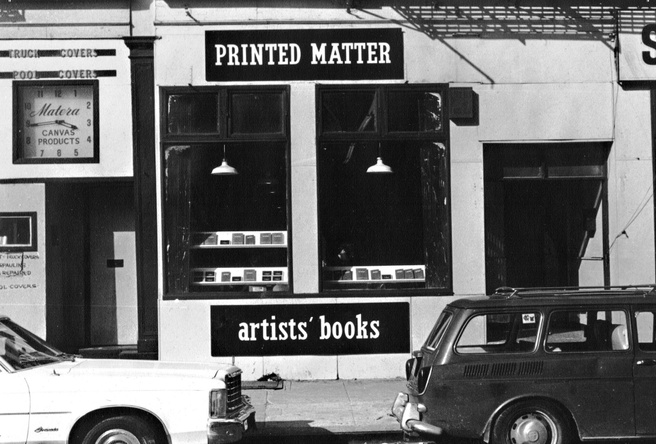 Please join us for a very special roundtable discussion on the founding and early history of Printed Matter. The conversation will bring together Mike Glier, Lucy Lippard, Clive Phillpot, Pat Steir and Martha Wilson, an extremely rare gathering of luminaries from Printed Matter's past. The event takes place in the main Meeting Room at Judson Memorial Church, 55 Washington Square South.
RSVP on facebook here
The discussion will explore the vision and principles of Printed Matter's founding mission, as well as the practical aspects of getting the organization up and running. The discussion will also address Printed Matter's role in supporting the existing artist book activity of the time, as well as its role in the advancement and legitimation of the the field as a whole. 
The panel will be moderated by Printed Matter's Acting Director Max Schumann, who has been with the organization for twenty five years.
As artists, writers, curators, art librarians, and activists, the various work of the panelists has had an impact on the emergence and development of artists' publications as an experimental medium with rich artistic and political implications. Starting with Printed Matter's own history, participants will also provide unique a perspective on the environment of artistic activity at the time and a consideration of how artists' books figured in relation to the many other innovations and experimental practices going on at the time.
The panel is being held on occasion of Learn to Read Art: A surviving History of Printed Matter, an exhibition of books, correspondences and ephemera from the Printed Matter Archive which charts the organizational history of Printed matter in relation to the history of artists' books and important movements in contemporary art from the 70's to the present. Learn to Read Art is on view at NYU's 80WSE gallery – a few blocks from Judson Church – through February 14th.
Judson Church is wheelchair accessible via the entrance at 243 Thompson Street.
Participant Bios
Mike Glier Mike Glier was born in Kentucky in 1953 and lives in New York State. In 1975 he received a BA from Williams College, Williamstown, MA, and then attended the Whitney Museum Independent Study Program. He received an MA from Hunter College in 1975.
From 1978 to 1984 he was an active member of Collaborative Projects, and participated in the Time Square Show. Between 1979 and 2000 he was engaged with Printed Matter Inc, NY, serving on the staff and then the Board of Directors. Solo exhibitions of his drawing and painting have been presented internationally in galleries which include The American Graffiti Gallery, Amsterdam, Rhona Hoffman Gallery, Chicago, Barbara Gladstone Gallery, New York, Galerie Tanja Grunert, Cologne. The list of museums that have presented solo exhibitions of his work include the San Diego Museum of Art, The Pennsylvania Academy of the Fine Arts, the Museum of Modern Art, The Cincinnati Contemporary Art Center, The Wexner Center, Columbus, OH and Mass MoCA, North Adams, MA.
In 1989 he was the New England recipient of Awards in the Visual Arts 9, and 1996 he was awarded a Guggenheim Fellowship in painting. In collaboration with his wife, Jenny Holzer, he completed in 1999 a permanent memorial sculpture for the City of Leipzig, Germany and in 2004, "Town Green" a wall drawing installation for the Cambridge, MA City Hall Annex was selected by Americans for the Arts as one of the best public art works of the year.
He is currently represented by Barbara Krakow Gallery, Boston, Gerald Peters Gallery, NY and Santa Fe, and Geoffrey Young, Great Barrington, MA.
Lucy Lippard
Writer, sometime curator, and activist Lucy Lippard is known for her incisive identification and analysis of conceptualism as well as feminist and political art. Lippard was a founder of Printed Matter, the Heresies Collective and journal, the Women's Art Registry, and Political Art Documentation/Distribution. For the last two decades she has written primarily on place, tourism, land use, archaeology, local history, and Native American art. She received a Sackler Center First Award, given by the Brooklyn Museum in recognition of "extraordinary women who are first in their fields," and she was the subject of the exhibition"Materializing Six Years: Lucy R. Lippard and the Emergence of Conceptual Art," held at the Brooklyn Museum's Elizabeth A. Sackler Center for Feminist Art. Her most recent book is Undermining: A Wild RIde Through Land Use, Politics, and Art in the Changing West (New Press, 2014). For the last 19 years she has edited a monthly community newsletter in Galisteo, NM.
Clive Phillpot Clive Phillpot is a writer, curator and former art librarian. He is well known for collecting, exhibiting, and writing about artists' books. His most recent publications include Booktrek: Selected Essays on Artists' Books from JRP/Ringer, and Nobody Nose from Boekie Woekie. You may also have seen him in the Ray Johnson documentary How to Draw a Bunny. 
Pat Steir Pat Steir attended the Pratt Institute in New York from 1956 to 1958, and Boston University College of Fine Arts from 1958 to 1960. She then returned to Pratt, receiving a BFA in 1962. Both institutions have since honored Steir: Boston University in 2001 with a Distinguished Alumni Award and Pratt in 1991 with an honorary doctorate. Steir worked as an editor for Semiotext magazine and was a founding board member of both the Printed Matter bookshop and the landmark feminist journal, Heresies. Steir has had over 300 one-person shows in galleries and museums in the U.S., Europe, and Japan. Her work has been featured at the Venice Biennale, Documenta, the Sao Paulo Biennial, The Museum of Modern Art, the Whitney Museum of American Art, the Philadelphia Museum of Art, the Hirschhorn Museum, the Chicago Art Institute, the Walker Art Center, the San Francisco Museum of Modern Art, the Los Angeles County Museum of Art, the Musée d' Art Moderne de la Ville de Paris, The Tate Gallery, among other internationally prominent venues. Her work is represented in numerous public collections including The Metropolitan Museum of Art, The National Gallery of Art, The Whitney Museum of American Art, The Museum of Modern Art, The Tate Gallery, The Phillips Collection, the San Francisco Museum of Modern Art, L A. County Museum, Boston Museum of Fine Art Museum and The Hirshhorn Museum.
Martha Wilson Martha Wilson is a pioneering feminist artist and gallery director, who over the past four decades created innovative photographic and video works that explore her female subjectivity. She has been described by New York Times critic Holland Cotter as one of "the half-dozen most important people for art in downtown Manhattan in the 1970s." In 1976 she founded Franklin Furnace, an artist-run space that champions the exploration, promotion and preservation of artist books, temporary installation, performance art, as well as online works. She is represented by P.P.O.W Gallery in New York; and has received fellowships for performance art from the National Endowment for the Arts and the New York Foundation for the Arts; Bessie and Obie awards for commitment to artists' freedom of expression; a Yoko Ono Lennon Courage Award for the Arts; a Richard Massey Foundation-White Box Arts and Humanities Award; and in 2013 received an Honorary Doctor of Fine Arts degree from the Nova Scotia College of Art and Design University.
Max Schumann
Max Schumann has been working at Printed Matter, Inc. for 25 years: as Bookstore Manager since 1993, then as Associate Director since 2005, and currently as Acting Executive Director. Max has played a key role in the development of many of Printed Matter's programs and services over the past three decades. Among many other projects that he has contributed to at Printed Matter, Schumann curated the exhibitions "By Any Means Necessary: Photocopier Books and the Politics of Accessible Printing Technologies" (1992); "PROTECT ME FROM WHAT I WANT: the Multiples and Editioned Works of Jenny Holzer (2002); and "A Show About Colab (and Related Activities)" (2011). Max also curates "Friendly Fire", which features independent artists and activist publishing collectives and individuals, in the New York Art Book Fair, which Printed Matter founded and has organized since 2006.
Max is also a working artist whose work has been exhibited internationally, and is a member of the loose-knit Cheap Art movement.
Max serves on the Board of Directors of Primary Information, a non-profit artists' publishing imprint, and on the Board of the Bread and Puppet Theater, one of America's longest running non-profit experimental theater groups.
Facebook
Tweet