Publication Release: STUDIO SPACE PRINT/TIME Published by Printed Matter Inc.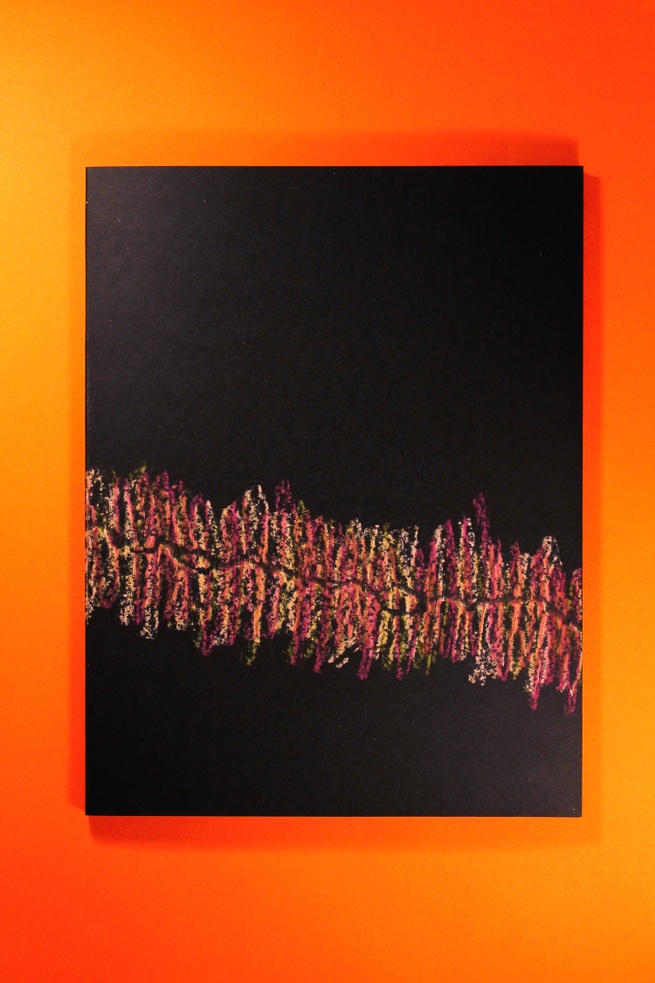 Printed Matter is pleased to announce the publication of a new artists' book, STUDIO SPACE PRINT/TIME by Sam Falls. Designed by Uses of Literacy (Duncan Hamilton), the publication reproduces a series of pastel rubbings that Falls created from the interior surfaces of his studio in Topanga Canyon, CA. The title was first previewed last month at the Frieze Art Fair, and this marks the full release of the publication, as well as the launch of a special edition featuring a dust jacket with an original pastel drawing from the artist. STUDIO SPACE PRINT/TIME is the latest book produced as part of Printed Matter's publishing program.
As a catalog of drawings, STUDIO SPACE PRINT/TIME is a rich reproduction of original works, with the bumps and crevices of various surfaces captured by the bright sheen of pressed pastel. The large-scale rubbings from Falls, first created in 2011, offer a study in material and color as well as a record of the artist's mechanical process. Picking up the subtle textures of the architectural space, Falls has captured an impression of the walls, floors and windows that is both objective and plainly abstracted.
Rather than presenting Falls' work as a series of photographic replicas, STUDIO SPACE PRINT/TIME builds around a printing procedure and system of design to elaborate on the principles of the original work. Printed on black paper with an underlaying (and carefully-registered) base of white ink, the artist and designer collaboratively explore offset printing as a material process to create, in a sense, a rubbing of a rubbing.
The 18 drawings included in the publication (6 windows, walls and floors), are accompanied by a text from Hamilton that gives an overview of the book's concept and technique. His "print production algorithm of sorts" turns the project into a step by step manual for producing the publication itself, detailing how to manage image files, separate color channels, convert to greyscale, overlay tints, allocate spot colors, and achieve the particular effect of the work on whole.
STUDIO SPACE PRINT/TIME is softcover, 80 pages, with smythe-sewn binding. The publication has been produced in an edition of 500, and retails for $50.00. Please see here for more information or to purchase.
For the special edition, Falls has created a hand-folded dust jacket with a original rubbing in pastel. Each rubbing, which diagonally crosses the sleeve in a thin, bright band, is unique and presents varying combinations of colors. This work is produced in an edition of 50 and retails for $250.00. Please see here for more information or to purchase.
Special thanks to Sam Falls, Duncan Hamilton, and Shapco Printing.
For trade inquiries please contact news@printedmatter.org
Sam Falls uses photography, Photoshop, drawing, painting and sculpture to make artworks that combine abstract and figurative images. He has had solo shows in New York, Miami, Stockholm and Madrid and group exhibitions in more than a dozen cities including Brussels, London, Amsterdam and Philadelphia. Sam Falls is represented in New York by Metro Pictures and American Contemporary.
Duncan Hamilton is a graphic designer, editor and publisher from the UK. Currently based in New York he combines freelance design (working as The Uses of literacy) with teaching at the Pratt Institute in Brooklyn. More information about his work can be found at theusesofliteracy.com
About the Printed Matter Publishing Program
Among the various non-profit services and activities provided to book artists, Printed Matter has a long history of working to support artists in the production of new books. The program supports book projects that fall into three broad categories; works from emerging artists (including our recently announced Emerging Artists Publication Series), artists' publications with a strong social or political conscience, and a series of innovative projects that think about the possibilities of technical production and concept in editioned book works.
Please note, unfortunately Printed Matter is not able to accept unsolicited publication proposals.
Printed Matter has received funding in support of our publishing activities from the following: Harpo Foundation, Furthermore Foundation, NYSCA, Jerome Foundation, Gesso Foundation, The Horace W. Goldsmith Foundation, Andy Warhol Foundation for the Arts and Individuals.
Facebook
Tweet