NOISECONOMY with David Schafer, Marcia Bassett, and Matthew Regula.
5:00 - 7:00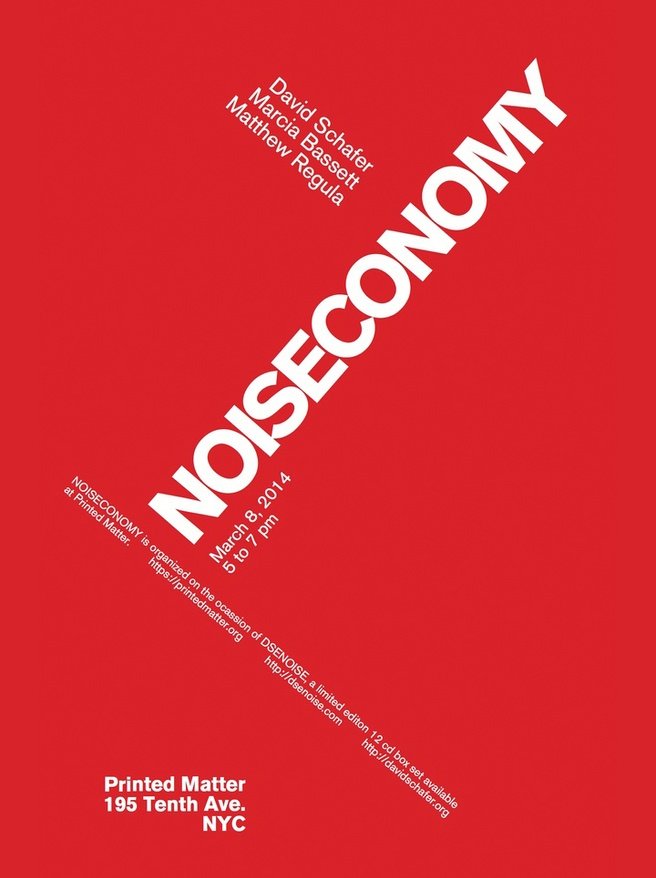 NOISECONOMY
David Schafer Marcia Bassett Matthew Regula
Printed Matter is pleased to present NOISECONOMY, an evening of short noise performances including David Schafer, Marcia Bassett, and Matthew Regula.
This has been organized as a launch event for Schafer's DSENOISE, a signed box edition of 50, includes 12 CDs, poster, insert, and sticker, that is hand assembled in a die-cut and foil embossed box. The CDs were released once a month for one year between October 2011 and November 2012. Each cd includes studio improvisations or recordings of live performances in LA and NY. The box design was in collaboration with Shiffman/Kohnke Design in LA.
The title NOISECONOMY is a paradoxical term that, in referencing Jacques Attali's book, "Noise, the Political Economy of Music", and the categories that he established in his theories of music, also suggests another form of play. Not only an embedded reference to spectacle, sacrifice, and the simulacrum, but also to other unexplored categories of the genre of noise itself. The idea of a "noise economy " is an economy of an avant-garde, suggesting that the study of noise is the study of the avant-garde, and that noise is always in the process of failing to be noise. Schafer, exploring subjectivity in the act of improvisation, is interested in the idea that one can only improvise for an 'other', as one cannot be present for oneself. These recordings provide the listener with 10 hours of noise that was generated over the course of one year. It can be understood as a continuous work, that is compressed into 10 hours. The tracks were recorded 'live' in one take, and mastered for sound equalization. Schafer equates this act of improvisation to the gesture of drawing and the sensation of mark making and continual movement. This suggests the possibility of 'drawing' as a preliminary of something to come, a future plan, and implicates the idea of sculpture and space itself. The sound fills the space by emptying it. To listen to these tracks is to redraw spatial divisions between yourself as a listener and as a spatial participant. Through exploring abstraction, subjectivity, and harsh noise, this box set represents a dense and visceral journal of noise notations and documents.
David Schafer DSE is a platform for the production of and dissemination of electronic noise, processed recordings, live signal manipulation, no-input feedback, and voice. This includes live sound performances, collaborations, programming events, and sound installations. Schafer has performed at The Whitney Museum, Roulette, Invisible Dog, and Studio10 in NY, and Control Room, David Kordansky Gallery, Samuel Freeman Gallery, and at L.A.C.E. in Los Angeles, CA. Schafer is working in sculpture, sound, sound performance, print, and works on paper. His work is concerned with the intelligibility, translation, and structures of language and space. Schafer has shown nationally and internationally and has received several public commissions. Recently he has had one-person shows at Samuel Freeman Gallery in Los Angeles, Studio10 gallery in Bushwick, NY. Schafer was recently a visiting assistant professor at Art Center College of Design and is currently teaching at University of Southern CA in Critical Studies.
Matthew Regula High School Confidential is the noisiest of Matthew Regula's projects that might fall under the umbrella of noise (genre). Avoiding the complexities of the more, well known modular synthesizer workouts, HSC aims to aurally distill the mania and hormonal spasm of the adolescent/teenage mind. From a vacant lot to the 7-11 dumpster, no bit of trash is too insignificant to toss thru an already broken window, just for the hell of it. The entire sound creation process is based on utilizing the least sophisticated, crappiest, devices to present the most agitated signal to a slightly more sophisticated equally crappy overdrive element. https://truecolorofvenus.bandcamp.com/album/she-looked-so-good-in-red
Marcia Bassett Zaïmph is the solo project of Marcia Bassett. Using an array of instruments and a diverse tool pallet, including prepared guitar, keyboard, circuit bent drums, hand built noise/drone boxes, processed sounds and tabletop effects, Bassett creates soundscapes where a lurking apocalypse is eclipsed by shimmering, meditative beauty. Since 2005, Zaïmph CDs, LPs and tapes have appeared on independent labels such as Gift Tapes, Hospital Productions, W.M.O.r, Utech Records, Gypsy Sphinx, Volcanic Tongue and No Fun records. Bassett has released numerous Zaïmph recordings on her own Heavy Blossom imprint. In 2012, Bassett retired Heavy Blossom and started Yew, a label showcasing Zaïmph and other aesthetically allied projects. Her past projects include Double Leopards, Hototogisu, GHQ, and un. She frequently collaborates with Jenny Graf, Samara Lubelski, Barry Weisblat, and Andrew Lafkas. http://zaimph.org
Facebook
Tweet