QUEER ZINES 2 & QUEER ZINES boxed set // Publication Launch Party
Published by Printed Matter, Inc., New York, Witte de With Centre for Contemporary Art, Rotterdam // Edited by AA Bronson & Philip Aarons
5:00 - 7:00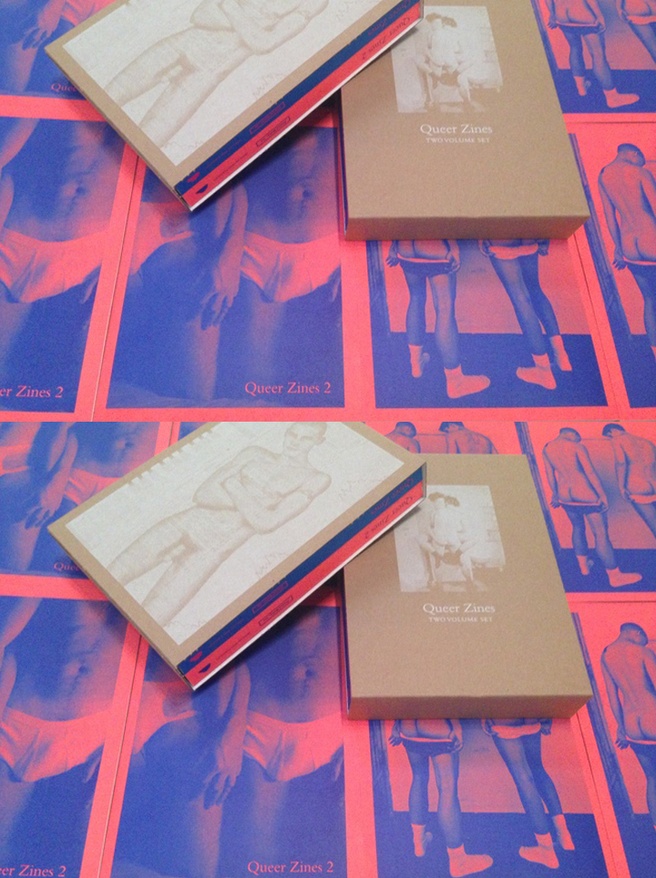 We are pleased to announce the release of Queer Zines 2, in addition to a two-volume Queer Zines boxed set. As a follow-up compendium to the sold-out first volume, the new second volume features an entirely new selection of self-published, serial publications with a queer spirit and visible mark of the artist/maker. A screen-printed boxed set containing the new volume and an updated reprinting of the first Queer Zines is also available. Please join us Saturday, February 22, 5-7 PM, to celebrate the launch with editors AA Bronson and Philip Aarons, and managing editor Ray Cha.
With comprehensive bibliographies of more than 120 titles, Queer Zines 2 offers a visually arresting, intellectually provocative, and unashamedly sexy take on the rich output of contemporary queer zinemakers. Including both an expanded focus on overlooked 'historical' publications dating from the early 70s onward, as well as extensive entries charting a new generation of queer zinesters, this second volume offers a broad survey of the vibrant and evolving medium.
Queer Zines 2 includes over a dozen new essays, including writing by Bruce LaBruce, Edie Fake, K8 Hardy, Scott Treleaven, and more. Reflecting the authors' deep belief in the urgency and vitality of zines as an individual and collective forum, these essays offer both personal and critical assessments of independent queer publishing as an important agent in shaping identity, establishing community, and altering the course of culture more generally.
Concurrent with the launch of Queer Zines 2, we are pleased to launch a special Queer Zines boxed set with a screenprinted slipcase. This set includes a reprint of the original Queer Zines in an abridged and updated second printing. For more information or to purchase, please see here: Volume 1, Volume 2, box set.
Queer Zines and Queer Zines 2 have been published in relation to the exhibition Queer Zines, presented in "The Temptation of AA Bronson" at Witte de With Centre for Contemporary Art, Rotterdam, 2013, and then at Printed Matter's LA Art Book Fair in January 2014. That exhibition, curated by Philip Aarons and AA Bronson, is an expanded version of the exhibition of the same name first presented at Printed Matter's NY Art Book Fair in 2008.
Editors: AA Bronson, Philip Aarons Managing Editor: Ray Cha Designer: Garrick Gott
Facebook
Tweet