Correspondences by Heinz Peter Knes
Heinz Peter Knes in conversation with Morya Davey
6-8PM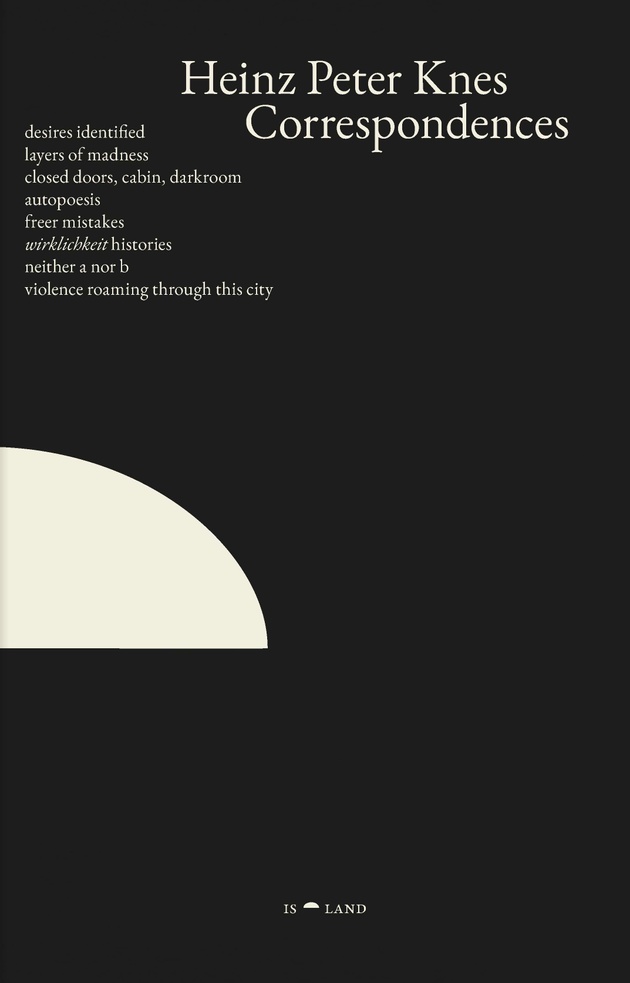 Heinz Peter Knes has developed a photographic-documentary practice that considers the uneasy play of image, photographer and society. A choreographer of contexts, the artist's work is characterized by deep research into family systems and cultural infrastructures which he looks at through his restless queer lens. Knes' mercurial and thoughtful photographic oeuvre results from a dialogue with himself and a genealogy of influences/ provocateurs that extends from Josef Winkler to Hervé Guibert, Pier Paolo Pasolini, Moyra Davey, Julie Ault, Jean-Luc Moulène, Danh Vo, Antonin Artaud and others.
In Correspondences it becomes obvious that the artist's quietly evolving personal world plays as crucial a role in the formation of his photographic identity as the myriad makers listed above. For Knes, the camera becomes a conduit through which to make sense of a world filtered through his back and forth with these conscious and unconscious collaborators.
With eight chapters of meditations and conversations, Correspondences is Heinz Peter Knes' only discursive intervention into photography. Like his persistently circulating and gently objective pictures, the book ekes out a language of the image. The photograph as echo of sensitive experience: a way to dematerialize our perceptions, but also to gather them.
To mark the launch of Correspondences, Heinz Peter Knes will be joined in conversation by Moyra Davey.
Heinz Peter Knes (B. 1969, Gemünden am Main, Germany) lives and works in Berlin. A graduate of Fachhochschule Dortmund (1999), Knes was first recognized through a series of photographs about rural-German adolescence titled "E.M.T. in MSP" that circulated widely in fashion magazines in the early 2000s. This project was published in full by Edition Taube (2021). Knes moved to Berlin (2001), where he built a reputation within fashion and contemporary art contexts. He achieved recognition internationally as a "Butt Magazine" photographer and subject. Today, Heinz Peter Knes makes projects that are entirely shaped by his individual evolution as an artist, such as "Gesture Studies" exhibited at Duane Thomas Gallery, New York (2021). Both human typology and a meditation on difference, the work recently entered the collection of Berlinische Galerie. Knes is also noted for a variety of collaborative projects working with various archives. For instance, "Hannah Arendt's Library" (Where The Lions Are:2012; with Danh Vo and Amy Zion); "IMU-UR2" (Galerie Buchholz; 2013; with Danh Vo, Julie Ault and featuring the collections of Martin Wong and Florence Wong Fie); and "Der weltrevolutionäre Prozess seit Karl Marx und Friedrich Engels bis in die Gegenwart" (BOM DIA BOA TARDE BOA NOITE: 2019; with Dominikus Müller). Knes has been featured in numerous publications internationally and in 1998 co-founded the photo fanzine "Strahlung." The artist's latest exhibition "very near sighted but unspectacled" is on view at Duane Thomas Gallery, New York from 14th of October on.
Facebook
Tweet