Printed Matter at PHOTOFAIRS New York
With a panel discussion on Latin American photography and a book launch with Kris Graves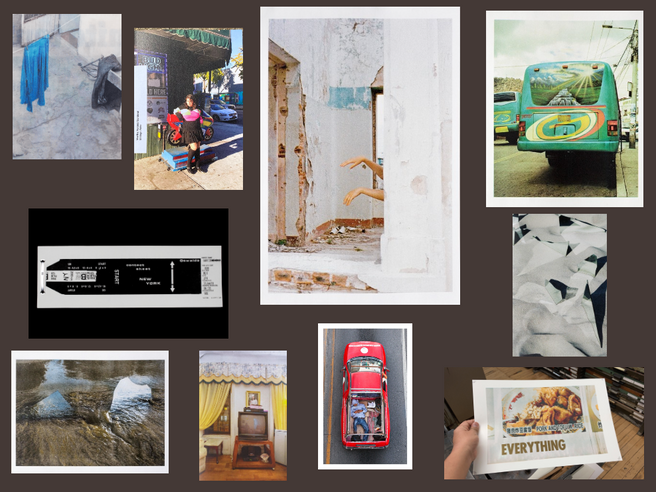 Printed Matter is pleased to participate in the inaugural edition of PHOTOFAIRS, taking place at Javits Center from September 8–10, 2023. We've curated a large presentation of books that will represent the many ways in which publishers and artists experiment with photography in the book form. You'll find hundreds of artists' books playing with collage, risograph, and text in exciting ways and non-traditional ways.
Purchase your ticket here and visit us at Booth #132!
Friday, September 8 at 3pm
A conversation between Latin American photobook publishers
Printed Matter presents a conversation between Latin American photobook publishers and artists: Oswaldo Garcia of Gold Rain, Martha Naranjo Sandoval of Matarile Ediciones, and Carlos Loret De Mola of Los Sumergidos.
The three will discuss the evolution of their collaborative practices, questions of region and diaspora, and the stakes of self-publishing vis-a-vis self-representation. They will also touch upon the uniqueness of independent and small press publishing economies and its relationship to the larger culture of photobooks. The conversation will be moderated by Sonel Breslav, Director of Fairs & Editions at Printed Matter.
Martha Naranjo Sandoval is a Brooklyn-based visual artist and photobook publisher, seller and cataloguer from Mexico City. She holds a degree in Film from Centro de Diseño, Cine y Televisión in Mexico City, and an MFA from the International Center of Photography and Bard College. Alongside designer Aline Enríquez, she founded the editorial project Matarile Ediciones, which publishes work by artists who are immigrants or part of a recent diaspora. With Matarile Ediciones, she has published five books as of July 2022: West 176 Street by groana melendez, Quiéreme Mucho by Cristina Velásquez, Sedimental Feelings by Marion Ellena, La Luz También Viaja by Genesis Báez, and Sangre de mi Sangre by herself. These publications are sold in multiple stores across the globe including Dashwood Books in New York City, Le Bal in Paris, and other stores in New York, Paris, London, Tokyo, Mexico City, Bogota, Seoul, Miami and Los Angeles. They are also collected by important institutions including the Watson Library at the Metropolitan Museum of Art, the Moma Library, and the New York Public Library.
Carlos Loret de Mola is a photo-based artist, curator, and publisher, born in Havana, Cuba, and living in Hudson, New York. He holds a Bachelor's degree in Visual Arts from Georgia State University and has exhibited internationally at venues including The Center for Photography in Woodstock, The Tokyo Institute of Photography, and The Museum of Fine Arts Houston, where his photographs are in its permanent collection. In 2017, Carlos began working with Alejandro Cartagena, Juan Madrid, Fernando Gallegos, and Freddie Martinez on a collaborative publishing project platform that led to the production of "Los Sumergidos," their eponymous debut publication that explored novel ways of constructing narratives in photobooks. Since then, Los Sumergidos has continued publishing kindred works by other Latin American visual authors, such as Melba Arellano and Alejandro "Luperca" Morales. Its publications are in major institutional and private collections worldwide and have been shortlisted for several international awards, including Les Rencontres d'Arles Prix du Livre, photoEspaña, and the Aperture Foundation Paris Photo Book Awards.
Oswaldo García (1989, Mexico) is a visual artist, printer, and publisher specializing in artists' books and zines. By blending design, bookmaking, and photography, he empowers underrepresented voices through storytelling. Oswaldo is the editor, printer, and founder of Gold Rain, a Mexican publisher known for its limited and spontaneous editions of catalogs, zines, editorial accidents, and experimental books mainly printed in risograph. His work is featured in collections like the MET Museum, Harvard University Fine Arts Library, and New York Public Library.
Saturday, September 9 at 2pm
Launch and signing of Privileged Mediocrity with Kris Graves
Privileged Mediocrity examines systemic unfairness in the United States. Using a mix of conceptual and documentary photographic practices, I reacted to the the subtleties of societal power and its impact on the built environment of America and the construction of public and private space. The ideas within explore how racism, capitalism, and power have shaped our country – and how that can be seen and experienced in everyday life.
Kris Graves (b. 1982 New York, NY) is an artist and publisher based in New York and California. Graves creates artwork that deals with societal problems and aims to use art as a means to inform people about cultural issues. Using a mix of conceptual and documentary practices, Graves photographs the subtleties of societal power and its impact on the built environment. He explores how capitalism and power have shaped countries – and how that can be seen and experienced in everyday life. Graves also works to elevate the representation of people of color in the fine art canon; and to create opportunities for conversation about race, representation, and urban life. He photographs to preserve memory. Graves received his BFA in Visual Arts from S.U.N.Y. Purchase College and has been published and exhibited globally, including Museum of Modern Art, New York; Getty Institute, Los Angeles; and National Portrait Gallery in London, England; among others. Permanent collections include the Metropolitan Museum of Art, Getty Institute, Schomburg Center, Whitney Museum, Guggenheim Museum, Museum of Fine Arts, Houston; Brooklyn Museum; and The Wedge Collection, Toronto; amongst others.
Facebook
Tweet