Max Schumann announces he will step down as Executive Director
January 24 - March 1, 2023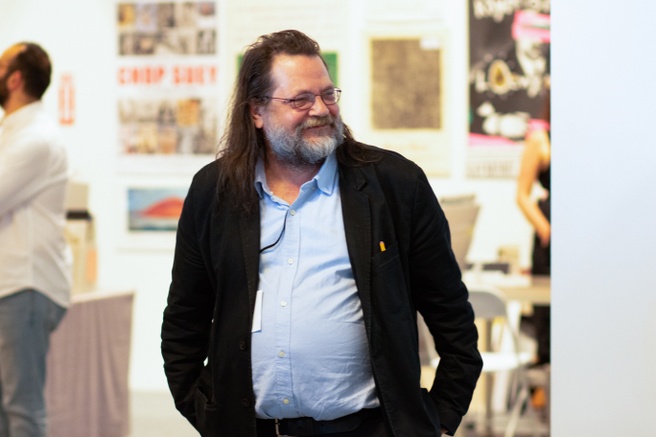 A Statement from Max Schumann
Dear friends and followers of Printed Matter,
I'd like to share the news that I will be stepping down as Executive Director of Printed Matter this summer. I've been with Printed Matter for over 30 years, and in the role of executive director for nearly eight. With so many exciting projects on the horizon it will be difficult to leave, however I feel that the time is right for me to move on to other pursuits, chief among them to return to my artwork.
It's been a truly amazing journey, filled with enormous challenges—including the flooding of Hurricane Sandy and a global pandemic—which in the end have been surpassed by many and great rewards, chief among them advancing Printed Matter's mission to bring artists' books and publications into the hands and under the eyes of as broad an audience as possible.
I began at Printed Matter in 1989 shortly after the move from Tribeca to Soho, helping out with packing books and ringing up sales during the busy holiday season. Since then, I've worked in almost every capacity at the organization as we moved through three subsequent locations in Chelsea. While distribution is Printed Matter's reason for being, I'm especially proud to have contributed to the growth of the programming here, building this essential aspect of our mission by fostering the understanding and appreciation of the boundless universe of artist publishing through events, exhibitions, publishing, art book fairs, and so much more.
During my time as director, it's been super gratifying to guide the organization as we moved to and grew into our expanded space on Eleventh Avenue, opened an outpost in the East Village, participated in art book fairs across the globe, increased our staff, and honed our programs to better serve our communities of artists while nurturing new generations of publishers.
I'm grateful for the foundation left to me from the previous administrations, which was achieved through their deep commitment often under challenging circumstances. I would also like to thank Printed Matter's Board of Directors for their essential support and participation— with very special gratitude to our board president Phil Aarons—and for their faith in both my vision and methods. And I'd like to send tremendous appreciation to all of the generations of staff without whom this project would have never been possible—it's truly been a collaborative effort! Finally, I want to thank the literally thousands of artists and publishers who, along with their incredible and inspiring work, are at the heart of everything we do. Being able to work with you and your creations has been one of the most rewarding aspects of this great adventure.
The search for a new director will be announced this winter, but in the meantime, there's a helluva lot I want to do in my remaining time here. Keep your ears tuned and eyes peeled, there'll be a lot more coming from Printed Matter this spring.
That's all for now, and a huge thanks again to everyone who's been a part of the Printed Matter project!
Max
A Message from our Board of Directors
It is with profound gratitude and deep sadness that the Board of Directors acknowledges Max Schumann's decision to transition away from the Executive Director role at Printed Matter.
In his 33 years at Printed Matter, including the last 8 years as the Executive Director, Max has been a driving force in authoring many chapters of the organization's storied history. His accomplishments have included the expansion of Printed Matter to its current home at 231 11th Avenue, the launch of our first satellite store on St Marks, building on Printed Matter's many programming initiatives, the further development of the NY and LA Art Book Fairs, navigating the global pandemic, negotiating the first union contract with our dedicated staff, and, significantly, stewarding Printed Matter into a new period of financial stability despite numerous challenges.
Max leaves Printed Matter in a very strong position to deliver on its core mission as the world's leading non-profit organization dedicated to the distribution, understanding and appreciation of artists' books. We sincerely thank him for his years of contribution and leadership. The Board wishes Max the best of luck in his future endeavors, and looks forward to celebrating all that he has given to Printed Matter.
Max plans for his last day to be June 30, 2023. Over the next few months, the Board will be conducting a search to find our new Executive Director, and it is our top priority to find the individual best suited to lead Printed Matter at this exciting time in the organization's history.
Again, we cannot thank Max enough for the dedication, passion, enthusiasm, and leadership that he has provided Printed Matter during his tenure. He will be greatly missed by the staff, Board, and Printed Matter community at large.
Printed Matter's Board of Directors
Photo by Casey Winkleman
Facebook
Tweet