O by Tammy Nguyen Launch Party with music by Sonic Mud
at Printed Matter / St Marks
4:30 PM - 7:30 PM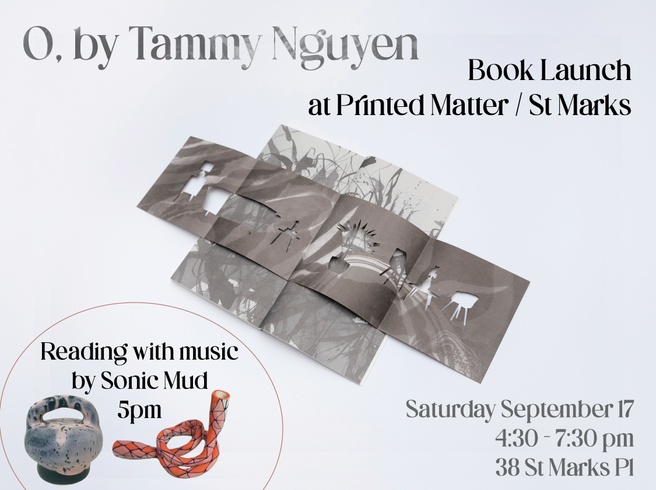 Printed Matter / St Marks is excited to host the launch of artist Tammy Nguyen's new book, O, published by Ugly Duckling Presse, on the rooftop of 38 St Marks Pl.
Tammy will be reading from O accompanied by ensemble Sonic Mud, who will make music using handmade ceramic instruments. Following the reading we'll have a reception with a DJ set by Emmy Catedral, beer generously donated by Bronx Brewery, and Vietnamese snacks!
Capacity is limited, arrive early!
About the book: From a dentist's office in San Francisco to the caves of the Phong Nha Karst, Tammy Nguyen's O sounds the depths of personal, mineral, and geopolitical histories of Vietnam. In this many-threaded narrative, a wind that carved mountains whistles through a young girl's teeth. The electric green of a plastic forest glints off of glazed porcelain. The shape of a bowl becomes the mouth of a cave. What emerges is a story without a center: an anti-allegory that finds its meaning in echoes and refracted light, a book stitched together by the O woven through the work as its visual spine and sonic refrain.
---
Tammy Nguyen is a multimedia artist and writer whose work spans painting, drawing, printmaking, and publishing. Intersecting geopolitical realities with fiction, her practice addresses lesser-known histories through a blend of myth and visual narrative. She is the founder of Passenger Pigeon Press, an independent press that joins the work of scientists, journalists, creative writers, and artists to create politically nuanced and cross-disciplinary projects. In 2008, she received a Fulbright scholarship to study lacquer painting in Vietnam, where she remained and worked with a ceramics company for three years thereafter. Nguyen received an MFA from Yale in 2013 and was awarded the Van Lier Fellowship at Wave Hill in 2014 and a NYFA Fellowship in painting in 2021. Recently her work was included in Greater New York 2021 at MOMA PS1 and has also exhibited at Nichido Contemporary Art in Japan, Smack Mellon, Rubin Museum, The Factory Contemporary Arts Centre in Vietnam, and the Bronx Museum, among others. She is represented by Lehmann Maupin New York, Seoul, London.
Photos by Daniel Kukla.
---
Visit Bronx Brewery's East Village location at 64 2nd Avenue—just a few blocks from Printed Matter / St Marks!
Facebook
Tweet