T7: I think I Scan by Jakob Boeskov, Timothy DeWit and Matthew Morandi
Release Party!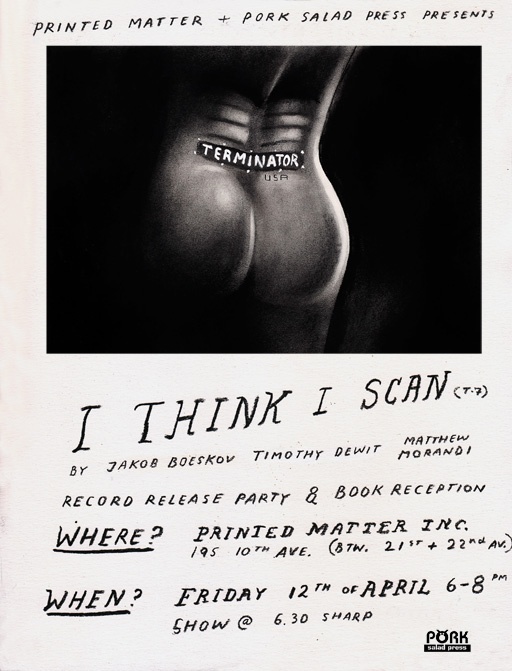 Pork Salad Press is pleased to announce the publication of T7: I think I Scan, a subversively elegant new book+record by artists Jakob Boeskov, Timothy DeWit and Matthew Morandi in an edition of 500.
James Cameron's sci-fi blockbuster "The Terminator" (1984), a film about a cyborg from a post-apocalyptic future of 2029, is the point of departure for this deadpan art-music project. T7 is a 16-page artist book accompanied by a record. The deliberately outdated format of the project (charcoal drawings and a 12" vinyl E.P.) is an aesthetic contradiction to the malignant network of computers that initiate a nuclear apocalypse in the original "The Terminator." In T7, through the delicious drawings by Boeskov, we enter the mind of a white, male, where sexual realities and technological fantasies compete. The record, a collaboration between the threesome, features pseudo- automated spoken lyrics, creating several layers of meaning, with subjects ranging from augmented reality to single moms. Analog drums and dissonant synths conjure an exhilarating and creepy mood; and the overall musical production by DeWit is the sound of a world where technology is both empowering and alienating.
In the original Terminator film, a military robot targets heroine Sarah O'Conner. In recent wars, US military armed drones have been deployed to kill human targets.In commemorating and personalizing a dystopian film, T7 acknowledges that reality has usurped science fiction and manifests the defining quote, "I'll be back." Purchase Here
Timothy DeWit is a music producer and a founding member of Gang Gang Dance. He has performed with musicians in- cluding Animal Collective and Cass McCombs.
Jakob Boeskov is an artist and a filmmaker, known for an art project where he infiltrated a Chinese weapons fair with a fake hi-tech rifle. His work has been shown at New Museum, Stedelijk Museum and the National Gallery of Denmark.
Matthew Morandi is a musician and a visual artist. He has performed his music in such places as The Guggenheim in New York City & Body Actualized Center in Brooklyn.
Pork Salad Press is a art book publisher/record label based in Copenhagen, Denmark founded by curator Jacob Fabricius. He has published projects with Goodiepal, Superflex & Henrik Olesen.
Facebook
Tweet