Pressless – Blockprinting and Bookmaking Workshop
Presented by Printed Matter / St Marks and Abrons Arts Center
1 - 3 PM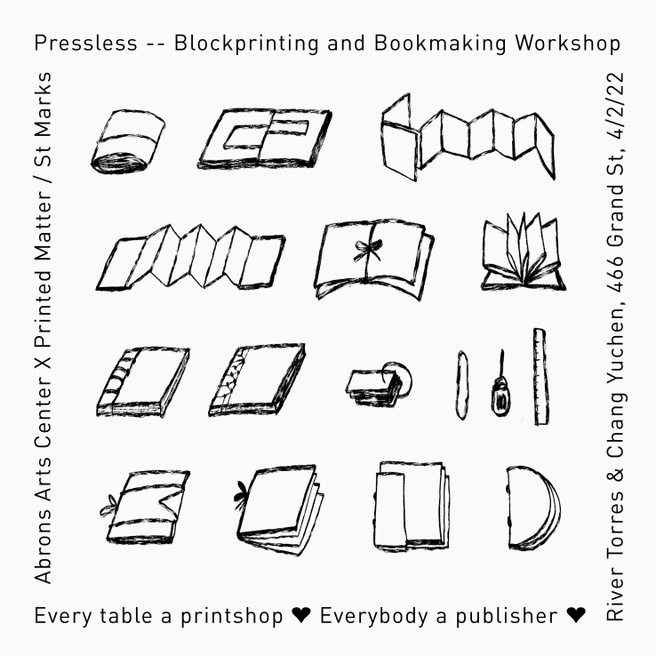 Print an image without a press, bind a book without a factory! In this workshop co-facilitated by River Torres and Chang Yuchen, participants will exercise the complete workflow of making a block-printed book. The principles of relief printing without a press and the skills of making a book with a single sheet of paper will be shared. With limited materials and unlimited creativity, every table can be a print shop, everyone is a publisher.
This workshop is presented in partnership between Abrons Arts Center and Printed Matter / St Marks, and will take place at Abrons Arts Center at 466 Grand Street, NY, NY 10003.
RSVP is required, all materials will be provided, and there is a $20 suggested donation per participant. You can reserve your seat here.
---
River Torres is a multidisciplinary collage artist and printmaker based in Brooklyn. Having received their BA in Art Therapy they inform their practice through the exploration of internal perceptions and healing. Their aim is to amplify the tenderness, solitude and violence that accompanies existence. Using limited resources and found materials to create visual reflections on what it means to navigate living. Their artistic philosophy is one rooted in art as accessible healing and communication.
Chang Yuchen is an artist based in New York. She works in an interdisciplinary manner – writing as weaving, drawing as translation, teaching as hospitality and commerce as everyday revolution (see Use Value). By constantly entering and exiting each medium, she strolls against the category of things, the labor division among people. Yuchen was an artist in residence at NARS x Governors Island Satellite Residency Program, MASS MoCA, Museum of Art and Design and more. She has shown/performed her works at UCCA Dune, Taikwun Contemporary, Abrons Art Center, Para Site, Salt Projects, Assembly Room and etc. Yuchen teaches through Center for Book Arts, Printed Matter Inc, Asia Art Archive in America, CUE Art Foundation, she has also been a guest lecturer at Yale University, New York University, ArtCenter College of Design, School of the Art Institute of Chicago, University of the Arts, among others.
Abrons Arts Center is a home for contemporary interdisciplinary arts in Manhattan's Lower East Side neighborhood. A core program of the Henry Street Settlement, Abrons believes that access to the arts is essential to a free and healthy society. Through performance presentations, exhibitions, education programs, and residencies, Abrons mobilizes communities with the transformative power of art.
Facebook
Tweet