Bile, by Caroline Schub, Book Launch and Readings
at Printed Matter / St Marks. Readings and performances by Caroline Schub with Margaret Chardiet, Thai Lu, Adrienne Greenblatt, and Chandra Melting Tallow
3-5 PM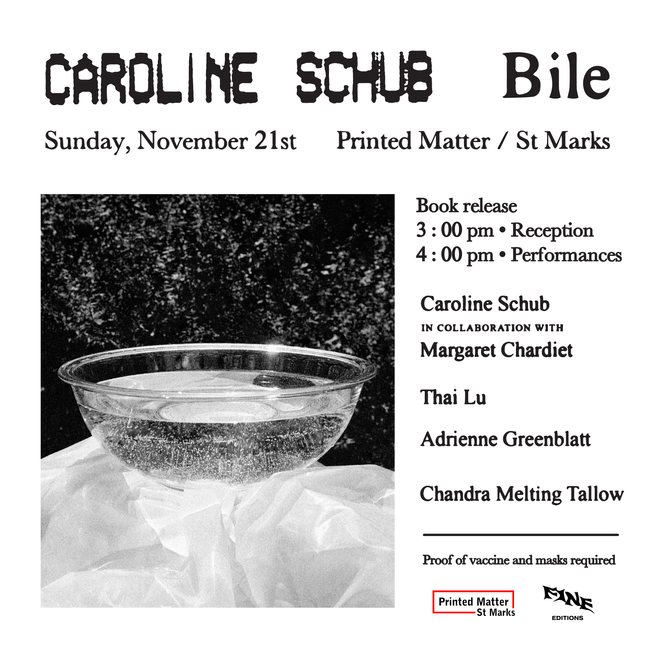 Join us at Printed Matter / St Marks Sunday November 21, 3-5pm, for a rooftop launch of Caroline Schub's new artist book, Bile. Caroline will be performing a reading in collaboration with Margariet Chardiet, with additional readings by Thai Lu, Adrienne Greenblatt, and Chandra Melting Tallow.
Bile emerged during the pandemic from under strict quarantine, the experience of isolation not unfamiliar to Schub as she spent days in bed meditating on bodily autonomy. As Caroline felt time pass from the bed and home, she ruminated on her history of medical trauma, childhood, sex, and the poignant intimacy between her and her home nurse. Using her body, sculpture, photography and word, with sound composed by Margaret Chardiet, Schub threads together these facets of memory into the complexities of our present. This publication will be offered in multiple formats through F.I.N.E. Editions: as a paperback book, a limited-edition artist book, a CD, and a digital file.
Printed Matter / St Marks requires proof of vaccination from all visitors upon arrival. In an effort to create a safer space for all—especially those who are immunocompromised or otherwise at higher risk from COVID-19—this is a mask-on event, even as we gather outdoors. We'll have plenty of masks on-hand; thank you in advance for your cooperation!
---
Caroline Schub is a multi-media artist [b.1990] from the Hudson Valley, New York. After years of living with chronic illness starting from childhood, she began documenting herself as a form of self-preservation and survival. Her work is an unauthorized public record of a chronic illness. These portraits have been created using different mediums and exist in varying scales while pushing through vacillating emotional filters of rage and fear. Caroline's understanding of her body's capacity for degeneration forms the double-edged sword that inspires her work. Her method of image creation has more in common with the labor of construction work than with the weaving of dreams. She is a member of Sick In Quarters. Her work can be seen in her first book of self portraits CAROLINE SCHUB 2010-2016, published by Discipline Press and DIAGNOSIS, a zine self published by the artist. She is a past performance resident of Otion Front. @caroline.schub
Margaret Chardiet is an interdisciplinary sound artist born and based in New York City. Raised by underground musicians and artists, Margaret was surrounded by a collective of the city's impassioned, cultural detritus. Instead of following a path of higher education, they began the experimental project Pharmakon in 2006, at the age of 16. Pharmakon as a project, entity, and process, has evolved and exists in true protean form, developing alongside (or more so within) Margaret's personal experience and auto-didactic philosophies. Her work as a whole is a forced self-possession, a celebration of ferality and viscereality, which performatively abandons a society that has never accepted anything it couldn't also exploit. Chardiet uses electronic synthesis as a tool to transfer this self-possession physiologically and intra-spatially into the bodies of their audience. Timbre becomes temper. Ferality, a social contagion or biorhythm. Margaret has also played in numerous punk groups that extend out to a greater international D.I.Y. music community, and has composed score and original music for the films Transfiguration (2017), and Sound of Metal (2019).
Thai Lu (they/them) is an interdisciplinary artist, writer, and a community organizer centering their practice on the social, cultural, psychological, and physical effects of intergenerational trauma and chronic illness. As a first generation American from a family of refugees, Thai examines the intersections of Western bio-politics, Southeast Asian diaspora, interdependence, and metamorphosis through the lens of personal experience. They are also a disability justice advocate and a founding member of Sick In Quarters, a disabled-artist led mutual aid project supporting disability justice, patient advocacy, and care work in and for marginalized communities. @littleom
Adrienne Greenblatt (b. 1995; Reading, UK) is a non-binary multidisciplinary artist, poet, and activist based in Brooklyn. Their Texan upbringing, mixed Salvadoran-Ashkenazi heritage, interests in the spiritual and natural worlds, and fascination with synesthesia, the body, and illness inform their practice. They utilize written word as a trauma response and as a celebration of lived experience. In their installations and performances, active audience and environment interact to create a visceral and engaging, multi sensory experience. Adrienne received their BA in Theatre and Dance with a concentration in Costumes from the University of Texas at Austin in 2017 and recently graduated from the Warman School of Writing. They are an active member of the disability collective, Sick In Quarters.
Chandra Melting Tallow is an interdisciplinary artist, filmmaker, writer and music producer of mixed ancestry from the Siksika Nation. Their practice confronts the ghosts of intergenerational trauma and their relationship to the body through the lens of physical disability, utilizing humour and surrealism to subvert oppressive structures of power. They spearhead the solo music project Mourning Coup, a cult classic in the Indigenous lexicon of underground music. Their practice encompasses experimental film, textile based installation, sound, and performance, and has been exhibited across North America. They previously published a collection of short stories entitled "Dear Horse Boy I Am Writing To You From Prison" through Haunted House Books.
F.I.N.E. Editions is a small-press studio run by BFA printmaker Izzy Jarvis. She specializes in limited-edition printed matter with an emphasis on design, material, and process. A proponent of collaboration and collectivism, F.I.N.E. Editions is an opportunity for her to investigate these concepts with practical application by creating art-objects with writers, visual artists, and musicians.
Printed Matter / St Marks is housed inside Swiss Institute. All floors of Swiss Institute are accessible by elevator, and there are all-gender, wheelchair accessible bathrooms open to the public. Seating will be available on the rooftop. There will be live ASL interpretation, and a recording of the event will be posted online in the days following.
Facebook
Tweet