Printed Matter welcomes new Board Members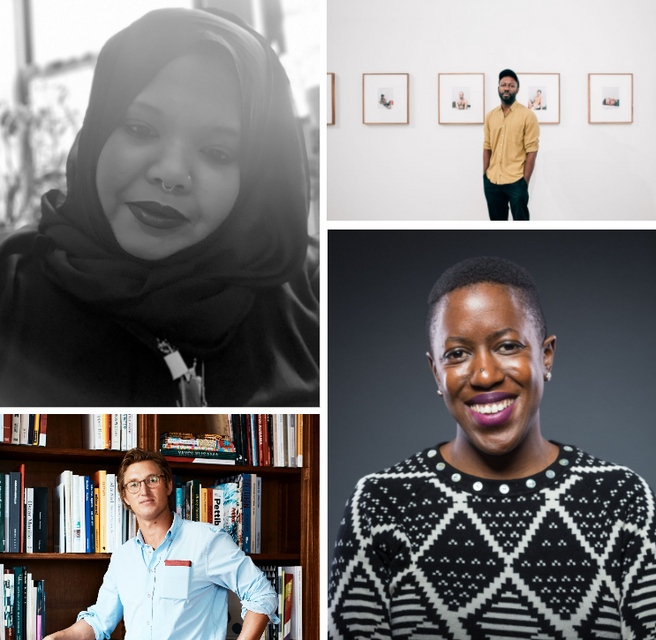 Printed Matter is pleased to welcome Nontsikelelo Mutiti and Kameelah Janan Rasheed to the Board of Directors. We're beyond excited to work with them in this capacity.
Over the past several years we've had the privilege of working with Nontsi, both as a participant in Printed Matter's Art Book Fairs and through her on-site exhibition Everything is where it is expected. The richness and breadth of Nontsi's creative work as a designer, artist, artistic director and experimental publisher has been deeply impactful for many and has likewise made a deep impression on us. Taking a conceptual approach to a design practice with an output that includes zines, books, prints and multiples, Nontsi has also embraced a generous working method that has engaged and strengthened the communities around her. In her role as an educator she has been a mentor and collaborator to her students, and we admire her longtime commitment to helping young people envision a life as an artist and artist publisher.
We were fortunate to first get to know Kameelah through her Printed Matter exhibition In the Proper Direction and the publication of her artists' book No New Theories. We have been inspired by Kameelah's pursuit of learning, her passion for education, and her research-driven practice, which encompasses everything from installation to public lecture as a radical embodiment of an expansive publishing practice. Her broad interests and investigations—into language, text, history, epistemology, and other disciplines—offer a deeply engaged view on the possibilities of publishing in the hands of artists, and we have been excited and challenged by her work and thinking.
We also extend a belated welcome to Paul Mpagi Sepuya and Lucas Zwirner, who have recently joined the Board of Directors. We're grateful to have Paul's wonderful perspective and consideration as an artist and who has looked to self-publishing and publications in exploring themes of intimacy and portraiture, and who has exhibited in past NY and LA Art Book Fairs. We are more than honored to have Lucas's guidance through the passion, knowledge and experience he brings through his role overseeing all of the digital content and publishing at the David Zwirner Gallery.
The warmest of welcomes to our newest cohort of Printed Matter Board members! We are fortunate to have their insight and vision.
---
Photo Credits:
Photo of Nontsikelelo Mutiti by Dominique Sindayiganza
Photo of Kameelah Janan Rasheed courtesy Kameelah Janan Rasheed
Photo of Paul Mpagi Sepuya by Chris Bauer
Photo of Lucas Zwirner by Weston Wells
KAMEELAH JANAN RASHEED BIO
Kameelah Janan Rasheed (b. 1985, East Palo Alto, CA; lives and works in Brooklyn, NY) is a learner grappling with the poetics, politics, and pleasures of the unfinished. Engaging primarily with text, Rasheed works on the page, on walls, and in public spaces to create associative arrangements of letters and words that invite an embodied and iterative reading processes. Rasheed is invested in Black storytelling technologies that ask us to consider ways of [un]learning that are interdisciplinary, interspecies, and interstellar. Rasheed's work has been exhibited nationally at the Brooklyn Museum; New Museum; MASSMoCA; Queens Museum; Bronx Museum; Studio Museum in Harlem; Portland Institute for Contemporary Art; Institute of Contemporary Art - Philadelphia; Jack Shainman Gallery; Brooklyn Public Library; Brooklyn Historical Society, among others. Her public installations include Ballroom Marfa, Brooklyn Museum, For Freedoms x Times Square Art, Public Art Fund, Rice University - Moody Center for the Arts, The California Air Resources Board, and several others. She is the author of two artist's books, An Alphabetical Accumulation of Approximate Observations (Endless Editions, 2019) and No New Theories (Printed Matter, 2019). She is a 2021 Guggenheim Fellow in Fine Arts.
NONTSIKELELO MUTITI BIO Nontsikelelo Mutiti is a Zimbabwean born visual artist and educator. She is invested in elevating the work and practices of Black peoples past, present and future through a conceptual approach to design, experimental publishing and archiving practices and peer to peer collaborations. Mutiti holds a diploma in multimedia art from the Zimbabwe Institute of Vigital Arts, and an MFA from the Yale School of Art, with a concentration in graphic design. Mutiti is currently Assistant Professor in Graphic Design at Virginia Commonwealth University. She is also artistic director for Black Chalk & Co. a platform for archiving and publishing practices that curates cultural events and fosters collaborative projects with peers located in Harare, Johannesburg, New York, Richmond and other international centres.
PAUL MPAGI SEPUYA BIO
Paul Mpagi Sepuya is an artist and photographer who lives and works in Los Angeles. Sepuya's work has been featured in numerous exhibitions including at the Museum of Contemporary Art Los Angeles; The Studio Museum in Harlem; Franklin Art Works, Minneapolis; and the Artist Institute, New York. Public collections featuring Sepuya's work include Museum of Modern Art, New York; Whitney Museum of American Art, New York; Solomon R. Guggenheim Museum, New York; International Center of Photography, New York; Irish Museum of Modern Art, Dublin; and the Carnegie Museum of Art, Pittsburgh. Sepuya has participated in residencies at Hyde Park Arts Center, Chicago, 2014; Fire Island Artist Residency, 2013; Studio Museum in Harlem, 2010; Center for Photography at Woodstock, 2010; and Workspace, Lower Manhattan Cultural Council, 2009. Sepuya was the recipient of the 2017 Rema Hort Mann, Los Angeles Emerging Artist Grant.
LUCAS ZWIRNER BIO
Lucas Zwirner is Head of Content at David Zwirner. He oversees the editorial vision for the gallery, its publishing house, and its web and online platforms, deepening the conversation around the gallery's artists, exhibitions, and projects through books, podcasts, video, web content, public programming, strategic partnerships, and online sales. Lucas spearheaded David Zwirner Books' new partnership with Simon & Schuster and has grown the program to over 30 titles a year, ranging from criticism to poetry. He is also the host of Dialogues: The David Zwirner Podcast, a program about artists and the way they think. Lucas is also a writer and translator who has published pieces in the Paris Review and has forthcoming essays in the New York Review of Books and The Drift. He graduated summa cum laude from Yale with a B.A. in philosophy and literature.
Facebook
Tweet