Printed Matter's Virtual Art Book Fair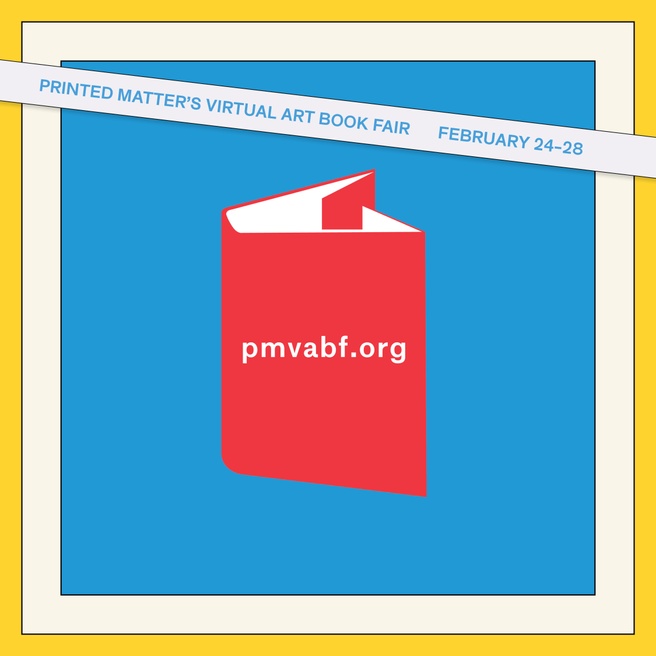 Announcing the exhibitor list and program highlights for Printed Matter's Virtual Art Book Fair, February 25–28, 2021, Opening, Wednesday, February 24.
This February, Printed Matter will launch its first Virtual Art Book Fair (PMVABF), presenting more than 400 exhibitors from over 40 countries. Since 2005, Printed Matter's Art Book Fairs have hosted international exhibitors featuring a wide variety of published works—from zines and artists' books to rare and out of print publications, and contemporary art editions. Held shortly after the 15th anniversary of the inaugural NY Art Book Fair, this online Fair gathers our NY and LA Art Book Fair communities and expands the Fairs' reach to welcome more exhibitors and visitors than ever before.
Over the course of five days, PMVABF will feature a marketplace for visitors to learn about and purchase books from all around the world. Visitors can attend dozens of free live and pre-recorded programs, chat directly with artists and publishers from across time zones, play games to discover new books being launched at the Fair, see performances by a range of musicians, connect with other visitors, and enjoy many other opportunities to support independent artistic practice and publishing.
The custom-built PMVABF site is an energetic digital platform with web and mobile capabilities. Each PMVABF exhibitor will present an individualized website where visitors will encounter art books for purchase, book trailers and artist-made videos, panels and talks, as well as the chance to interact with exhibitors.
The Fair will kick-off with a celebratory Opening event on Wednesday, February 24, which will include musical performances, interactive activities, and a special artwork edition by Cory Arcangel produced for the occasion, plus ways to discover publishers, hang out, and have fun! The Opening is free and open to the public - register here.
Artist Cory Arcangel has produced a special new artwork edition for the PMVABF Opening!
SimplySimplify is a new work produced as two editions, one as a digital download in an open edition, and the second as a limited edition screen print.
While the past year has been challenging for the field of independent and artists' publishing, we're grateful and excited for the chance to bring this community together to uplift the important work of both new and longstanding exhibitors. Join us for our largest international gathering yet in celebration of artists' books and art related publishing.
Facebook
Tweet