VIRTUAL BROOKLYN ART BOOK FAIR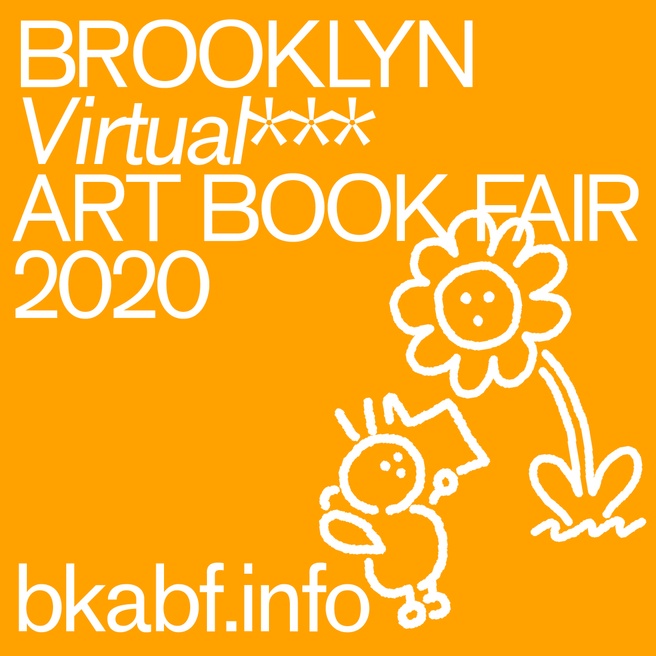 Printed Matter is excited to participate in the first ever Virtual Brooklyn Art Book Fair (V-BKABF), presented by Endless Editions. V-BKABF is a comprehensive online book fair dedicated to supporting independent artist publishing during the Covid-19 outbreak. With web design by Aarati Akkapeddi, as well as Kurt Woerpel and Rob Blair of the publishing collective TXTBooks, this fair promises to deliver a virtual experience as close to the real deal as possible. Peruse the fair map to discover vendor's tables, add items to cart with a convenient single point of sale, drop into Zoom rooms to chat with exhibitors, and enjoy interactive public programs.
Since its founding in 2017, the Brooklyn Art Book Fair has worked to prioritize underrepresented and emerging artists. Inverting the typical fair model, BKABF has lowered the barrier to entry and increased visibility for small or under-resourced publishers by providing tables and space to exhibitors free of cost.
In choosing to digitize the fair, rather than delay or cancel it, V-BKABF continues its ongoing commitment to provide economic relief to artist publishers. With fairs being called off and storefronts closed, V-BKABF acts as a new platform to support this creative community in continuing to deliver vital cultural narratives and being equitably compensated.
V-BKABF features 47 independent, artist-run presses and organizations, including familiar faces like The Free Black Women's Library and Draw Down Books, alongside fair newcomers FIST, Tropic Editions, and Felli. V-BKABF will take place from Thursday June 25th to Sunday, June 28th at www.BKABF.info. The site will be live to the public, no registration is required to 'attend'.
In addition to V-BKABFs extensive roster of exhibitors, guest curator Paige Landesberg has put together a line up of diverse, interactive programming in order to spark dialogue between vendors, and engage the public. Featured programs include: a participatory workshop from Paul Soulellis of Queer.Archive.Work; a screening of Some Writers Can Give You Two Heartbeats and conversation with creators Black Chalk & Co.; a submission-based activity with Facility Magazine; a performance by Puerto Rican puppeteers Poncili Creación; Panel Discussion hosted by the NYC Feminist Zine Fest; and more.
For V-BKABF Printed Matter and Endless Editions are pleased to release Nada, a new 6-color risograph fundraising edition (with metallic gold ink) collaboratively made by designer/artist Somnath Bhatt and composer/sound artist Nicolás Jaar in light of the release of 'Telas' (2020), their upcoming sound/image collaboration (out July 17 on Jaar's Other People label). The digitally-drawn image from Bhatt is realized in his distinctive minimalist style that sits between the digital and the gestural. The work features a facing pair of one-horned bulls, a serpent, and a collection of smaller emblems, inscriptions, and other decorative embellishments that draw from the larger universe of Telas—a world in constant folding and unfolding. Click here to learn more and purchase!
About Endless Editions
Founded in 2014, Endless Editions is a community-based and volunteer-staffed curatorial and publishing project in New York City dedicated to producing limited and open edition prints and publications by underrepresented and emerging artists. Endless established the Brooklyn Art Book Fair in 2017 as an accessible alternative platform for independent publishers.
Sponsorship
V-BKABF is organized by Hannah Coleman, Paul John, and Samatha Schroeder of Endless Editions, with web design by Robert Blair and Kurt Woerpol of TXTBooks and Aarati Akkapeddi, and programming curation by Paige Landesberg. This fair is made possible in part by the School of the Art Institute of Chicago, and other generous donors.
When: Thursday June 25th to Sunday, June 28th, 2020
Admission: Free and open to the public, no tickets or registration required
Website: www.bkabf.info
Access: All website images will include alt text and we are working to secure closed-captions for programming.
For press inquiries contact brooklynartbookfair@gmail.com
Facebook
Tweet