Shannon Michael Cane Award recipients announced
LA Art Book Fair 2020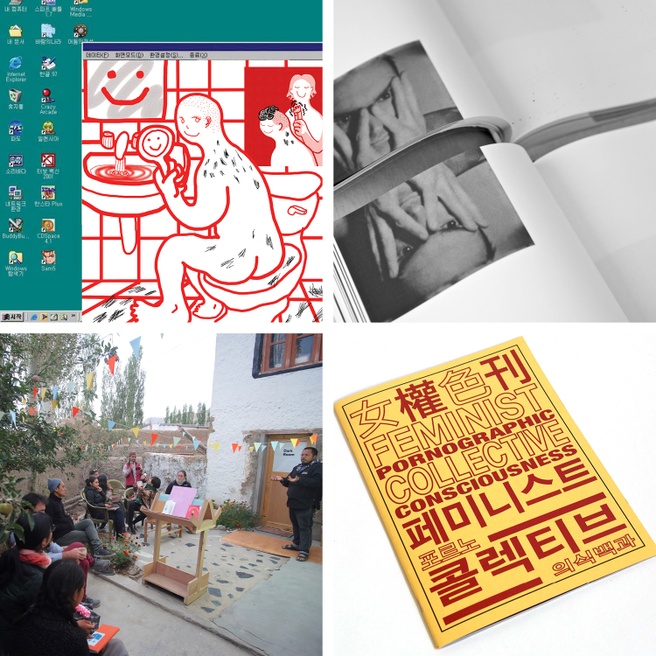 We're very pleased to announce the recipients of the Shannon Michael Cane Award for the 2020 LA Art Book Fair: Hyperlink Press, AVARIE, RANDOM MAN EDITIONS, Farside Collective (clockwise).
The SMC Award is granted to emerging artists (artists, artists' book publishers, or collectives in the early stages of their career) who would be first-time exhibitors in a Printed Matter Art Book Fair. Each recipient is provided with an exhibitor's table and a stipend to support their participation. Applications were reviewed by a panel comprised of the founders of the Shannon Michael Cane Memorial Fund and Printed Matter Fairs staff. Learn more about the fund here.
AVARIE is specialized in art books with a transversal perspective on texts and images.
Farside Collective is an independent artist run publishing house, art space, and art book store based in the high Himalayas of Ladakh in India.
Hyperlink Press, inspired by South Korean online LGBTQ communities in the 2000s, the publication is a curatorial initiative that showcases work by artists navigating the in-between spaces of technology and nonlinear narrative.
RANDOM MAN EDITIONS promotes publications that are overlooked, underrepresented, hybridized, and fringe. Their projects are collaborations between artist, publisher and friends and are not limited to any specific media or forms.
Shannon Michael Cane (1974-2017), was a pillar of the Printed Matter family and artists' book community, serving as Curator of Fairs and Editions from 2013-2017.
Facebook
Tweet