Count Thereof Upon the Other's Limbs launch & reading with Rachelle Rahmé and Jen Shear
6-8PM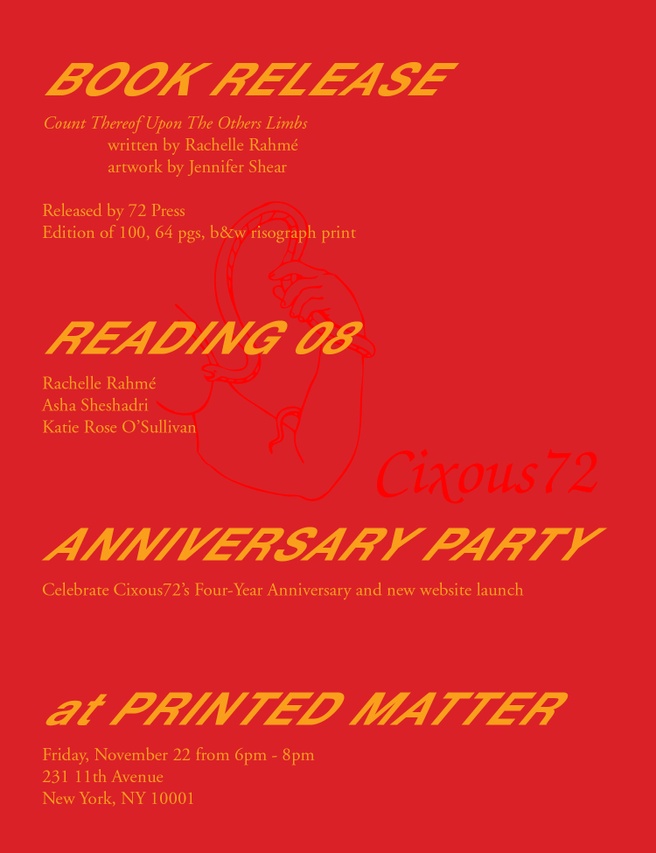 Join us for a launch of Count Thereof Upon the Other's Limbs, a new book of poetry written by Rachelle Rahmé and with artwork by Jennifer Shear. Asha Sheshadri and Katie O'Sullivan will also be reading.
Part poetics rejected by philosophical discourse, part impressions from itinerate city life, the collection of poems in Count Thereof Upon the Other's Limbs written from 2018-2019 articulates a new political position, the "puce commodity." When the blood itself is sentient of commodification down to the marrow, it congeals, pausing to reflect in its dark interior of tunnels. These poems speak from this ontological capacity for labor, recurrence and desertion.
Rachelle Rahmé (Jounieh, 1986) is an artist, writer and philosopher. She has published essays, fiction and poetry with Aventures LTD, VLAK, the Blue Letter and FPBJC. Her art and theory practice has been presented at Microscope Gallery, Bortolami, Eli Ping, Kavita B Schmid, PS1, The Kitchen and The Stone, among others. Poetry is her most mature art form, and Count Thereof… is her first monograph. On her current work, she writes: "Materialism is a pool motif - a precarity, not a promise. My aim is not a pose for permission before the reflected world, but to use appearance and contradiction as rippling axioms to see between."
Jennifer Shear (b. 1987, Taipei) is an interdisciplinary artist using collage and self-publishing as her primary medium. Her works explore visual culture, archive, social commentary, and personal experience. Shear is currently based in Los Angeles and has shown nationally and abroad. She's exhibited with Gern en Regalia (New York), Kunstverein München (Munich), Mascot Studio (Berkeley), Anytime Dept (Cincinatti), Interstate Projects (New York), Commune (Tokyo), Yale Union (Portland), Low Rence (San Francisco), and Ladybug House (San Francisco). She's also curated for NIAD Art Center, and collaborated with The No School, Wide Rainbow, 356 Mission, and The Classroom at the LA Art Book Fair.
Asha Sheshadri stages a new iteration of her essayistic performance practice — a hybrid process that commingles memory construction, questions of citation and translation, and lost or silenced histories. Her work involves the unpredictable observation of and response to a personal and political network of relays — archival fields coexisting in entropy that operate within our collective worlds and imperfect memories. Her work, often taking the form of essayistic videos, recordings, readings, and performances, follow these relays towards creating environments from musical and non-musical artifacts alike — a kind of "affective collaging" concerned with the personal deconstruction and re-assemblage of archival objects and documents. Asha's work has been released (as well as under the project titles Isolde Touch and Open Corner) via several imprints including Entr'acte Recordings, Recital Program, with forthcoming releases on Anomia and Marginal Frequencies.
Katie O'Sullivan is a musician, DJ, and poet who performs as Rose E Kross and as a member of ppG (with Lili Schulder / 51717) and Further Reductions (with Shawn O'Sullivan). Her writing has been published by the Cixous72 online Journal, and she has released music on labels such as Knekelhuis, Robert & Leopold, Cititrax, and Captured Tracks. She is currently interested in researching jouissance, library science/archiving, textiles, and writing and recording psychedelic love songs.
Facebook
Tweet