Bedlam Days: Book Launch and Signing with Leandro Katz
The Early Plays of Charles Ludlam and The Ridiculous Theatrical Company
6-8PM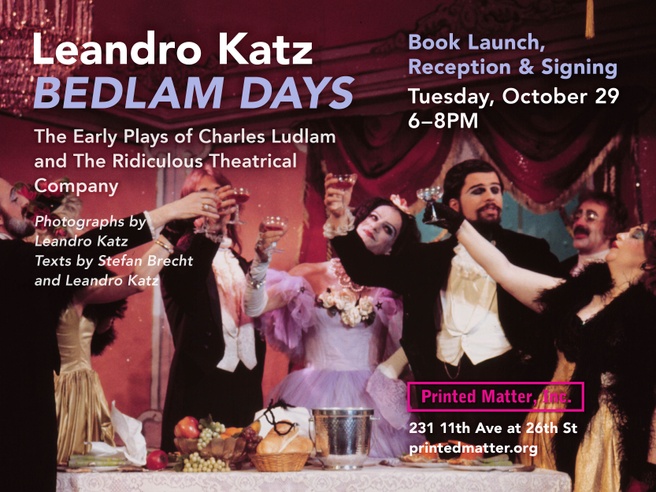 Join us for a launch, reception and signing for Bedlam Days by Leandro Katz!
Bedlam Days: The Early Plays of Charles Ludlam and The Ridiculous Theatrical Company features photographs by Leandro Katz and texts by Stefan Brecht and Leandro Katz.
Bedlam Days is a book on the critically acclaimed and influential works of the playwright and director Charles Ludlam and the Ridiculous Theatrical Company performances of the 1960s and 1970s. Bedlam Days, with over 200 rare performance photographs, evokes the revolutionary, ephemeral gestures and atmosphere of the early plays by Ludlam and his troupe of audacious actors.
"Even in an era of experimental theater, Ludlam's chaotic, often all-night affairs must have seemed supremely experimental. He was simultaneously devoted to the virtuosic use of language and the sheer physicality of stage presentations, energized by the clash of opposing philosophies and divergent acting styles. Tawdry, flamboyant sets and costumes, nudity, and simulated sex were juxtaposed with the words of Wilde, Joyce, Shakespeare, and Baudelaire." (Steve Samuels, The Complete Plays)
Although Charles Ludlam's legacy includes twenty-nine plays (The Complete Plays, Harper & Row, 1989), the playwright himself placed his works within a three-period chronology, thinking of them as three separate careers. Bedlam Days concentrates on seven works from the first period, namely Conquest of the Universe or When Queens Collide, Turds in Hell, The Grand Tarot, Bluebeard, Eunuchs of the Forbidden City, Corn, and Camille. Leandro Katz, artist, will include photographic images from his extensive archive, as well as comments and notes. As Charles' friend and collaborator during the early days of the company, Leandro Katz filmed and photographed The Ridiculous Theatrical Company performances from 1968 until 1976. During this period he shot over two thousand color and black-and-white photographs of the original performances. Many of the selected images will include extended captions quoting dialogue lines from the original play. Bedlam Days includes extended quotations from Queer Theatre, by Stefan Brecht (Methuen Drama, London, 1989), and it is conceived as a visual book recreating the uplifting spirit of the early plays, and a homage to the inspiration of the Ridiculous Theatrical Company members and the brilliance of Charles Ludlam's comic genius. The book, 22x24 ctms., 200 pp., color and b&w photographs is published by Viper's Tongue Books, designed by El Vivero, Madrid, and printed in Spain.
About the authors and the designers:
Leandro Katz (1938), Argentine/American artist, poet, and filmmaker, is known for his films, invented alphabets, and photographic installations. His works include long-term projects that deal with North American and Latin American subjects, and incorporate historical research, anthropology,and visual arts.
Stefan Brecht (1924-2009) was a poet, actor, and theater scholar. A well-known figure in the New York avant-garde theater scene, in the 1960s and 1970s he performed in plays by Charles Ludlam and Robert Wilson. The critical writings in his Queer Theatre, quoted in the present book, illuminate Berthold Brecht's methodology formaking the mechanisms of the theater a process of simultaneous transparency in the work of playwrights, directors, actors, and designers.
Charles Ludlam (1943-1987), a critically acclaimed and influential playwright, actor, and director, was a prolific artist with a troupe of devoted actors, one of the nation's most unique theater enterprises, The Ridiculous Theatrical Company. Author of more than twenty-nine plays, as well as puppet and ventriloquist shows, he has been called the most productive and flamboyant artist in the theater of the avant-garde, and an American Molière.
El Viver is a design studio based in Madrid and directed by Florencia Grassi and Leandro Lattes. With an extensive list of production credits with major cultural, art, science and tourism organizations, El Vivero was responsible for the production of Leandro Katz's El Rastro de la Gaviota (The Seagull's Footprint) catalogue and exhibition at Espacio Tabacalera, Madrid, 2017.
Join the facebook event here!
Facebook
Tweet