A Mental Masquerade: When Brian O'Doherty was a female Art critic
Mary Josephson's collected writings
4-6PM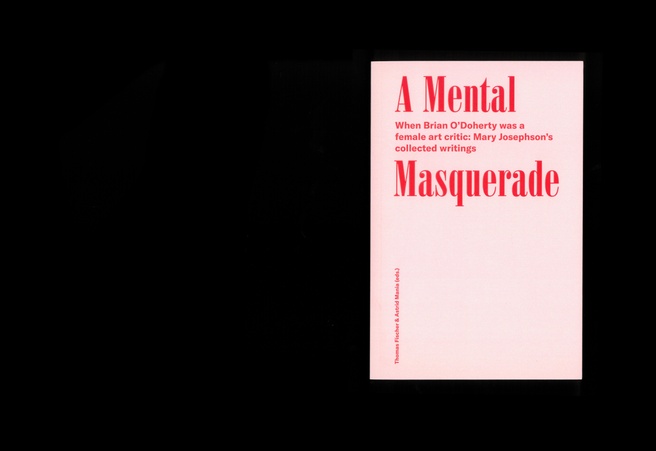 Mary Josephson. A Mental Masquerade. When Brian O'Doherty was a female Art critic: Mary Josephson's collected writings
Between 1971 and 1973 American conceptual artist and author Brian O'Doherty published several essays and exhibition reviews under the name Mary Josephson, his sole female pseudonym. These appeared in various magazines, among them Art in America, which he was editor of at the time. In 1988 he wrote the short story "The History of X" for Artforum. O'Doherty only revealed the identity of his four alter egos some forty years later in his lecture "Divesting the Self: A Striptease", which appeared in The Recorder magazine in 2012. Writing about Mary Josephson, he said, "I wanted to think and write from a female persona, to free myself from limiting male selfhood, to substitute another voice for that inner voice that never stops speaking, that won't leave us alone." Mary Josephson was the only fictitious female art critic in the early 1970s. The publication brings together her texts for the first time.
Brian O'Doherty, born in Ballaghaderreen, Ireland, is an artist (from 1972 to 2008 under the name Patrick Ireland), omnifarious writer, an renowned theorist. He is the author of the seminal publication Inside the White Cube – The Ideology of the Gallery Space and recently of the historical novel The Crossdresser's Secret.
Spector Books Spector's publishing practice is settled squarely in the intersection of art, theory, and design. Based in Leipzig Germany, our publishing house explores the possibilities offered by an active exchange between all parties involved in the book production process: artists, authors, book designers, lithographers, printers and bookbinders. The book as medium is turned into a stage, a site of encounter for productive exchange. Finding innovative approaches to the medium today calls for a well considered interplay between the content, design, and materiality of a book.
Thomas Fischer is the owner of Galerie Thomas Fischer in Berlin and has been working with Brian O'Doherty since 2012.
Astrid Mania is professor for art criticism and modern art history at HFBK Hamburg and an independent writer. In 2013, she received the ADKV – Art Cologne award for art criticism.
Join the facebook event here!
Facebook
Tweet