Launch Event for A Drama In Time: The New School Century
38 St Marks Place
6pm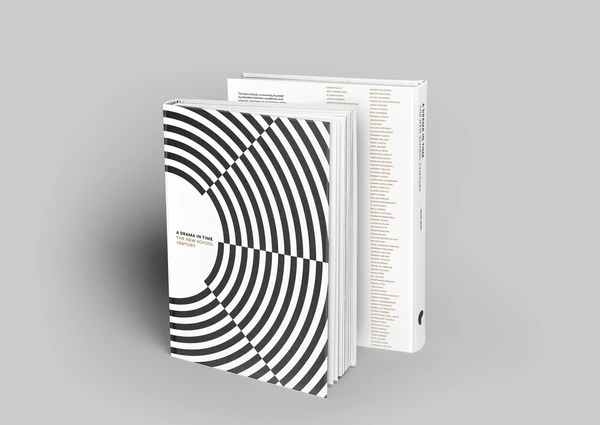 Please join us at Printed Matter / St Marks at 6pm on October 25 to celebrate the launch of A Drama In Time: The New School Century by John Reed.
Ashley Bruni and Catherine Thomas will join author John Reed to discuss the histories and personalities covered by A Drama In Time: The New School Century (Profile Books 2019). The work, published in coordination with The New School's centennial celebration, tracks the extraordinary lives and episodes in the history of The New School. The New School century arcs with the twentieth century: fascism in Europe to Fluxus in the West Village; renegade artists to L'École Libre des Hautes Études; Margaret Mead, John Cage and Hannah Arendt to the Parsons School of Design; the Dramatic Workshop to jazz, film, and photojournalism to sustainable systems; the Mannes School of Music to Students for a Democratic Society, clashing with police on Fifth Avenue in 1969.
---
John Reed the author of A Still Small Voice (Delacorte), The Whole (Simon & Schuster), the SPD bestseller, Snowball's Chance (Roof / Melville House); All The World's A Grave: A New Play By William Shakespeare ( Plume); Tales of Woe (MTV Press); Free Boat: Collected Lies and Love Poems (C&R Press); and A Drama In Time: The New School Century (Profile Books). He is faculty in the Creative Writing (MFA) at The New School. More at easyreeder.com @easyreeder
Ashley Bruni is the Brand Director for The New School. She has previously worked at agencies Saatchi & Saatchi, Y&R, and Mother New York, provided in-house branding leadership for the yoga festival Wanderlust, and recently jumped into publishing + event production while leading out a large scale initiative to celebrate The New School's centennial. Ashley's background has given her a unique perspective on the influence that mass messaging has on our society; she has a deep personal dedication to ethical and aesthetically sound marketing. 5:00-9:00 she has co-created a product to amplify the power of female intuition [themoondeck.com] and runs a boutique film company with her partner [honeylandfilms.com].
Catherine received her M.A. in Art History from the University of Western Ontario where she initiated a curatorial programme, and went on to publish an anthology on curatorial practice titled, The Edge of Everything: Curating for the Future, inviting a roster of curators working internationally to reflect on subjectivity in their curatorial work. Catherine has curated exhibitions, and lectured on post-war and contemporary art, with a particular focus on feminist praxis and performance. Catherine served as Editor of Collector's Editions at Phaidon Press, working directly with artists such as Luc Tuymans, Nan Goldin, and Jeff Wall to create limited edition artworks. She is the founder and director of Womens Work, a task force dedicated to researching, documenting, preserving and cultivating awareness about the work of women artists. Acting as a living archive, Womens Work aims to examine the evolving impact of women artists of the past and today.
This event takes place at 38 St Marks Place, entrance is on 2nd Ave.
Facebook
Tweet