The Butcher's Block by Tim Roda, Published by Kodoji Press
Launch and Reception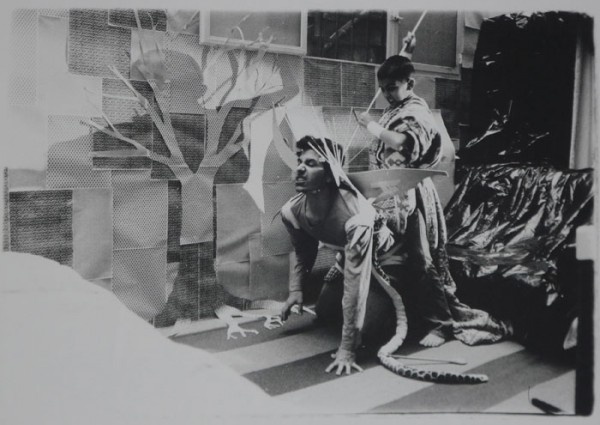 Kodoji Press & Printed Matter, Inc. are proud to announce the U.S. launch of The Butcher's Block, the first book of New York based artist Tim Roda. The book is edited by Nasim Weiler Contemporary, Hamburg/Germany and published by Kodoji Press. Please join us for a reception Friday, May 11th, 6 – 8 pm at the Printed Matter storefront
Tim Roda's black and white family portraits mirror his childhood memories and family traditions as a place of individual and social myth building. He photographs himself, his wife and his four sons in carefully prepared, symbolically loaded settings, which he constructs in his studio. Specific to each image the settings are made from simple materials such as wood, clay, plaster, paper and everyday objects. The photographs are like fragments of a narrative in which the familiar mingles with the foreign, the known with the sinister.
The Butcher's Block is the first extensive overview of Roda's work. Included in the book are texts by three authors who approach the pictures in different ways. Kimberly Roda Moorhead, sister of the artist, writes a brief introductory text which addresses their childhood experiences in a very personal way. Ursula Panhans-Bühler provides a detailed analysis of the artist's pictorial language and uncovers the psychological complexity of his compositions. The author and dramatist Dagrun Hintze was inspired by the photographs to produce an "art thriller", which introduces the reader to Roda's surreal world in an almost playful manner.
The Butcher's Block is sewnbound, hardcover, 178 pages, and retails for $48.00. It is available for purchase at the Printed Matter storefront or online "here":catalog/31030.
Tim Roda, born in 1977 in Lancaster, studied art at The Pennsylvania State University and at the University of Washington. He is currently the Kennedy Artist in Residence at the University of South Florida. His work is represented in many public and private collections, including the Essl Museum, Klosterneuburg, Austria; the Gaia Collection, Busca, Italy; Elton John's Private Collection, Atlanta; the Museum of Contemporary Photography, Chicago, Illinois. In the US Tim Roda is represented by Gasser and Grunert Gallery, Daniel Cooney Fine Art and Greg Kucera Gallery. Roda lives and works in New York.
Facebook
Tweet