Launch of Various/Artists Release 004: LARY 7 & LEIF ELGGREN: PRESTO D-7
6:30pm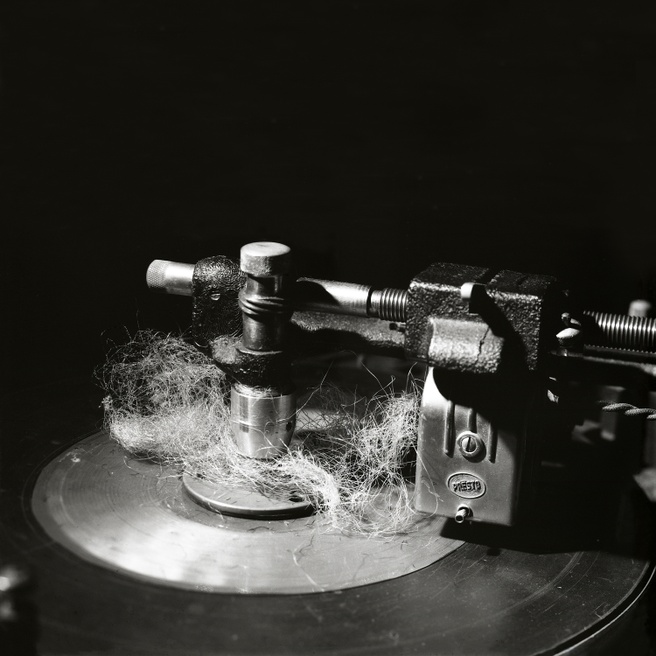 Please join us at Printed Matter St Marks at 6:30pm on September 28 in celebrating the launch of Various/Artists Release 004: LARY 7 & LEIF ELGGREN: PRESTO D-7, a 10" lathe cut recording of a lathe cut recording. The evening will feature a live performance by Lary 7 on the 2nd floor of the Swiss Institute, as well as a listening station and reception in the Printed Matter St Marks Bookstore.
Side A: Cutting Groove (gummy bears/swedish fish) tracks Lary 7 and Leif Elggren's experiments with a 1940's Presto lathe. As the cutting head carves their conversation into plastic discs; they meditate, over bottles of wine, on the multi-colored "gummy" strands gathering on the spinning platter. On the flipside, Leif Elggren recites an excerpt from his 2005 work "Geneaology". The recording warbles, coos, rocks, and skips, descending into hypnotic loops only halted by the clicking sound of a springy victrola arm.
Each record in this edition of 100 is a unique, mono lathe-cut recording with laser etched label.
Copies of previous releases V/A001: Ian Hatcher - Colony and V/A003: Jill Kroesen - How to Cope with a Psychopathic Presidency 7" records will also be available, as well as the E.S.P. TV "UNIT 11" VHS edition with Joe DeNardo and Benjamin Greenberg.
---
LARY 7 Born in Buffalo, New York, Lary 7 is a multimedia alchemist who coaxes profane, inscrutable sounds and images from various mysterious devices. His work mainly features vintage and forgotten electronic instruments and technologies. In the past he has taken the unique approach of modifying household appliances in order to give them a musical voice. As an artist, he uses analogue equipment whenever possible, steering away from digital.
Lary 7's work has been related to the uncertain outcomes of a magician or scientist determined to see his projects through to their (il)logical ends. He is a co-founder of Plastickville Records and has been a major figure in the New York experimental underground music scene since 1970. In the course of the past decades he has worked on exceptional musical projects with diverse artists, such as Jimi Tenor, Jarboe, Foetus, Tony Conrad, Alexander Hacke, Larry Mullins, Dorit Chrysler, Bernhard Gal, Jakob Kirkegard, Kent Montgomery, Michael Evans and Gordon Monahan.
LEIF ELGGREN Leif Elggren (born 1950, Linköping, Sweden), is a Swedish artist who lives and works in Stockholm.
Active since the late 1970s, Leif Elggren has become one of the most constantly surprising conceptual artists to work in the combined worlds of audio and visual. A writer, visual artist, stage performer and composer, he has many albums to his credits, solo and with the Sons of God, on labels such as Ash International, Touch, Radium and his own Firework Edition. His music, often conceived as the soundtrack to a visual installation or experimental stage performance, usually presents carefully selected sound sources over a long stretch of time and can range from mesmerizingly quiet electronics to harsh noise. His wide-ranging and prolific body of art often involves dreams and subtle absurdities, social hierarchies turned upside-down, hidden actions and events taking on the quality of icons. Together with artist Carl Michael von Hausswolff, he is a founder of the Kingdoms of Elgaland-Vargaland (KREV) where he enjoys the title of King.
VARIOUS/ARTISTS Various/Artists is a New York based record label directed by Scott Kiernan which specializes in hand-made, lathe-cut recordings and editions by artists working across a wide range of media. Recordings by filmmakers, poets, electronic composers, broadcast media artists and more are planned into the end of 2020 including recordings by E.S.P. TV, Lary 7, Bradley Eros, Blue Jazz TV, Ka Baird, Victoria Keddie, MSHR, Tidal Channel, MV Carbon and more.
For more information please contact: Scott Kiernan, scott@esptv.com
Facebook
Tweet