An Unknown Power — launch with Mega Press and Neoglyphic Media
6-8 PM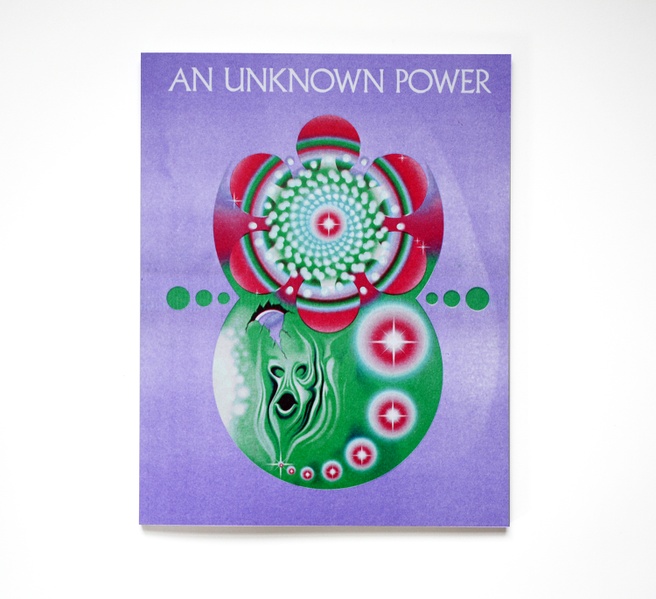 Join us on Friday, September 27th at Printed Matter, Inc. for the official release of An Unknown Power, a brand new book edition published by Mega Press and Neoglyphic Media. Attend the event on Facebook here
Androgynous angelic beings emerge from blinding white light. A commanding voice booms from an unknown source. The veil of everyday reality is lifted to reveal primordial worship rituals performed by beings both monstrous and divine. Shadowy figures emerge, identities obscured, displaying mysterious powers. Terror and ecstasy bind together in an overpowering force that destroys all sense of time and space. Identity dissolves, surrendering to love and fear of a power beyond comprehension.
An Unknown Power features brand new commissioned artwork from twenty two artists from across planet earth, responding to the theme of ambiguity in spiritual encounters, religious icons or worship imagery.
104 Risograph printed pages, perfect binding. Edition of 500.
Co-Published by Neoglyphic Media and Mega Press. Edited by Cullen Beckhorn and Panayiotis Terzis. Print Design and Production by Panayiotis Terzis.
Contributors include:
in order of appearance Robert Beatty (Cover) Sarah Lammer HOPE Drew Miller Lando Baptiste Virot Brie Moreno Bluetooth Matt Lock Ron Rege Jr. Ben Marcus Jinhee Han Juli Majer & Cristian Hernandez Enormous Face/Kalan Sherrard Joel Skavdahl/Seagull Invasion Lilli Carre Kari Cholnoky Margot Ferrick Leon Sadler Panayiotis Terzis Nichole Shinn Hayley Dawn Miur
About the Publishers:
Mega Press is an evolving Risograph publishing platform dedicated to showcasing dynamic and unique content that looks towards the tides of the future while marinating the detritus of the past in the turbulence of our present moment. Previous editions include Trapper Keeper Vols. 1-6 (2014-2018), Megalith vols. 3-5 by Panayiotis Terzis (2016-2018), Sabre by Antoine Orand (2018), Orkness by Theo Triantafilidis (2018), Changes by Zebadiah Keneally (2018) and Lonely One Home by Ben Mendelewicz (2014).
Panayiotis Terzis is an artist, printer and publisher based in New York City. Born in Greece and relocated to the United States at an early age, he is a citizen of both nations but knows that his corporeal vessel belongs to the universe. His work has been published by Nieves, Fantagraphics, Landfill Editions, Vice Magazine, and other platforms, and has been exhibited widely across the US and globally including at the Elizabeth Foundation, Printed Matter Inc., the Swiss Institute, the Pera Museum (Istanbul), Andreas Melas Presents (Athens, Greece) and the Greek Consulate in New York. He has worked as an illustrator and textile designer with brands and labels such as American Apparel, Digitaria, Lurid Records, and others. Terzis is also the founder of the Risograph publishing platform Mega Press. His artist books, zines and print editions are held in the permanent collection of the MoMA Library, the Brooklyn Museum, the New York Public Library and the collection of Stanford University among others. He teaches printmaking and Risograph printing at the School of Visual Arts and Parsons in New York City, and is a co-founder of the SVA RisoLAB.
Neoglyphic Medi is a publishing house operated by Cullen Beckhorn. It has grown out of the intersection and interplay of art, music, comics, and mysticism. Each project is approached individually and grows out of the individual relationships with the artists involved. As an extension to publishing, Neoglyphic Media exists as a platform for curating multi-media exhibitions and staging performances involving the artists in the extended Neoglyphic family.
Cullen Beckhorn is a radical librarian, publisher, curator, performer, and activist based in unceded Coast Salish territory. In addition to Neoglyphic Media, Beckhorn is the founder and director of the Alternative Library and producer at the Lookout Arts Quarry. He lives in a bus parked in a swamp, with a collective of clowns.
Facebook
Tweet