Dual Book Launch for Grip 2 by Lale Westvind and Theth: Tomorrow Forever by Josh Bayer
6-8PM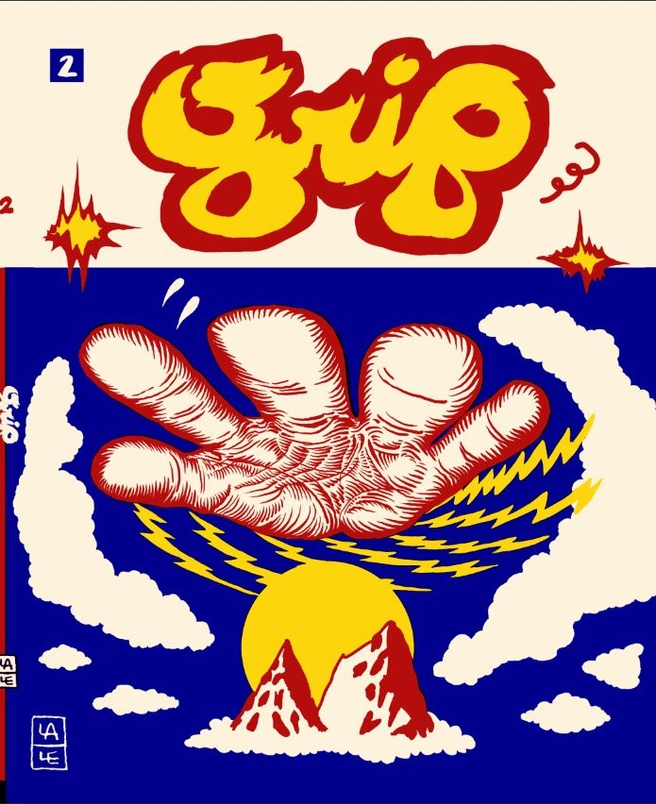 Join us for a dual book launch of Grip 2 by Lale Westvind and Theth: Tomorrow Forever by Josh Bayer!
Theth: Tomorrow Forever takes place in Columbus Ohio, 1990, and centers around Theth's (Last seen in 2014's Theth) attempt to cope with the looming shape of his future, and define himself in the face of forces that have led him to self destruction's brink. Theth: Tomorrow Forever is a work of autobiographical fiction, infused with equal parts psychedelic horror and 1980s hardcore punk. It is part of a dual release , along with the shorter project, Black Star, which is inspired by 1950s Frankenstein comics and loosely mirrors the events of Tomorrow Forever.
Tinto Press is a Denver based Comics company, founded in 2012, dedicated to a vision built around print media, and in preserving a forum for independent voices and quality comics.
Josh Bayer lives in Harlem and has worked as a Graphic Novelist, Fine Artist and Illustrator for twenty years. His style is characterized by a genre fusion tying together different historical cartooning styles with a devout punk rock anti-narrative. Josh is the editor of the anthology Suspect Device and the author of Theth , Raw Power, Theth: Tomorrow Forever, RM and Black Star. Additionally he is the editor and writer of the All Time Comics Imprint from Floating World Comics and Fantagraphics. His comics work was reprinted in the Best American Comics series in 2014 and 2017, selected by guest editors Ben Katchor and Jonathan Letham. Bayer also has an extensive career producing conceptual art for a variety of TV and film productions for clients including MTV, HBO and Amnesty International.
Grip 2 is a full color electric fountain of material transformations and marvelous feats performed by a whirlwind-handed protagonist; The sequel and finale to what was called "book of the year" in 2018 by comics critic Kim Jooha and Gabe Fowler of Desert Island.
"A comic that feels like it was born unconcerned with the schematics and the expectations of comics, and therefore occupies itself with demonstrations of bravura sensation - Pure Comics Power. "-Joe McCulloch of The Comics Journal on Grip 1.
Grip 2 continues where the first issue left off, the protagonist waking up in the kaleidoscopic forest of a mountain top to explore their evolving abilities and visions. 84 pages, 3-Color Risograph Interior w/ Screen Printed Cover.
Lale Westvind is an Ignatz Award winner and a critically acclaimed contemporary comic artist known for her vibrant depictions of movement and energy. Her work has been published in magazines and anthologies internationally such as Best American Comics, Kramer's Ergot, Smoke Signal, Arthur, Strapazin (CH), Lagon Revue (FR), The Lifted Brow (AUS) and others. She is the author of Hax (Breakdown Press, 2015), Now and Here #1-3, (Pegacorn Press, 2014), Yazar and Arkadas (Fume Room Press, 2016) and Grip (Perfectly Acceptable Press, 2018) as well as over a dozen self-published works. Her animations have been screened at festivals internationally and at the New Museum in New York City. Her animation for Lightning Bolt's Metal East was awarded Best Music Video at Leeds International Film Festival in 2015. Lale Westvind has a passion for motorcycles, movement and working with her hands. She was born in 1987 in Harlem, New York City and received a BFA from The School of the Art Institute of Chicago in 2009. She lives in Philadelphia.
Join the facebook event here!
Facebook
Tweet