roygbiv&b — Book Launch with Marina Rosenfeld
5-7 PM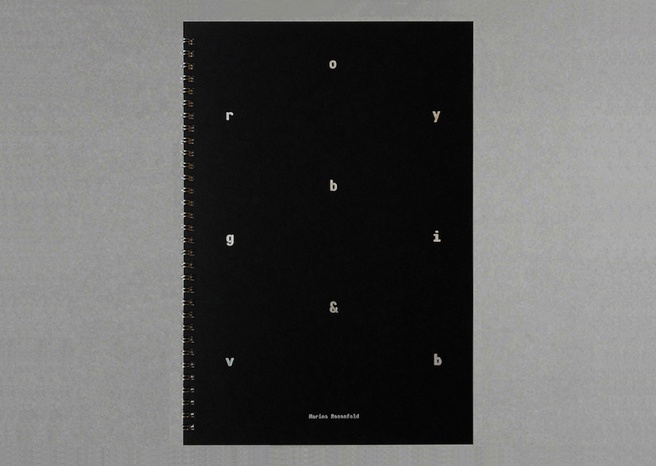 Join us for a launch event and signing with Marina Rosenfeld, on occasion of her new publication roygbiv&b, published by Run/Off.
roygbiv&b is Marina Rosenfeld's first book publication, documenting her performance of the same name, and includes gate-fold renderings of the score pages, a "User's Manual" by the artist, photos from the several performances of the work, and a foreword by musicologist Benjamin Piekut. 
The performance was Rosenfeld's contribution to the exhibition "Instructions Lab" at the Museum of Modern Art (NY) in 2011.
A punning riff on spectral composition, the score from the work hinges on the misapprehension of the letters "r-o-y-g-b-" as song lyrics ( "are you that somebody…" "oh, oh, oh…" "why should my heart…" "just be…"). A choir is instructed to recall and re-perform in dense clusters of call-and-response, song fragments prompted by the familiar letters of the spectrum, which in the work's premiere, were collected and projected vertically into the architectural volume of MoMA's atrium in the implied form of a rainbow. "The drawings reproduced in this publication distill the playful translation of data across optical, auditory, and linguistic registers. As notations, they transcribe the MoMA performance, but they also enact a more general demonstration of human experience as transcription: light to color, letter, sound, word, lyric, and eventually music." (B. Piekut)
Run/Off Editions is a New York-based interdisciplinary project devoted to publishing works by visual artists, composers and writers. Founded in 2014 by artist Nickolas Mohanna, the imprint produces small editions that are designed and created in close collaboration with each respective artist. More information about this current release and others can be found at runoffeditions.com
Marina Rosenfeld is a NY-based composer and artist working across disciplines. She has had solo presentations of her music, installation and performance at institutions including the Park Avenue Armory, the Bard Center for Curatorial Studies, Portikus Frankfurt, the Kitchen, and the Artist's Institute, and has created works for the Holland, Borealis, Wien Modern, Time:Spans, Donaueschingen and Ultima festivals, among many others. She has participated in the Whitney, Montreal and PERFORMA biennials, and surveys including "Every Time A Ear Di Son" for Documenta14 and Tasmania's "Dark Mofo". During 2019 she was Inga Otto Maren Fellow of the Watermill Foundation, and in 2020 she will be Artist in Residence with Experiments in Art and Technology at Bell Labs Nokia. Rosenfeld teaches at Brooklyn College and at Bard College, where she is the co-chair of the MFA in Music/Sound.
Facebook
Tweet