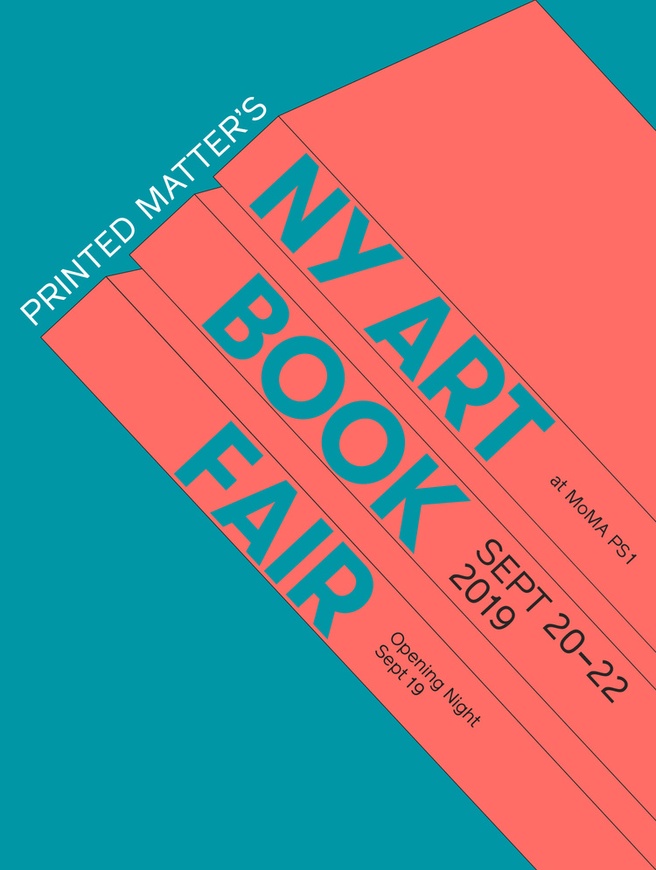 Printed Matter, Inc. presents THE NY ART BOOK FAIR
September 20-22, 2019, Free Entrance
MoMA PS1, Long Island City, NY.
Join on facebook here.
Opening Night: Thursday, September 19, 6–9pm. Purchase ticket here.
Printed Matter Members receive free entry to Opening Night. Please present your membership card at the door. To join as a Member, click here.
Visit our Fair Website for full details on exhibitors and special programs.
Printed Matter presents the fourteenth annual NY Art Book Fair, from September 20–22, 2019, at MoMA PS1. The NY Art Book Fair (NYABF) is the leading international gathering for the distribution of artists' books, celebrating the full breadth of the art publishing community.
Free and open to the public, the event draws more than 40,000 individuals including book lovers, collectors, artists, and art world professionals each year. NYABF 2019 will welcome 353 exhibitors from around the world, including a broad range of artists and collectives, small presses, institutions, galleries, antiquarian booksellers, and distributors. With a commitment to diversity and representation, the event will serve as a meeting place for the extended art book community, as well as a site for dialogue and exchange around all facets of arts publishing.
View the full list of NYABF 2019 Exhibitors
THE NY ART BOOK FAIR OPENING NIGHT
Join us on Thursday, September 19 from 6–9 pm, at MoMA PS1 for the official kick-off event of NYABF 2019! The evening offers the first chance to explore the NYABF 2019, and features special live performances by Afuma, Hairbone, and 2 Bridges DJs, presented by Blank Forms. Entry includes a limited edition eraser by artist Christine Sun Kim produced for the occasion.
Opening Night tickets are $20 (free for Printed Matter Members). Tickets are available for purchase online until 12 pm EST, September 19, 2019 and at the door while supplies last. Read more about the Ticket Edition and purchase here.
FAIR HOURS AND LOCATION
Opening Night:
Thursday, September 19, 6–9pm
Ticketed
Preview
Friday, September 20, 11am–1pm
For students, press, and NYC cultural institution members. Register here.
Public Hours
Friday, September 20, 1–7pm
Saturday, September 21, 11am–8pm
Sunday, September 22, 11am–7pm
Free
MoMA PS1 is located at 22-25 Jackson Avenue on 46th Avenue, Long Island City, NY.
Facebook
Tweet