Copy That? Panel Discussion
4:30-7PM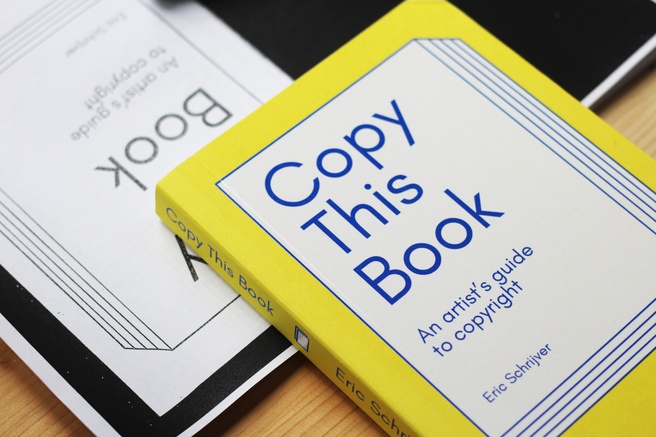 If you're an artist, there are laws that are made specifically for you. These laws allow you to control the ways you make your work public, and potentially provide ways to make money. They also delimit the kinds of copies you can and cannot make.
Artists also deal with social norms for copying that evolve. Depending on whom copied what, a copy can now also be understood as an exercise of privilege. Yet the notion of cultural appropriation is not readily captured in the existing legal framework. Creative and artistic communities now face the challenge to advance a mutually shared concept of copying, but also to find ways for their norms to have an impact on the legal status quo.
Copy This Book is an artist's guide to copyright, written for makers. At once practical and critical, the book guides readers through the concepts underlying copyright and how they apply in practice.
Printed Matter hosts the publication's first U.S. presentation, where a panel of author- designer-advocates including Loraine Furter, Ellen Lupton, and Celine Semaan will meet with Copy This Book's author Eric Schrijver to chart and challenge the developing norms on copying both legally and artistically.
Loraine Furter is the graphic designer and editor of Copy This Book as well as a researcher on women's artists's books. Based in Brussels since 2007, she specializes in editorial design, hybrid publishing and intersectional feminism. She designs and edits paper publications as well as web and digital ones, and is particularly interested in the interaction between these media.
lorainefurter.net
Ellen Lupton is curator of contemporary design at Cooper-Hewitt, National Design Museum in New York City and director of the Graphic Design MFA program at Maryland Institute College of Art (MICA) in Baltimore. An author of numerous books and articles on design, she is a public-minded critic, frequent lecturer, and AIGA Gold Medalist.
elupton.com
Eric Schrijver is an interaction designer, artist and author. He was born in Amsterdam and lives and works in Brussels. He runs a group blog called I like tight pants and mathematics, which aims to motivate designers and artists to get more involved in the world of computer programming. A former core member of the Open Source Publishing collective, he taught interaction design and coding in the Graphic Design department of KABK, The Hague, and has also taught workshops at schools around the world. Copy This Book is Schrijver's first book.
ericschrijver.nl
Celine Semaan is a designer, advocate, writer and the founder of Slow Factory. Her research focuses on circular design & communication, translating complex concepts and systems into approachable stories that resonate with a wide audience. Her writing has been published in New York Magazine The Cut, Elle USA, and Vogue; her designs have been exhibited in museums around the world. Her non-profit education initiative Study Hall is an official partner of the United Nations and holds an annual summit at the UN headquarters in New York.
celinecelines.com
For more information on Copy This Book see copy-this-book.eu. Copy This Book is published by Onomatopee.
Join the facebook event here!
Facebook
Tweet