Perfectly Acceptable Press Presents Happiness #5 Book Launch and Reading
6-8PM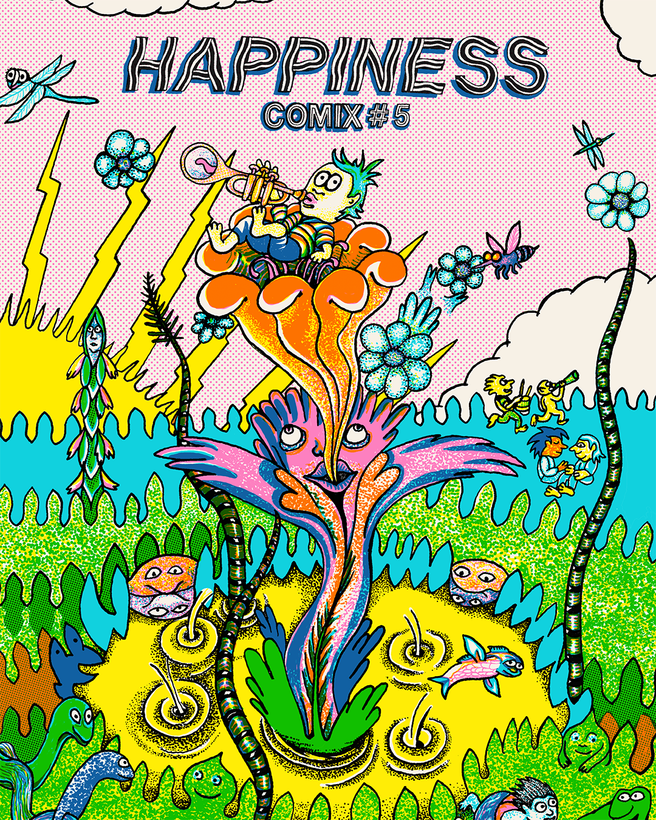 Perfectly Acceptable Press is pleased to launch the fifth installment of Leah Wishnia's comics anthology, Happiness at Printed Matter on July 26th
Jack Reese, Roya Haroun, Sarah Lammer, and Nick Norman will be reading from their work.
Join the facebook event here!
Happiness #5 is the long-awaited relaunch of the seminal comics anthology edited by Leah Wishnia, which first debuted in 2011. This volume features contributions from over 25 artists, including Tara Booth, Matthew Thurber, Anya Davidson, Carlos Gonzalez, Brie Moreno, and Kendra Yee.
Leah Wishnia
happinesscomix.net
Leah Wishnia is an artist, writer, and musician based in New York who has been making artist zines & comics since 2006, and performs under the name Holy People.
Perfectly Acceptable Press
perfectly-acceptable.com
Perfectly Acceptable Press publishes short-run narrative artist books with an emphasis on synergy between content, craft, and form. Our aim is to create an object that pushes the boundaries of a zine without sacrificing accessibility. We produce all of our books in-house with Risograph duplicators.
Jack Reese
Jack Reese lives in Brooklyn, NY. He performs occasionally with his band VD. He takes infrequent commissions to design and sew unique garments. Currently, he is working on a Gesamtkunstwerk role playing simulation of the United Nations.
Roya Haroun
Roya Haroun wrote and drew Protean Power. She is an interdisciplinary artist, voyeur and recent gym member. Currently, she has a host of creatures living in the window of Desert Island Comics, Brooklyn. Her band Vas Deferens (with art monster Jack Reese) performs with some regularity in the NY area.
Sarah Lammer
Sarah Lammer is an artist and educator and the author of Change in the Observer. She uses a range of media, often airbrush, cut paper, and animation, to draw the outlines of objects and the spaces between people. Sarah lives in Brooklyn, NY where she may also co-run a secret restaurant.
Nick Norman
Nick Norman is an interdisciplinary artist living in Philadelphia. He'd like you to please consider banking with your local credit union instead of a certain unnamed multinational banking institution with a checkered past, and fairly unsavory present.
Facebook
Tweet