Slava Mogutin: STOCK BOYZ edition launch
6-8PM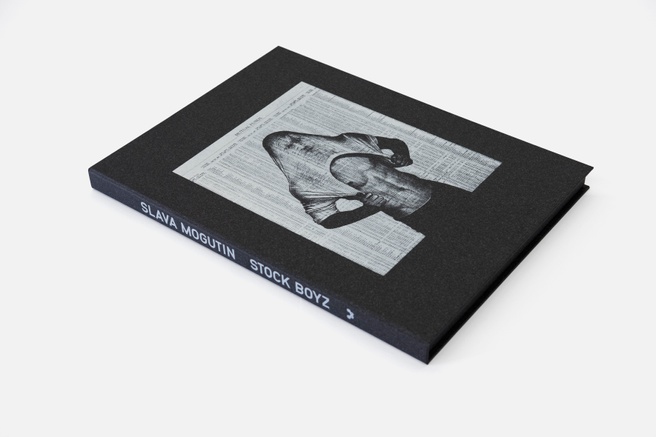 In celebration of World Pride held this month in New York City, Russian-American artist Slava Mogutin will be launching STOCK BOYZ, a limited risograph edition produced in collaboration with the Berlin-based PogoBooks and Outer Space Press.
Artist's Statement — STOCK BOYZ is a series of male pin-ups of anonymous figures in different stages of undress. In the early 2000s they appeared on several obscure mostly Eastern European and now defunct fetish websites. Some appear to be rough trade and/or "gay for pay," while others come off as hustlers and exhibitionists by chance not choice. I started this series shortly before the devastating market crash of September 2008, using the stock charts graphics as an abstract background. Initially I thought of this series as a commentary on commodification of youth in our consumerist society. However, after the market crash, it gained a whole new more sinister meaning. As the economy was getting worse, the numbers and graphics kept changing dramatically. I continued collecting the charts and making new pin-ups giving them names made of current newspaper headlines: Small Capitalization, Most Active, Industrial Average, Total Volume, Behind and Ahead, Gainers and Losers, New Highs and Lows, etc… While the rigid headlines stripped of their actual meaning sound frivolous and suggestive, the boys' exposed fragile bodies, taken out of sexual context, slowly dissolve in the ocean of cruel digits. Bit by bit they are swallowed by the Capitalist greed and over-indulgence.
Slava Mogutin is a Russian-American multimedia artist and author exiled from Russia for his outspoken queer writings and activism. A third-generation writer and self-taught journalist and photographer, he became the first Russian to be granted political asylum in the US on the grounds of homophobic persecution. Informed by his bicultural dissident and refugee experience, Mogutin's work examines the notions of displacement and identity, pride and shame, devotion and disaffection, love and hate. Mogutin is the author of seven books of writings in Russian, as well as three monographs of photography, Lost Boys, NYC Go-Go, and Bros & Brosephines, and two illustrated collections of poetry, Food Chain and Pictures & Words. He's the winner of the Andrei Bely Prize for poetry and the Tom of Finland Foundation Award for artistic achievement.
PogoBooks is an independent publisher focused on limited edition art books, editions, and multiples. We believe in a future printed on paper, and conceive the printed artwork as a unique art form. PogoBooks is a platform, an archive, and collective for contemporary arts, photography, and nonsense. The Berlin-based publishing house was founded by Claudio Pogo in 2010. STOCK BOYZ was Risograph-printed by Outer Space Press in collaboration with Slava Mogutin.
Facebook
Tweet