The Comics of Julie Doucet and Gabrielle Bell: A Place Inside Yourself presented by Seamus O'Malley and Gabrielle Bell
6-8 PM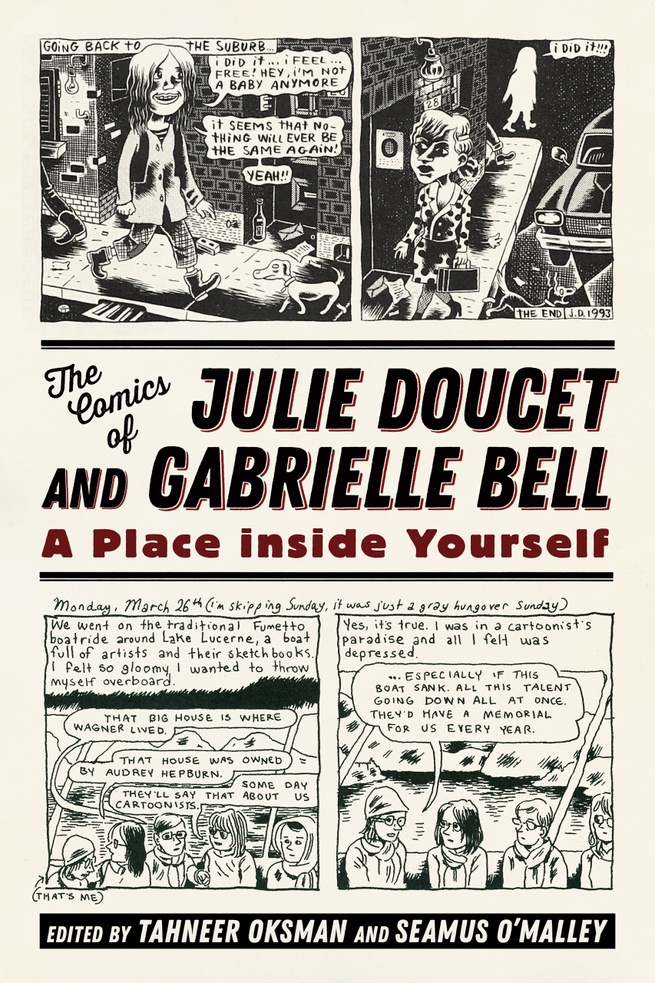 Please join us in celebration of the recent publication of The Comics of Julie Doucet and Gabrielle Bell: A Place Inside Yourself, an anthology co-edited by comics scholars Tahneer Oksman and Seamus O'Malley and recently published with the University Press of Mississippi. The volume, which consists of academic essays about the artists' works alongside republished interviews with the artists, explores these two influential cartoonists and puts their works in conversation. While each artist has a unique perspective, style, and worldview, the essays in the book investigate their shared investments in formal innovation and experimentation in comics, and in playing with questions of the autobiographical, the fantastic, and the spaces in between.
At the start of the event, the volume's co-editors will briefly introduce you to the origins of this unusual project, which brings together academic scholarship and cultural journalism. In the spirit of the book, our focus will be an interview between Seamus O'Malley and Gabrielle Bell, followed by an audience Q&A.
Gabrielle Bell was born in England and raised in California. In 1998 She began to collect her "Book of" miniseries (Book of Sleep, Book of Insomnia, Book of Black, etc), which resulted in When I'm Old and Other Stories, published by Alternative Comics. In 2001 she moved to New York and released her autobiographical series Lucky, published by Drawn and Quarterly. Her work has been selected for the 2007, 2009, 2010 and 2011 Best American Comics and the Yale Anthology of Graphic Fiction, and she has contributed to McSweeneys, Bookforum, The Believer, and Vice Magazine. The title story of Bell's book, "Cecil and Jordan in New York" has been adapted for the film anthology Tokyo! by Michel Gondry. Bell's graphic novel, The Voyeurs, was named one of the best books of the year by Publishers Weekly, Kirkus Reviews, and the Atlantic. Her first full-length graphic memoir, Everything is Flammable, was published by Uncivilized Books in 2017. She lives in Brooklyn, New York.
Tahneer Oksman  is an Assistant Professor of Academic Writing at Marymount Manhattan College. Her first scholarly monograph, "How Come Boys Get to Keep Their Noses?": Women and Jewish American Identity in Contemporary Graphic Memoirs, was published in 2016 by Columbia University Press. Her academic articles and reviews have appeared in academic journals and anthologies, including a/b: Auto/Biography Studies, Studies in Comics, Studies in American Jewish Literature, American Jewish History, Life Writing, and MELUS. She also regularly writes journalistic pieces on women, comics, and identity for a range of publications, including the Los Angeles Review of Books, The Comics Journal, the Forward, Public Books, The Guardian, Lilith, and Cleaver Magazine, where she is the Graphic Narrative reviews editor.
Seamus O'Malley is an Assistant Professor of English at Stern College for Women, Yeshiva University. His book Making History New: Modernism and Historical Narrative was published by Oxford University Press in 2015. He has also published on W.B. Yeats, Ford Madox Ford, Rebecca West, Robert Louis Stevenson, Frank McGuinness, Edmund Wilson, D.H. Lawrence, and Alan Moore, and co-edited the volume Ford Madox Ford and America (Rodopi, 2012). He is the co-editor of a research companion to Ford for Routledge (2019), the co-editor A Place Inside Yourself: The Comics of Julie Doucet and Gabrielle Bell (University of Mississippi Press, 2019), and is currently writing a book on populism in Irish literature. He is book review editor for Last Post: A Literary Journal from the Ford Madox Ford Society.
Facebook
Tweet