Sociality & Technology for Social Manipulation
Paolo Cirio and Christiane Paul in conversation
6-8 PM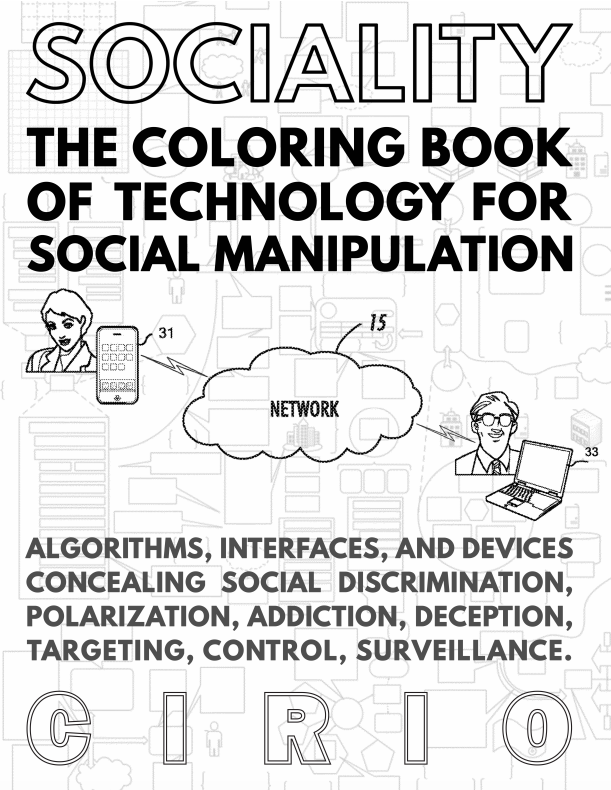 Artist Paolo Cirio is joined in conversation by Christiane Paul, Professor in the School of Media Studies at Parsons/The New School and Adjunct Curator of Digital Art at the Whitney Museum. Their discussion will explore Cirio's new artists' book SOCIALITY: The Coloring Book of Technology for Social Manipulation, addressing the intersection of technology and legal systems, and examining the discriminatory bias found within the patents and copyrights taken out by social media companies.
Join the Facebook event here!
Human sociality is affected by devices subtly designed to program behaviors and profile citizens. SOCIALITY contains over 250 selected patents Cirio found by sifting through over 20,000 inventions he published on the website https://sociality.today. The artist organized the patents into chapters such as Discrimination, Polarization, Addiction, Deception, Targeting, Control, and Surveillance. With this artwork, Cirio exposes inventions that employ devious psychological and profiling tactics through artificial intelligence, algorithms, data mining, and user interfaces.
As artistic provocation, the Coloring Book of Technology for Social Manipulation proposes the cathartic, childlike exercise of coloring to both educate and inform through the visually rendered compositions of outlined flowcharts and patent titles.
Paolo Cirio is Conceptual artist interested in the Aesthetics of Information Ethics. He explores contemporary social systems affected by information systems. Cirio is a Internet artist noticeable for embodying hacker ethics, such as open access, privacy policies, and disrupting economic, legal, and political models. He received a number of legal threats for his Internet art performances with practices such as hacking, piracy, leaking sensitive information, identity theft, and cyber attacks. He engages with legal, economic, and semiotic systems of the information society. His works investigates social fields impacted by the Internet, such as privacy, copyright, democracy, and finance.
Facebook
Tweet